Found November 14, 2012 on The Nosebleeds:
Come on, Channing Tatum wasn't about to make it that easy for LeBron James. After LeBron won his first NBA championship — ridding himself of a dump truck full of demons in the process — and then went on to lead Team USA to a gold medal in the London Olympics, everyone figured he was having the best year a person could possibly have. Buuuuuut in the midst of all of that, Channing Tatum was in the process of taking over Hollywood and reaching full-blown movie star status in every conceivable genre out there. First he broke in the new year with the action/thriller 'Haywire,' in January. Then, still feeding off the everlasting success of 'Dear John,' he starred alongside Rachel McAdams (the most underrated hot actress in Hollywood, besides Reese Witherspoon) in the tearjerker romance, 'The Vow,' firmly establishing Valentine's Day plans for every single couple in America in the process. Next up came the breakout comedy '21 Jump Street,' easily one of the funniest movies of 2012 and the first movie everyone unanimously loved Tatum in. Seriously, dudes were finally on his side. Buuuuuut his male following died out as quickly as it came about with the release of the male stripper comedy/drama 'Magic Mike,' in which Tatum dispatched virtually all of his clothing alongside a quartet of other dudes. 'Magic Mike' cost a measly $7 million to make. It went on to earn a gargantuan $113 million at the box office. Think about that. And now this. As the headline indicates, Tatum is being crowned the Sexiest Man Alive. Did anyone honestly think this wasn't going to happen? After 'Magic Mike,' EVERY WOMAN IN THE WORLD wanted to get their hands on this guy. 'Magic Mike' was to Ryan Gosling's shirtless scene in 'Crazy, Stupid, Love' what the iPod is to the Zune. The Gos didn't stand a chance in this one. It's like Tatum and whoever his competition was were running a 100-meter race, only Channing had a 90-meter head start. Usain Bolt couldn't have caught this dude while riding a rocket-propelled cheetah on steroids. So, yeah, Tatum not only owns Hollywood right now (seriously, he might be the most in-demand actor out there), he's having the best year a dude can possibly have, quite possibly in the history of the world. Unending amounts of money and worldwide fame, all while serving as an object of lust for every woman ever born? Yeah, f**k you, LeBron.
Original Story:
http://thenosebleeds.com/channing-tat...
THE BACKYARD
BEST OF MAXIM
RELATED ARTICLES
The Miami Heat have suffered a few shocking defeats thus far but they rebounded against the Denver Nuggets on Thursday to pull off a 98-93 victory. The Heat became the first team in the Eastern Conference to win seven games and improved to 3-2 on a six-game road trip that ends Saturday in Phoenix. LeBron James paced Miami with 27 points, eight rebounds and 12 assists. Please Click...
LeBron James' lowest scoring average is against the Los Angeles Clippers. James struggled to score in last season's lone meeting against the Clippers heading into Wednesday night's matchup at Staples Center for the Miami Heat. The three-time league MVP is averaging 23.1 points in 17 lifetime games versus Los Angeles (5-2). He missed 12 of 19 shots for 23 points in last...
Only three games went down last night in the NBA.  The Brooklyn Nets showed they are the real deal with a victory over Boston.  The Knicks moved to 6-0 with a victory over the Spurs and showed that they are coming for the title this year.  Last and least the Miami Heat and LeBron showed that they are too Hollywood for regular fans.  LeBron showed some love to running back Willis...
LeBron James was receiving ice and stimulation treatment on his bruised shoulder after Miami's win over the Nuggets.
This is just painful to watch, you have to feel bad for the guy.  Trying to get a high five or a little dap from one of your idols and he completely ignores you because Broncos RB Willis McGahee had something cooler to show him on his iPhone.H/T: The Kevin Burke Project
LeBron James scored a season-high 38 points, Chris Bosh had 24 points and 10 rebounds, and the Miami Heat rallied to beat the Houston Rockets 113-110 on Monday night.
After the Miami Heat's 98-93 victory over the Denver Nuggets, Heat star LeBron James decided to go say hi to Denver Broncos Willis McGahee. One of the guys sitting next to Willis McGahee wanted to show some love to LeBron as well but got left hanging by King James:
LOS ANGELES (AP) -- Blake Griffin and Chris Paul had double-doubles, with Paul keying a third-quarter spurt that helped carry the Los Angeles Clippers to a 107-100 win over the Miami Heat on Wednesday night. Griffin had 20 points and 14 rebounds and Paul had 16 points and 10 assists to lead five players in double figures in the Clippers' fourth straight win. Jamal Crawford added...
When the Thunder traded James Harden shortly before the season, the small-market contender did more than clear salary cap space. In dealing the heady two-guard, the Thunder also signaled that they believed Kevin Durant was ready to expand his game and to fill some of the roles Harden formerly occupied. Durant has come through so far this season, and then some. Not only has he assumed...
DENVER -- LeBron James had 27 points and 12 assists, Shane Battier scored 18 points, all on 3-pointers, and the Miami Heat overcame the absence of Dwyane Wade to beat the Denver Nuggets 98-93 on Thursday night. Andre Miller and JaVale McGee came off the bench to pace the Nuggets with 19 and 18 points, respectively. Kenneth Faried finished with 16 points and a career-high 20 rebounds...
HOUSTON -- The newly constructed Houston Rockets showed Wednesday that they could deal with an unexpected reversal of fortunes. Two nights earlier, the Rockets erased a 17-point deficit, blew past the Heat, and then watched as LeBron James led Miami to victory late. On Wednesday night, the Rockets fashioned a seemingly insurmountable lead, only for the New Orleans Hornets to methodically...
Back on Tuesday, LeBron James decided to post this photo of teammate Dwyane Wade rocking some skinny jeans on a recent flight.Clearly, Wade needed assistance to just get into those pants:(Courtesy of USA Today)
Heat News

Delivered to your inbox

You'll also receive Yardbarker's daily Top 10, featuring the best sports stories from around the web. Customize your newsletter to get articles on your favorite sports and teams. And the best part? It's free!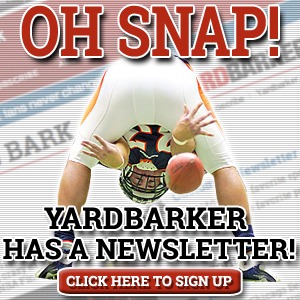 Latest Rumors
Best of Yardbarker

Today's Best Stuff

For Bloggers

Join the Yardbarker Network for more promotion, traffic, and money.

Company Info

Help

What is Yardbarker?

Yardbarker is the largest network of sports blogs and pro athlete blogs on the web. This site is the hub of the Yardbarker Network, where our editors and algorithms curate the best sports content from our network and beyond.