Come on, Channing Tatum wasn't about to make it that easy for LeBron James. After LeBron won his first NBA championship — ridding himself of a dump truck full of demons in the process — and then went on to lead Team USA to a gold medal in the London Olympics, everyone figured he was having the best year a person could possibly have. Buuuuuut in the midst of all of that, Channing Tatum was in the process of taking over Hollywood and reaching full-blown movie star status in every conceivable genre out there. First he broke in the new year with the action/thriller 'Haywire,' in January. Then, still feeding off the everlasting success of 'Dear John,' he starred alongside Rachel McAdams (the most underrated hot actress in Hollywood, besides Reese Witherspoon) in the tearjerker romance, 'The Vow,' firmly establishing Valentine's Day plans for every single couple in America in the process. Next up came the breakout comedy '21 Jump Street,' easily one of the funniest movies of 2012 and the first movie everyone unanimously loved Tatum in. Seriously, dudes were finally on his side. Buuuuuut his male following died out as quickly as it came about with the release of the male stripper comedy/drama 'Magic Mike,' in which Tatum dispatched virtually all of his clothing alongside a quartet of other dudes. 'Magic Mike' cost a measly $7 million to make. It went on to earn a gargantuan $113 million at the box office. Think about that. And now this. As the headline indicates, Tatum is being crowned the Sexiest Man Alive. Did anyone honestly think this wasn't going to happen? After 'Magic Mike,' EVERY WOMAN IN THE WORLD wanted to get their hands on this guy. 'Magic Mike' was to Ryan Gosling's shirtless scene in 'Crazy, Stupid, Love' what the iPod is to the Zune. The Gos didn't stand a chance in this one. It's like Tatum and whoever his competition was were running a 100-meter race, only Channing had a 90-meter head start. Usain Bolt couldn't have caught this dude while riding a rocket-propelled cheetah on steroids. So, yeah, Tatum not only owns Hollywood right now (seriously, he might be the most in-demand actor out there), he's having the best year a dude can possibly have, quite possibly in the history of the world. Unending amounts of money and worldwide fame, all while serving as an object of lust for every woman ever born? Yeah, f**k you, LeBron.
Original Story:
http://thenosebleeds.com/channing-tat...
MORE FROM YARDBARKER
Heat News

Delivered to your inbox

You'll also receive Yardbarker's daily Top 10, featuring the best sports stories from around the web. Customize your newsletter to get articles on your favorite sports and teams. And the best part? It's free!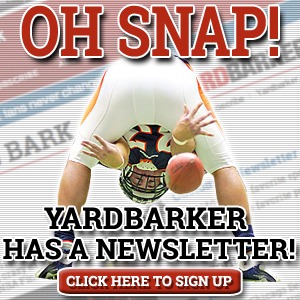 Latest Rumors
Best of Yardbarker

Today's Best Stuff

For Bloggers

Join the Yardbarker Network for more promotion, traffic, and money.

Company Info

Help

What is Yardbarker?

Yardbarker is the largest network of sports blogs and pro athlete blogs on the web. This site is the hub of the Yardbarker Network, where our editors and algorithms curate the best sports content from our network and beyond.