Found March 09, 2012 on The Hot Glove:
It is with great sadness that I announce that this will be my final piece for The Hot Glove. You might remember me from such noteworthy columns like my Pullitzer Prize nominated article on Burn Notice (link ). But hopefully you will remember me for my insider writing for Chicago Bulls as seen here (link) here (link) (as well as my overly critical comments left at the end of each Biffy article)
Since I will be unable to provide analysis going forward, I chose to recap the entire 2011-2012 NBA season and Playoffs below:
Regular Season
The Bulls cruise to a NBA best 52-14 regular season record. I cruise to a NBA worst 37 times asking if Rip Hamilton is actually on the Bulls (and then subsequently misidentifying him as Taj Gibson)
First Round of Playoffs
Bulls defeat Knicks 4-1. Highlight: Me tweeting a bunch of Linsanity jokes/puns that I find wonderful, but several people find racially intolerant.  Lowlight: Carlos Boozer scores 18 on points on 8/9 shooting in the first half of Game 1, only to have that give him a terrible sense of false confidence that results in a 14/42, 11 turnover performance over the next three games.
Second Round of Playoffs
Bulls defeat Pacers 4-0. Highlight: Scalabrine scores 15 points (including one dunk heard around the world) in a 110-83 Game 2 schlacking Lowlight: Omar Asik twists his ankle at the end of Game 4, prompting me to ask if it is possible for us to sign the retired Zydrunas Ilgauskas. The Spy, at an undisclosed location, cringes in fear.
Eastern Conference Finals
Bulls defeat Heat 4-3. Highlights: The series is widely accepted as the best conference championship series of all time. At the end of Game 7 Derrick Rose breaks out this dance
Lebron cries, Chris Bosh tries to comfort him with an ill-planned kiss on the cheek that is caught on camera. Lowlight: Not a one.
NBA Finals
Bulls defeat Thunder 4-2. Highlights: I run into several members of the Bulls team celebrating the championship at a local bar – I buy a round of rumpleminz and we get to talking and immediately become best friends. They bankroll me on several of my outstanding business ideas. I in turn fund Big Cat to make a triumphant return to The Hot Glove. Everyone lives happily ever after.
Thanks for stopping by, Hotglovians – feel free to continue to follow OJ's exploits on twitter @jholzman
Original Story:
http://www.thehotglove.com/2012/03/ch...
THE BACKYARD
BEST OF MAXIM
RELATED ARTICLES
Derrick Rose and the Chicago Bulls need to strengthen their roster in order to be true NBA Championship contenders. Rose is going to kill himself trying to drag this team to relevancy. How they get better? I don't really know. Maybe they trade some pieces or use a midlevel exception? Perhaps they could kidnap someone that can hit a jump shot. I think they should send Carlos Boozer...
Moments like these are why I love this game: Rose's jumper lifted the Bulls to a 106-104 victory over Milwaukee and gave Chicago a 2-game lead over the Heat for the best record in the Eastern Conference. The reigning MVP also finished the game with 30 points, 11 assists and 8 rebounds. Simply on of [...]
All-Star Luol Deng is out for the Chicago Bulls' game against the Utah Jazz because of a torn ligament in his left wrist. Deng was one of several key players missing on Saturday night. An illness kept the Bulls' Joakim Noah out of the lineup, while guards Richard Hamilton (right shoulder injury) and C.J. Watson (sprained left ankle) remained sidelined. The Jazz were without...
MILWAUKEE -- For Derrick Rose, it was the type of shot he dreamed about making as a kid growing up on the south side of Chicago. As Joakim Noah watched in awe, he felt like he was watching the final scene of a dramatic sports film. It was that type of defining moment.With the Bulls and Bucks tied at 104 in Milwaukee, the ball was in Rose's hands as he stared across at Brandon...
Last night was a great night for buzzer beaters in the NBA.  The most notable was reigning MVP Derrick Rose's step back jumper to lead the Chicago Bulls to a victory at the Milwaukee Bucks.  Rose got the ball with 18.1 seconds left and the game tied at 104 and nailed the game winner over Brandon Jennings.   In looking at buzzer beaters, it's always fun to see both sides...
Derrick Rose has done it again.  Last night the Bulls played the Bucks and it came down to the last second.  Obviously the Bulls put the basketball in the MVP's hands and let him go to work.  Rose didn't let them down and hit a game winner over Brandon Jennings at the buzzer.  The kid has been on fire ever since coming back from his back injury and is making a strong...
Chicago Bulls center Joakim Noah won't suit up against the Utah Jazz on Saturday because of the flu.Noah is averaging 9.9 points and 10.4 rebounds per game this season.Forward Luol Deng is still experiencing pain in his left wrist and will also sit out.Deng is averaging 15.3 points and 6.7 rebounds per game this campaign.
CHICAGO (AP) -- Dwight Howard had 29 points and 18 rebounds to lead the Orlando Magic to a 99-94 win over the Bulls on Thursday, snapping Chicago's eight-game winning streak. Chicago twice overcame double-digit deficits and led 91-89 with 2:56 to play after Derrick Rose passed to Carlos Boozer for a jumper. Orlando responded with an 8-1 run started by Jameer Nelson's lob...
Derrick Rose had 24 points and 13 assists, Carlos Boozer scored 27 and the Chicago Bulls pounded the Utah Jazz 111-97 on Saturday night. Kyle Korver scored a season-high 26 points, and the Bulls got back to winning after their season-high eight-game streak ended with a loss to Orlando on Thursday. They turned a seven-point halftime lead into a 16-point advantage going into the fourth...
Dwight Howard had 29 points and 18 rebounds to lead the Orlando Magic to a 99-94 win over the Bulls on Thursday, snapping Chicago's eight-game winning streak. Chicago twice overcame double-digit deficits and led 91-89 with 2:56 to play after Derrick Rose passed to Carlos Boozer for a jumper. Orlando responded with an 8-1 run started by Jameer Nelson's lob to Howard for...
If you're a Bulls fan (AP Photo/Charles Rex Arbogast) The Suns pulled off a win against the Mavericks and not quite as surprisingly, the Magic beat the Bulls. Given Dwight Howard's performance, and those from the Bulls, it's pretty obvious why the Bulls couldn't pull it out. It's not quite as intuitive when looking at the Mavericks box score, but they did start Ian Mahinmi...
Chicago, Ill. (25-15) vs. (33-8)   Time/TV: 8 p.m./TNTLine: Bulls by 6.5Tickets: $38-$345 on TiqIQSeason Series: Lost 97-83 in Orlando on Jan. 6; Tonight in Chicago; March 19 in Orlando;  Pace Off. Rtg. Def. Rtg. eFG% O.Reb.% TO% FTR Orlando 91.5 102.0 98.9 50.6 26.1 14.7 31.1 Chicago 92.8 105.3 95.0 49.8 31.3 13.2 26.0 Video Vault...
NBA News

Delivered to your inbox

You'll also receive Yardbarker's daily Top 10, featuring the best sports stories from around the web. Customize your newsletter to get articles on your favorite sports and teams. And the best part? It's free!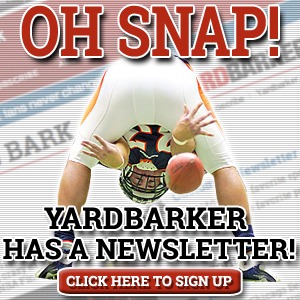 Latest Rumors
The Backyard

Today's Best Stuff

For Bloggers

Join the Yardbarker Network for more promotion, traffic, and money.

Company Info

Help

What is Yardbarker?

Yardbarker is the largest network of sports blogs and pro athlete blogs on the web. This site is the hub of the Yardbarker Network, where our editors and algorithms curate the best sports content from our network and beyond.