Found January 12, 2012 on isportsweb.com:
At the end of anything great there is a celebration that takes place.  A great magic trick rouses great applause. Will Smith and Jeff Goldblum blowing up an alien mother ship to defeat evil extra-terrestrial invaders brings new meaning to Independence Day. For the Bulls and Coach Tom Thibodeau this celebration has become known as Scal-time.
On nights when the Bulls play their best basketball (with about a minute 30 left in regulation) number 24 pops up off the bench with so much energy you'd think it was a tied game.  Makes his way over to the scorer's table, rubs powder on his hands like he isn't used to it (because he isn't used to it), and with a slight hop, strolls onto the floor.  The PA announcer says something that sounds like some sort of seafood pasta dish and the crowd roars.  They aren't cheering for Luol Deng who is coming off the floor after scoring a game high 22 points and 10 rebounds.  They are cheering for a guy who averages 1 ppg and tries harder than any player I've ever seen when his team has a 25 point lead.
The one, the only Brian Scalabrine.  The phenomenon I've just described has become known as Scal-time. Any Bulls fan will tell you it is their favorite time of the night.  Scal-time means two things. First, it means the Bulls have just pulled ahead so far that they can bring in the replacements and cruise to victory. Second, it means after there is nothing left to play for the fans still have something to cheer for. It's the game within the game. Will Scal score? When he touches the ball, the United Center rises in anticipation, fans yelling for Scal to put up a shot no matter where he is on the floor. When he passes it to a teammate the crowd settles back down in quiet disappointment.
There is no metaphor, no analogy comparable to Scal-time.  It is an event that stands alone.  Like the "Air Bud" movies we can't understand why we love it, we just do.  But as with all great things, Scal-time will soon be no more. It could be next season or 4 years from now but eventually Scalabrine and his frizzy, red hair will leave us—leave us to file out of the stadium as time winds down and our team clutches a 30 point blowout victory.  Scal is truly a rare commodity in this world.  A man who brings fans more joy in 18 short appearances each season than most people bring to others in a lifetime.  First in our hearts, and first off the bench when the score gets out of hand—here's to Brian Scalabrine, a cheerleader amongst men.
Original Story:
http://isportsweb.com/2012/01/12/chic...
THE BACKYARD
BEST OF MAXIM
RELATED ARTICLES
John Lucas III scored a career-high 25 points filling in for injured Derrick Rose and the Chicago Bulls beat the Washington Wizards 78-64 on Wednesday for their third victory in three nights. Lucas, starting for the first time in his 70-game NBA career, was at the point in place of MVP Rose, who was out with a sprained big left toe. Lucas played 45 minutes, had eight assists, eight...
I'm not proud of this, but this is the first time Bulls announcer Stacey King has been featured on this website. Despite hearing a few of his games over the last few years and seeing many mentions on Twitter from our followers, we have yet to post on the former player turned announcer. It's time we give the third year color analyst some play here at AA. On Monday night,...
It seems like every time Ricky Rubio gets off the bench to enter a game, the Minnesota Timberwolves are facing a big deficit. After Rubio helped them dig out of a big hole in a 111-100 loss to Derrick Rose and the Chicago Bulls on Tuesday night, the Spanish point guard may not have to wait nearly as long to enter the next game. Rose scored a season-high 31 points and had 11 assists...
The Bulls shot 53.1% from the floor and they outrebounded the T-Wolves 47-30, which explains how they beat the Timberwolves on the road last night.  Derrick Rose (31 points, 3 rebounds, 11 assists, 1 steal and 1 blocked shots) led the way for the Bulls last night.  Luol Deng (21 points, 11 rebounds, 3 assists and 1 blocked shot) and Ronnie Brewer (17 points, 4 rebounds, 3 assists...
  at  Chicago Bulls (10-2) at Boston Celtics (4-5) Friday, January 13 8:00 PM ET Game #10,  Home Game #6 TV:  ESPN, CSN-C, CSNNE, NBAC Radio:   WEEI,  WMVP TD Garden  Referees:    Jason Phillips,  Brian Forte,  Leon Wood The Celtics will welcome a couple of familiar faces when the Bulls come to visit the Garden.  Tom Thibodeau, who was credited with the defense...
The Chicago Bulls will hit the floor in Boston on Friday night as they look for a win in an NBA betting matchup against the Celtics. The Celtics have been tagged with an ATS loss in five of their last six contests against the Bulls, going 2-4 straight up in those games. The OVER/UNDER is 2-4 over the past six matchups. read more
Bulls News

Delivered to your inbox

You'll also receive Yardbarker's daily Top 10, featuring the best sports stories from around the web. Customize your newsletter to get articles on your favorite sports and teams. And the best part? It's free!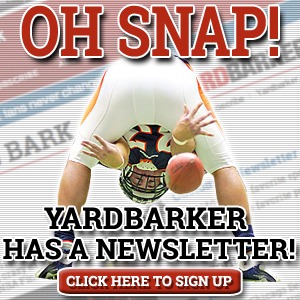 Latest Rumors
The Backyard

Today's Best Stuff

For Bloggers

Join the Yardbarker Network for more promotion, traffic, and money.

Company Info

Help

What is Yardbarker?

Yardbarker is the largest network of sports blogs and pro athlete blogs on the web. This site is the hub of the Yardbarker Network, where our editors and algorithms curate the best sports content from our network and beyond.