Found April 30, 2013 on Fox Sports Florida:
MIAMI It might take some work for Miami Heat fans to have a concern about a team that has won 41 of its past 43 games. If anything is to be found, its the health of guard Dwyane Wade. But center Chris Bosh said Tuesday that Heat fans should not worry about Wade, who has been bothered by a sore right knee. I dont think its anything to be concerned about, Bosh said. I think weve been in positions like this before. Were very comfortable playing with making sure hes getting where he needs to be, to be as close to 100 percent. We just have to keep playing. And he has to get healthy. Wade missed seven games late in the regular season to rest a bone bruise on his knee. He struggled in last Thursdays Game 3 of an Eastern Conference first-round series against Milwaukee, shooting 1 of 12. He then was rested for Sundays Game 4 and the Heat finished off a sweep. Wade has vowed to be ready for Game 1 of an East semifinal against Chicago or Brooklyn. The NBA announced Tuesday the series will start Monday at AmericanAirlines Arena regardless of the foe. The Bulls lead the series 3-2 entering Thursdays Game 6 in Chicago and a possible Game 7 Saturday in Brooklyn. Heat coach Erik Spoelstra said Wade was limited in practice Tuesday. Spoelstra didnt have much else to say about his status, and Wade was unavailable for comment. Dwyane was able to do some things, but hes making progress, Spoelstra said. Hes doing better. Its day-to-day, and thats where we are. Its not as if the Heat had many problems this season without Wade. When he didnt play during the regular season and last Sunday, Miami went 12-2. Also, the Heat won the championship last year despite Wade playing during the postseason on a balky left knee that would require surgery in July. His latest injury is considered to be less serious. Thats our goal, forward LeBron James said about getting Wade back soon to at least close to full strength. Hes been day-to-day since the Milwaukee series. I think everyone knows hes not 100 percent. But we look forward to having him. Having to practice without knowing the next foe, Spoelstra said his team is primarily concentrating on conditioning and fundamentals. Nobody on the Heat would offer any preference Tuesday on the next opponent even if Miami was just 2-2 during the regular season against the Bulls while going 3-0 against the Nets. Since the Big Three of James, Wade and Bosh joined forces in the summer of 2010, the most days off before a playoff series the team previously had was four. They now will have seven. Its different for a lot of teams, James, who had eight days off between playoff series while with Cleveland in 2009, said about a long layoff. For a lot of teams, some guys could use the rest. Its the position that were in. We cant change it. Due to Wades situation, the Heat is a team that could use the rest. Meanwhile, Bosh insists theres nothing for fans to worry about. Chris Tomasson can be reached at christomasson@hotmail.com or on Twitter @christomasson.
Original Story:
http://www.foxsportsflorida.com/nba/m...
THE BACKYARD
BEST OF MAXIM
RELATED ARTICLES
Miami Heat guard Dwyane Wade sat out Game 4 of the team's first-round playoff series against the Milwaukee Bucks -- at the request of the club and teammate LeBron James. Since the Heat were able to pull off the sweep of the Bucks, Wade will now get at least five days of rest before Miami begins its second-round series against either the Brooklyn Nets or Chicago Bulls. No matter...
Bad news if you are a Miami Heat fan or if you have Wade in your fantasy basketball playoff league, but Dwyane Wade is listed as day-to-day with a bum knee. The rest between rounds helped some, but he very well could be a game-time-decision for Game 1 in the second round. Stay tuned to FFLockerRoom as we will fill you in as the game approaches. The post Miami Heat Guard Dwyane...
Erik Spoelstra has either the easiest or hardest coaching job in the NBA. Here's why it could be the easiest: The Miami Heat coach has at least four potential Hall of Fame players in LeBron James, Dwyane Wade, Chris Bosh and Ray Allen on his roster, and perhaps the deepest bench in the league. He has Pat Riley as a mentor and an owner in Micky Arison who will happily spend with...
I thought Miami had the most loyal fans in the NBA? Why do people keep robbing their players home? First it was Chris Bosh and now Udonis Haslem. Here are the details. On Saturday, April 13, deputies were dispatched to Haslem's home after a burglary alarm was triggered from his security company around 9:47 p.m., according to the police report. According to the police report, in...
If you happen to ever face Miami Heat star LeBron James in a shooting contest, I think it will be a good idea to make sure that you set the terms in case you lose. Recently, LeBron challenged teammates Mario Chalmers and Ray Allen to a game of "Around the World" after a Miami Heat practice. Watch as Ray and Mario pay-up with twenty push-ups after losing to LeBron: *** LeBron...
In the NBA, the greats are always going to be compared to each other. While it can be simply unfair when you take a current player and compare them to 20 years ago, that does not stop the debates from happening. However, going off the numbers, Lebron James is showing the world a new level of smart, efficient basketball. In the first game of the NBA Playoffs, James put on a spectacular
What if I told you LeBron was underpaid by an amount 90% of NBA players don't make in a year. Even though LeBron is the best player in the NBA right now, he's still one of the most underpaid athletes in the country. Given all the money the Cavs made during his time with them compared to the money the Heat made upon his arrival, LeBron makes for one lucrative money maker. This...
Our friends over at CableTv.com/Blog recently did some research on NBA salaries and found that LeBron James is the most underpaid athlete in the NBA. Here are some of the more powerful statistics they've found: LeBron James is the 13th highest paid player in the NBA. Players ahead of him include Gilbert Arenas, Brandon Roy, and Elton Brand. The year after gaining LeBron, the Miami...
And here you have it, Shane Battier's 2013 NBA playoff mustache. It's in that awkward "tweener" stage right now, but rest assured, it will fit right in with the Super Troopers gang real soon.
We have a great match-up here, as NBA superstars Kobe Bryant and Lebron James were recently spotted wearing similar attire off the court during the 2013 NBA Playoffs, first round. Both athletes look consisted of a trendy $565 Givenchy Paisley Print T-shirt, as they paired the crew neck with a solid blazer jacket, and rope chain. Kobe went for a more formal approach wearing his t...
Perhaps the most disturbing part of this list is that LeBron James isn't in the top 10. You know what, perhaps it is the fact that two of the top 5 barely played this season. Or maybe it's… well, you look below and see what jumps out at you. NBA's Top 25 Paid Athletes 1. [...]
Alameen Murphy went as far as to call Stanford "the Miami Heat of college football." He's enthusiastic about his offer to play cornerback at The Farm in this Bootleg Radio interview.
Heat News

Delivered to your inbox

You'll also receive Yardbarker's daily Top 10, featuring the best sports stories from around the web. Customize your newsletter to get articles on your favorite sports and teams. And the best part? It's free!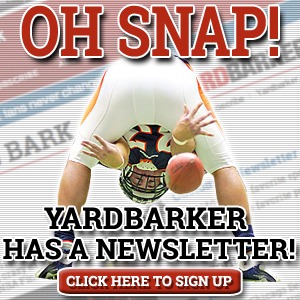 Latest Rumors
The Backyard

Today's Best Stuff

For Bloggers

Join the Yardbarker Network for more promotion, traffic, and money.

Company Info

Help

What is Yardbarker?

Yardbarker is the largest network of sports blogs and pro athlete blogs on the web. This site is the hub of the Yardbarker Network, where our editors and algorithms curate the best sports content from our network and beyond.