Found May 28, 2013 on Knickswag:
By Hannibal Knowles Chris Copeland, the 6'8" 29 year old rookie captured the hearts of Knicks fans as soon as he suited up in the orange and blue. He arrived in the NBA after playing in the Euroleague for five years and having played a stint in the NBA D-League. One thing I can definitely say about "Cope" is that he has been beneficial to this Knicks team. For this postseason he had a positive effectiveness of +3.33. He pulled out a big Game 5 performance, going for 13 points in 19 minutes. Chris' performance really was a boost for the Knicks, who were pushed around by the physical Pacers squad, and was one of the contributing factors to the 85-75 win in that game.  Woodson was criticised for not delegating more minutes to him in that series, which I think is fair, as he was having an impact when he got time on the floor. Although he never put on the greatest defensive show, he definitely improved as the season went on. He posted increasingly higher rebound numbers including a season high 9 against Washington in April. That game was during the stint when Copeland's minutes skyrocketed, due to the core players, such as Anthony and Felton, being rested for the Playoffs. He showed promise during the course of his rookie season and potential for the future. One of my favorite performances being 29 points in 28 minutes against Houston in December. His notable achievements include winning Rookie of the Month for April. It's an award that seems to have been held by Damian Lillard for most of the year, who is a true rising star. From April 7th until the end of the regular season, he became a positive contributor for a Knicks team that was on a 13-game winning streak. But what do the New York Knicks really and truly need from him? His dangerous 3-point shot can catch opponents unaware and be a momentum changer in a game. He also exhibited flashes of lovely play in the paint, particularly during the mid to late regular season. He must keep scoring if he ends up staying in the orange and blue uniform for another season. If he is to become a properly integral part of the line-up, his already improved defense needs to step up another notch or two. He can defend fairly well, but whether he can make crucial stops at crucial times is debatable. He needs to stay healthy, because as we saw this season the Knicks' players seemed to go through phases of injuries. He will need to stay fit even if his minutes are increased or decreased by Woodson next season, be ready at all times. To me, it looks unlikely that there will be a big turnaround in style of play for next season, as many three pointers will be apart of the offense again. This suits Copeland, as he excels from downtown. Grunwald will probably see that and make the decision not to let him go. The three point style of play was evidently effective, gaining the orange and blue the 2 seed. So if the offensive strategy is perfected this offseason, Cope and the Knicks could come back stronger than ever. If the Knicks manage to get a new big man during the offseason, Cope's position on the team should still be valuable.  he can camp out at the 3 and not have to worry about crashing the boards too much if there are enough strong rebounders on the floor. I don't think the NY Knicks will be moving in too much of a different direction in which Cope can't fit, therefore there is more of a case than not to keep him on the roster. He has had a successful rookie year on the whole, and now with a year of NBA experience under his belt, he can be more confident looking ahead to next season… Hopefully in a NY uniform! The post Chris Copeland: To Stay or Go? appeared first on Knickswag - A New York Knicks Blog - News, Rumors, and more!.
Original Story:
http://knickswag.com/chris-copeland-t...
THE BACKYARD
BEST OF MAXIM
RELATED ARTICLES
Last year in the summer league and in the Knicks training camp a player emerged as a keeper. Yes, Chris Copeland was that player, but a close 2nd was PF/C Henry Sims of Georgetown. Henry displayed an offensive skill set that I believed at the time was valuable to the Knicks due to Stoudemire's prone to injury and the uncertainty of his production. The Knicks had one roster spot...
The 2nd option, or should I say the lack of the 2nd option, plagued the Knicks all season. With their real 2nd option, Amar'e Stoudemire out due to injury, the Knicks turned to J.R. Smith as their 2nd and only other offensive weapon. The only problem is that J.R. has proved that he not that type of player. This is another issue that held the Knicks back during the season as well...
CAN'T DO IT ALONE
Carmelo Anthony reportedly is concerned that the Knicks will stand pat this offseason but believes the team needs to add a secondary scorer to help carry the load.
Every Wednesday at Turn On The Knicks our staff will debate an issue of the week surrounding the team here in Roundtable Format. Make sure to give everybody a follow on Twitter, along with follow the site right here. Let us know if you agree/disagree. What is the ceiling for Iman Shumpert as a player in the NBA? Joe Caporoso - Shumpert's performance in the playoffs was one...
The New York Knicks have extended an invite to center Henry Sims to join their summer league team this summer. While he hasn't officially joined yet, if the Knicks can get him back in the fold Sims has the size and skill-set to potentially be an intriguing addition to the team's frontcourt rotation. After a strong showing last pre-season with the Knicks, Sims narrowly missed...
Last week, we kicked our New York Knicks Draft Blunders with the Round Mound of Disappointment known as Michael Sweetney, but trust me, the Knicks have matched that incompetency on much more than one occasion. In 2002, they finally made the right selection, but still managed to make a mess of it. With the seventh pick of the 2002 NBA Draft, the New York Knicks selected Nene Hilario...
At this point, the New York Knicks are hoping that the tear in small forward Carmelo Anthony's shoulder is able to heal on its own, without requiring surgery. If Anthony does eventually need to go under the knife, the procedure could sideline him for the start of the regular season, according to Ian Begley of ESPN New York.The Knicks currently plan to have Anthony rest for the...
Last week it was reported that J.R. Smith had quietly agreed to re-sign with the New York Knicks at a price of $5 million per season. Reports suggest that a part of that deal was the Knicks doing Smith a small favor by also keeping his younger brother and former Louisville guard Chris Smith on the roster. ESPN New York is now reporting that such a deal in not the case, and even...
Carmelo Anthony has came out publicly saying he really needs more help in New York if the Knicks are thinking about winning an NBA title. Anthony calls combo guard Iman Shumpert a future NBA star, but not for a couple of seasons. Anthony wants another star to fill those bright lights of New York. Where is he going to get one? He figures that Amar'e Stoudemire will never really...
Happy Memorial Day, Knicks fans! Let's keep things and simple see what others are saying about the team during the first few dark days of an all too early offseason. Wondering what some of the Knicks are up to this holiday weekend? We've got you covered with the links below.Because the Knicks' season has come to a close much earlier than most people expected, that means...
According to Marc Berman of the New York Post, Carmelo Anthony, who the Knicks rely on heavily on offense, reportedly wants the Knicks to add a second scorer during the offseason but fears they will not make any major moves. According to a source, Anthony has told a confidant he is concerned management will stand pat this offseason and said he believes the team needs to add a bona...
Knicks News

Delivered to your inbox

You'll also receive Yardbarker's daily Top 10, featuring the best sports stories from around the web. Customize your newsletter to get articles on your favorite sports and teams. And the best part? It's free!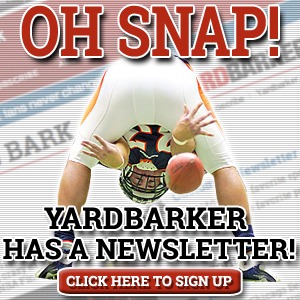 Latest Rumors
Best of Yardbarker

Today's Best Stuff

For Bloggers

Join the Yardbarker Network for more promotion, traffic, and money.

Company Info

Help

What is Yardbarker?

Yardbarker is the largest network of sports blogs and pro athlete blogs on the web. This site is the hub of the Yardbarker Network, where our editors and algorithms curate the best sports content from our network and beyond.