Found October 20, 2013 on In The Neutral Zone:
Chris Paul looked as hyped as ever during the Clippers 118-111 overtime victory over the Denver Nuggets, dropping 40 points in the shootout. Paul looked in red-hot form during the pre-season thriller (Courtesy OcRegister.com) The All-Star Point Guard scored a pre-season high of 40 points, whilst also racking up 11 assists and 7 rebounds in the pre-season thriller against Denver, and outlined the kind of performances Clippers fans will be hoping to see this season with Doc Rivers at the helm. Darren Collison also added 27 for the Clippers, with Forward Blake Griffin adding a further 17 points. Denver had seven players score in double figures in a balanced scoring attack, and could have stolen the game late in regulation, but Javale McGee failed to convert his mid-range buzzer beater. The Clippers will see this as a great performance with the regular season creeping up on the league and will be hoping to see Paul produce even more dazzling performances when the games are added to the standings. No views yet Read More NBA at Bouncy Orange Ball
Original Story:
http://intheneutralzone.com/chris-pau...
THE BACKYARD
BEST OF MAXIM
RELATED ARTICLES
You hear a lot of athletes talk about retiring, walking away from the game on their own, and just knowing when it's over for them. Rarely do the athletes that make those proclamations follow through.  Barry Sanders retired early, and didn't give one hint to being ready. Being a good father and husband is high on Chris Paul's priority list, and
Today HBO's Peabody award winning series, Real Sports With Bryant Gumbel, will spotlight baseball Hall Of Famer Reggie Jackson and Clippers' point guard Chris Paul. Bryant Gumbel sits down at Yankee Stadium with the outspoken Jackson, special adviser to the club. On the heels of his new book, "Becoming Mr. October," the 14-time All-Star opens up about his personal life and...
In 1998, one of the greatest running backs in NFL history walked away from the game at 30 years old. Could 2015 bring a similarly premature retirement from one of the NBA's best point guards? Chris Paul hinted in an HBO special that he has pondered pulling a Barry Sanders and stepping away in his prime. Paul's motivation would be to spend more time with his children, whereas...
In an upcoming installment of HBO's Real Sports, Chris Paul explains that he may step away from the game early. The noted family man has hesitations about missing out on life with his kids, and sees himself retiring prematurely so as to prevent that. And while many athletes have made these claims in the past without living up to them, there's something about Chris Paul that may...
Chris Paul believes he could step away from the NBA earlier than expected in order to spend more time with his children. "I love to play basketball more than anybody," Paul said. "I'm serious, nobody loves to play basketball more than I do. But I could honestly see myself maybe stopping a little earlier, maybe premature, just because I hate to miss anything with...
Professional athletes make a bigger sacrifice than people give them credit for. Sure, they get paid millions upon millions but one thing money can't buy is quality time with family. Chris Paul is a happily married father but it's just not enough hours in the day to cherish all the moments with his family. This […]
It's a rare thing to see when an athlete walks away from the game early or while still at the peak of their primes. Barry Sanders certainly did it. With little to no warning either, just called it quits on what I personally believe was headed to being the greatest running back career of all-time. […]
Mitchell Kranson gets a few knocks and Chris Paul proves the hero both with the stick and with the leather as the active Bears down the alums, 12-1.
Doc Rivers told CP3 "he was nothing" during their first conversation as player and coach, and now Chris Paul is hell bent on proving to Rivers just how good he really is. I'm not sure if it was the powder blue uniform with the sleeves, or the fact that he saw a quality guard in Ty Lawson across from him, but Paul went off on the Nuggets Saturday night. Paul was 13-of-21 shooting...
Los Angeles Clippers coach Doc Rivers meant no disrespect to the Los Angles Lakers by covering up their championship banners and retired jerseys. "The culture is changing, and we want to be a winner," Rivers said Monday via ESPN. "To do that, we have to make changes, and the one at Staples Center is one that I thought we needed to make. We don't leave the Lakers floor down...
The Los Angeles Clippers have long tried to get out of the Lakers' shadow. They have played in the same building since the 2000 season and are the second team in that famous city in California. They have long fought for their place in the spotlight. The problem is the Clippers did not really deserve it until Chris Paul arrived two years ago and turned the Clippers from NBA...
  LA Clippers All-Star Chris Paul torched the Denver Nuggets (2-3) for 40 points in a 118-111 overtime win Saturday.  Evan Fournier and Anthony Randolph each tallied 16 pts for the Nuggets off the bench at The Mandalay Bay Events Center in Las Vegas. The Nuggets had a chance to win at the end of the fourth quarter. Down 104-102 with 22.5 seconds left , Paul drove to the basket...
NBA News

Delivered to your inbox

You'll also receive Yardbarker's daily Top 10, featuring the best sports stories from around the web. Customize your newsletter to get articles on your favorite sports and teams. And the best part? It's free!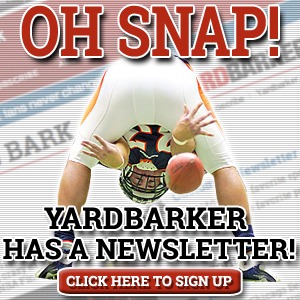 Latest Rumors
Best of Yardbarker

Today's Best Stuff

For Bloggers

Join the Yardbarker Network for more promotion, traffic, and money.

Company Info

Help

What is Yardbarker?

Yardbarker is the largest network of sports blogs and pro athlete blogs on the web. This site is the hub of the Yardbarker Network, where our editors and algorithms curate the best sports content from our network and beyond.