Found October 30, 2012 on Waiting For Next Year:
PLAYERS:
Kyrie Irving
,
Anderson Varejao
,
Rashard Lewis
,
Trevor Ariza
,
Emeka Okafor
,
Jordan Crawford
,
Chris Singleton
,
Bradley Beal
,
Jan Vesely
,
Kevin Seraphin
,
Trevor Booker
,
John Wall
,
Dion Waiters
,
Tristan Thompson
,
Tyler Zeller
,
Jon Leuer
,
Alonzo Gee
,
Omri Casspi
,
C.J. Miles
,
Daniel Gibson
,
Donald Sloan
,
Jeremy Pargo
TEAMS:
Cleveland Cavaliers
,
Washington Wizards
,
Miami Heat
I love opening day of any sport. I've discussed this point ad nauseam, but there's nothing like that feeling of the unknown. Staring at a blank canvas, and yeah, you're limited to the colors in your palette, but the possibilities are endless. The season could be anything. Basketball, of course, is a bit of a different animal though. In baseball, you have a 162 game marathon of a season where injuries, bullpen strength, lucky hitting, etc. are all varying factors that essentially mean anything can happen. In football, you see it happen every year. Some team that is "playoff lock" falters and some team makes a rise from last to first. We just pray that it can be our year 1 . But basketball is different. Basketball is, in many ways, the easiest sport to predict. Sure, some people think the Lakers are the best team in the West while others think they'll be more like the 4th seed in the West. But regardless, we all know the Lakers are going to be an elite team and a contender for the Western Conference title. What do we know about the Cavaliers? We know Kyrie Irving is an elite PG and one of the best young players in the NBA. We know Anderson Varejao will work harder than anyone else on the court. We know it would be surprising if the Cavaliers were an above .500 team. And that's about it. Of course, we don't know much about the Washington Wizards, either. The Wizards will be welcomed into The Q tonight as the Cavaliers begin painting on their canvas. In so many ways, the Cavaliers and Wizards are in similar situations. Similar, but different. Both teams famously squared off in those 3 consecutive playoff series. Both teams had their superstars leave in an infamous blaze of glory shame. Both teams have since focused on rebuilding around franchise PGs taken 1st overall in the draft. Both teams finished within 1 game of each other last season. The difference is in how these teams are approaching that rebuild. The Cavaliers seem to be eyeing the long term, stockpiling draft picks and massive amounts of future cap space. The Cavaliers are more content to let the results on the court play out as they will for now, and then in a year or two, become strong players in the free agent and trade markets. The Wizards are doing things a bit differently. This offseason, the Wizards made arguably the most curious trade of the offseason when they shipped off a huge expiring deal (Rashard Lewis) for a couple fairly mediocre players with expensive multi-year deals (Trevor Ariza and Emeka Okafor). Last year they traded JaVale McGee for Nene, who is now making $13 million per season through 2016 for the Wizards. The Wizards seem to be sort of trying to do things halfway. They added these higher priced veterans, but they do still have some youth as well. Jordan Crawford, Chris Singleton, Bradley Beal, Jan Vesely, Kevin Seraphin, and Trevor Booker are all 3rd year or younger players who will have prominent roles on the Wizards this season. So there's an interesting mix of solid young talent and high priced veterans. The key to the Wizards' rebuilding prospects, though, lie with John Wall and his development. There's arguably nobody more electrifying in the open court in the NBA than Wall. He is sensational in the fast break and he frequently leaves jaws dropped when playing that way. Unfortunately, the rest of his game isn't quite where the Wizards would like it to be. A lot of people were hoping Wall's shot would develop with time, but so far that hasn't happened. The Cavaliers won't have to worry about John Wall tonight, though. Or Nene for that matter. The Wizards' two best players will miss this game with injuries. One would have to think Kyrie Irving's biting at the chomp to go out and have a huge opening game against the Wall-less Wizards. The premiere matchup we all will be waiting for, though, is Dion Waiters vs Bradley Beal. Beal was believed to be one of the players the Cavaliers coveted in this draft. The Wizards selected him one spot in front of the Cavs, and left Cleveland with the decision to draft Waiters. Now here we are in Game 1, and both rookie SGs will be starting opposite one another. Whoever wins this matchup shouldn't be penciled in as the better player or the guy with the better career ahead. Lets not get carried away. But you know both guys want nothing more than to show up the other. It will be fascinating to watch and to see which guy can better control his nerves and his emotions in this matchup. The other interesting matchup in this game will be the battle of the frontcourts. Even without Nene, the Wizards have a lot of solid frontcourt players for the Cavaliers to contend with. Meanwhile, the Cavaliers will be trying to figure out their rotation of Anderson Varejao, Tristan Thompson, Tyler Zeller, and Jon Leuer. Watching this unit battle the Wizards combination of Okafor, Seraphin, and Booker will be fun to watch. Finally, there are just a couple last things I'll be watching from the Cavaliers tonight. I want to see how the SG/SF rotation works. How will the minutes be split between Alonzo Gee, Omri Casspi, Waiters, CJ Miles, and Daniel Gibson? Will there be an odd man out, and who will that be? How much will Waiters or Gibson be asked to play PG when Kyrie sits? Or will we see Donald Sloan or Jeremy Pargo fill that role? And finally, will the Cavaliers play defense? We may agree it's a stretch to see this Cavaliers team as an actual playoff team this year. But there are still plenty of questions and unknowns. Tonight is just the first step in finding some answers. But really it's all about the beginning of a new journey. New season, new drama, new storylines, new highs, new lows, and new experiences. At the end of the season, whether this blank canvas looks like Jackson Pollock's finest work, or the work of a young first grader remains to be seen. But watching this Cavaliers team filling up the canvas night in and night out is what it's all about. ___________________________________ of course, in Cleveland it never is
Original Story:
http://www.waitingfornextyear.com/201...
THE BACKYARD
BEST OF MAXIM
RELATED ARTICLES
It was less than a year ago when Kyrie Irving made his forgettable Cavalier debut. Tonight, we saw what a difference experience and confidence made for Kyrie as the Cavaliers survived a Wizards 4th quarter run to come away with a big opening night win. Dion Waiters had a stellar debut, making Cavs fans forget about most of their preseason worries. Waiters finished with 17 points...
Kyrie Irving's first "Uncle Drew" commercial with Pepsi last year was a huge hit. Cavaliers fans and NBA fans across the country seem to love "Uncle Drew". The super sophomore now a 2nd edition of the hit commercial with Pepsi just as the NBA season tips off.  It also features Bill Russell and Kevin Love as "Wes".  Not bad....
Prior to the Cavaliers' Opening Night tip-off on Tuesday night, team majority owner Dan Gilbert addressed the media to discuss the upcoming season. Given Gilbert's notoriety, however, not every question revolved around the future as the fiery business man was asked to address the letter he penned following "The Decision," wherein he guaranteed that his Cavaliers would win...
The season tips off tomorrow, and WFNY wants to send a lucky reader there. We have a pair of tickets for the game in section 204, row 7. We will use Flashseasts to transfer the tickets. If you don't have a Flashseats account, you can easily still sign up for one. To enter, simply leave a comment in this post answering the following question- Aside from Kyrie Irving, which Cavalier...
CLEVELAND (AP) -- The Cleveland Cavaliers say their season opener against Washington will be played as scheduled. Team spokesman Tad Carper said the NBA team has been in contact Tuesday with city officials. The team is closely monitoring weather conditions and has contingency plans in place in case things change. Like so many other cities, Cleveland was slammed by rain and high winds...
One franchise point guard hopes to begin his quest to lead a team out of the NBA doldrums Tuesday night, while another will have to wait a couple more weeks. John Wall won't be able to go for the Washington Wizards in this season opener in Cleveland, but the Cavaliers are hoping to have Kyrie Irving available less than a week after the reigning rookie of the year had four wisdom...
Dan Gilbert can empathize with the decision made by the Thunder to trade James Harden before he hit free agency.
CLEVELAND (AP) -- Cavaliers owner Dan Gilbert now wishes he wouldn't have guaranteed his team would win an NBA title before LeBron James. When James left Cleveland for Miami as a free agent in July 2010, Gilbert famously promised in a letter to disappointed Cleveland fans that his Cavs would win a championship before James got one with the Heat. Well, that ended in June when...
Previously on That NBA Lottery Pick, we featured a short film starring Cleveland Cavaliers point guard Kyrie dressing up in old man make-up as "Uncle Drew" and schooling some street ballers.In this clip, Uncle Drew invites help from old man name Wes who is really Timberwolves forward Kevin Love:  (Courtesy of Pro Basketball Talk)
Before the team was named the Washington Wizards, they were known as the Bullets and nothing captured that Bullet spirit than the 1978 championship team. Led by center Wes Unseld, the Bullets faced the Seattle Super Sonics in a thrilling game 7 in Seattle. Players such as Unseld, Dennis Johnson, Paul Silas, Bob Danridge, Elvin Hyes, Jack Sikma, Freddie Brown, and many more future...
CLEVELAND – There might come a day when the Cavaliers deal center Anderson Varejao. However, whenever they think about trading him, they should pop in a videotape of him from the Cavs' 94-84 victory over the Washington Wizards in the season opener Tuesday for both teams. The 6-foot-11, 260-pound Varejao established career highs in rebounds (23) and assists (nine), as he...
NBA News

Delivered to your inbox

You'll also receive Yardbarker's daily Top 10, featuring the best sports stories from around the web. Customize your newsletter to get articles on your favorite sports and teams. And the best part? It's free!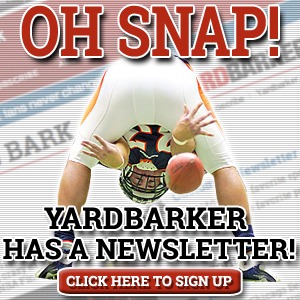 Latest Rumors
Best of Yardbarker

Today's Best Stuff

For Bloggers

Join the Yardbarker Network for more promotion, traffic, and money.

Company Info

Help

What is Yardbarker?

Yardbarker is the largest network of sports blogs and pro athlete blogs on the web. This site is the hub of the Yardbarker Network, where our editors and algorithms curate the best sports content from our network and beyond.