Found May 16, 2012 on Fox Sports Houston:
SAN ANTONIO -- It was a good thing, Chris Paul said, that the Los Angeles Clippers played poorly in Game 1. Because if they'd had their tip-top-of-their-game butts handed to them, well, that's when a loss becomes an identity crisis. "It would be tough if it was like, 'Man, we did everything right and we did everything we wanted to do and we couldn't beat them,'" Paul said. The Clippers find themselves down 0-1 to the San Antonio Spurs in the second round of the NBA Western Conference playoffs -- Game 2 is at 8:30 p.m. central Thursday in San Antonio -- but there is some psychological convenience to be found in the reasons why. They are myriad. Some of them are not likely to persist. Paul's shooting, for example, will not tread water at 23 percent for an entire playoff series. He said he got the shots he wanted Tuesday, and if a couple more of them had dropped, who knows. "That was the most frustrating part, getting where I wanted to and not seeing them go down," he said. "You can't do that in the playoffs." The Clippers also groaned about their 15 turnovers (though that was three fewer than San Antonio had). Paul had five of his own, and that was as uncharacteristic as his shooting. So although the score got away from the Clippers -- it ended up 108-92 -- those two factors arm the Clippers with a sturdy psychological crutch -- dismissal. As in, that shouldn't have happened once and surely it won't happen again. But there were other issues not so easily discarded. Such as guarding the Spurs. It would be one thing if it were just Tim Duncan working over DeAndre Jordan (which it was). You can scheme the ball out of a power forward's hands and on a good night Jordan might even be able to guard him. The trouble was that it seemed whenever Duncan or Boris Diaw caught the ball, somebody ended up scoring, sometimes a second or third pass away. The Spurs feeding Duncan is like feeding an equation to a computer; it always, and immediately, spits out the right answer. The Spurs made 13 of 25 3-pointers Tuesday, which is an unusually high percentage, but not a lucky one. These were professional basketball players making open shots -- they tend to do that. There was a stretch that lasted a quarter, maybe more, in which it seemed like San Antonio didn't attempt a challenged shot. This could be a problem with no easy solution. "We've obviously got to do a better job with a sense of urgency getting out to shooters, do a better job with pick-and-roll coverages," Clippers coach Vinny Del Negro said. Easier said than done. The challenge in defending the Spurs is that the Spurs' offense is indifferent. As water seeks the lowest point, San Antonio's offense seeks the most open man. The hard part, Paul said, is "trying to take so many different things away." "You let Timmy get a couple easy layups," he said, "and all the guys start making shots around the perimeter." So that will be difficult to stop. It is basically why the Spurs are 50-16, and the Clippers know that. But they know they can play better, too, most of all Paul. There was a telling comparison Tuesday. It was between Paul and Tony Parker, two of the NBA's best point guards. Both had rotten games. They combined to go 4-for-22 with nine turnovers. But there was a contrast, too. For Parker, it hardly mattered, and for Paul it meant everything. The key in Game 2? "Play better," Paul said. "It's that simple. That's a good team over there, and we can't make mistakes."
Original Story:
http://www.foxsportshouston.com/05/16...
THE BACKYARD
BEST OF MAXIM
RELATED ARTICLES
Chris Paul says it's not the sore groin or the strained hip flexor, but even if it was, he wouldn't admit it. But hurt or healthy, Chris Paul is doing some very un-Chris Paul things. After committing five turnovers in the Clippers' Game 1 loss, Paul finished with a career-high eight turnovers Thursday as the Clippers fell to San Antonio 105-88. "It's just...
SAN ANTONIO After dissecting another long evening here, Clippers guard Chris Paul turned to his 2-year-old son, Chris, and asked him about his trip to Sea World earlier in the day. Little Chris described with great wonder the highlight: a whale with a big tail. On that account, father and son had plenty in common. Paul will return home much like Captain Ahab, playing like he...
Before this series started I was the only person I spoke to that thought this thing was going to seven games. When asked why I had that opinion I would provide only two words: Chris Paul. I felt like a player as good as Paul simply could not be beaten in just four or five games, and with the weapons he has on this Clippers squad that thought just became stronger in my mind...
It's going to make me cry but this is the last installment of "Top 25 Toughest Players to Guard in the NBA. It has been a fun four day ride but, like all good things, it must come to an end. Today I unveil players 5-1. Here we go! (Tear, tear) 5. Chris Paul – Is there anything Paul can't do? He is a magician with the ball, a fierce competitor, strong as hell, and super-talented...
If the Los Angeles Clippers are trying to take Tony Parker out in this series, they're not doing a very good job. The San Antonio Spurs' point guard dished out 11 assists in Game 1 and scored 22 in Game 2. San Antonio also happens to lead the Western Conference semifinals 2-0, with the best-of-seven shifting to Los Angeles for the next two games, beginning Saturday. The...
Most people seem to believe the Spurs have a big advantage in their Western Conference semifinal matchup with the Clippers. After all, they're the well-rested team with championship experience. The Clips are supposedly too young and too banged up to win this series. I think the opposite may be true. To me, the tough, physical, grueling seven-game series that Los Angeles just...
If there's one thing the Los Angeles Clippers can be happy about from their blowout loss to the San Antonio Spurs in Game 1, it was the inspired performance from Eric Bledsoe. Bledsoe shot 10-16 from the floor for 23 points and seemed like he could score at will against the Spurs' defense. He also added 4 offensive rebounds, 4 assists, 3 steals and a block. He filled up...
The Los Angeles Clippers were finally able to finish off the Memphis Grizzlies in seven games. Their reward for coming out of that slug fest? They get to play the well-rested San Antonio Spurs. The fact that it took the Clippers three chances to finish off the Grizzlies is going to be huge for the Spurs. Games 5-7 were grueling, not to mention the fact that Chris Paul and Blake...
Air Diaw10) From watching these first two games, you'd never guess that Chris Paul is actually any good9) When Tim Duncan looks quick and comfortable, the Spurs' opponents really don't have a chance in hell8) If Blake Griffin is going to continue to get one more rebound than a dead man, we're going to really have to start calling him a power forward7) ESPN cared so...
SAN ANTONIO -- The red-hot San Antonio Spurs continued their winning ways, crushing the Los Angeles Clippers 105-88 Thursday at the AT&T Center for their 16th consecutive victory. The Spurs lead 2-0 in the Western Conference semifinals. Game 3 of the best-of-seven series is Saturday afternoon at Staples Center in Los Angeles. Five of San Antonio's six postseason victories...
The LA Clippers stayed with the San Antonio Spurs for much of last night's Game 1, and even had a lead mid-way through the second quarter, but the Spurs pulled away in the third quarter and never looked back, winning with a convincing score of 108-92. Here are a few notable happenings from the game that some of you early to bed folks may have missed. One Watch The point...
NBA News

Delivered to your inbox

You'll also receive Yardbarker's daily Top 10, featuring the best sports stories from around the web. Customize your newsletter to get articles on your favorite sports and teams. And the best part? It's free!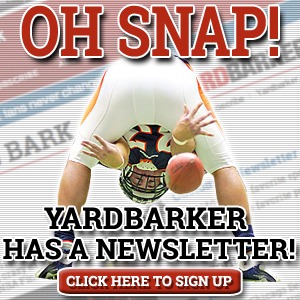 Latest Rumors
The Backyard

Today's Best Stuff

For Bloggers

Join the Yardbarker Network for more promotion, traffic, and money.

Company Info

Help

What is Yardbarker?

Yardbarker is the largest network of sports blogs and pro athlete blogs on the web. This site is the hub of the Yardbarker Network, where our editors and algorithms curate the best sports content from our network and beyond.