Found April 10, 2012 on BeyondUSports:
PLAYERS:
LeBron James
,
Sebastian Telfair
,
Jonathan Bender
,
Darius Miles
,
Kwame Brown
,
Travis Outlaw
,
Robert Swift
,
Martell Webster
,
Jonny Flynn
,
Byron Mullens
,
Patty Mills
,
Marquis Teague
,
Otto Porter
,
Quincy Miller
TEAMS:
Miami Heat
,
Phoenix Suns
,
Portland Trail Blazers
,
Milwaukee Bucks
,
Sacramento Kings
,
Minnesota Timberwolves
,
Charlotte Hornets
,
San Antonio Spurs
,
Kentucky Wildcats
,
Georgetown Hoyas
,
Baylor Bears
College Basketball Stars, Take Your Time
When LeBron James decided to skip college and go to straight to the NBA, it was obvious he was ready to be an elite player in the NBA and be the face of the franchise of the team that would end up drafting him. Can you say the same thing about a guy like Sebastian Telfair? Although he is still playing in the NBA, he never came close to being a star. This guy had so much hype coming out of high school that ESPN made a documentary about him his senior year. Telfair wound end up getting drafted with the 13th pick in the 1st round by the Portland Trailblazers in 2004. Telfair is currently playing for his 6th team in 9 NBA seasons which shows he never was able to reach his potential.
photo credit: buzzbox.com
Imagine if Telfair would have gone to college just for one year. He could have been a completely different player. People often forget that the transition from high school level to NBA is huge. In high school Telfair was playing against guys who often were only playing as an extra circular sport and not looking to be a professional basketball player. While in the NBA one is facing the best competition in the world.
Professional sports are all about confidence, and if you are an eighteen year old kid struggling in your first season in the NBA, that could derail you for the rest of your career . Look at guys like, Jonathan Bender, Darius Miles, Kwame Brown, Eddie Curry, Travis Outlaw, Robert Swift, Martell Webster – all guys who were drafted in the 1st round out of high school who were never able to make it in the NBA. So what was their rush? Money? The life style? The fame? Only they could answer that. I wonder what those players would do if they were given the ability to go back in time and go to college? My guess is they would go straight to school.
Starting in the 2006 NBA draft the NBA decided players would have to go to college for at least one year or play pro ball somewhere after graduation for one year. At the time I was really excited because I knew all of these high school stars would play college basketball and raise the competition level and add to the excitement of college basketball. Now that some years have passed I wish the rule would be that players would have to stay in college for at least two years and preferably three years. Call me selfish, but I think it would be a win-win for both the players and the fans.
In the last few drafts there have been some underclassman that have opted for the NBA draft who were simply not ready for the NBA. In 2009 and 2010 drafts, these young college stars like Jonny Flynn, Byron Mullens,Patty Mills, Xavier Henry and Eric Bledsoe were drafted. All these guys are not getting better sitting on the bench. If they had decided to stay in college for at least one more season not only could they develop as players but they also would help their teams be more successful. When you're a young professional athlete you want to be playing as much as possible so that your game doesn't stay raw. In the NBA when you sit on the bench for the whole season you aren't able to compete and gain the experience needed to improve your game.
Underclassman have until April 29th to officially decide if they're going to enter the NBA draft. My advice for Kentucky's Marquis Teague, Georgetown's Otto Porter, Baylor's Quincy Miller and UConn's Andre Drummond? Do yourselves a favor and stay in school.
BeyondU Sports BeyondU Sports - Best College Sports Blog Site
Original Story:
http://feedproxy.google.com/~r/Beyond...
THE BACKYARD
BEST OF MAXIM
RELATED ARTICLES
Jabari Parker joins LeBron James, Greg Oden and Brandon Knight as the fourth non-senior to win the award.
MIAMI -- If the Miami Heat want the No. 1 seed in the East, they better plan on winning Thursday night in Chicago. If not, they can start talking about how it really doesn't matter. Then again, they already are talking that way. "I was the No. 1 seed for two straight years in Cleveland and I keep telling you guys that we didn't win (the East)," Heat forward LeBron...
During Tuesday night's heated game against the Boston Celtics, 'Bron took it upon himself to come from behind and make an athletic block on a sure dunk by Greg Stiemsma. If that wasn't enough, Lebron also managed to gather the rebound while nimbly staying in bounds.  
LeBron James scored 26 points, Chris Bosh finished with 22 points and nine rebounds, and the Miami Heat steadily pulled away to beat the Detroit Pistons 98-75 on Sunday night. James Jones scored 18 on 6-for-8 shooting from 3-point range for Miami, which played without Dwyane Wade for the 11th time this season. Wade sat out with right ankle soreness, which the team said was caused...
Tune into Sun Sports at 6:30 p.m. to watch the Miami Heat take on the Boston Celtics. NBA Heat territory. Much was made about the Boston Celtics' easy win over the Miami Heat just over a week ago. A repeat performance, however, could be hard to come by with the next matchup coming in South Beach. Surging Boston tries for an eighth win in 10 games Tuesday night against a Heat...
'I Touched Peskys Pole' A.B. This sums up how I feel about Red Sox ownership recently. They are so caught up with promoting the anniversary, selling coffee table books & bricks and expanding globally with the likes of Liverpool and Lebron James to pay attention to the details. And while there is no doubt John Henry has never touched a brick in his life and would not be...
Coming off their worst defensive effort since LeBron James and Chris Bosh brought their talents to South Beach to join forces with Dwyane Wade, the Miami Heat need a victory for any realistic chance to claim the Eastern Conference's top seed. The Chicago Bulls have done quite well maintaining that position despite Derrick Rose being slowed by injuries as role players have consistently...
The death of the NBA has been greatly exaggerated.
Much was made about the Boston Celtics' easy win over the Miami Heat just over a week ago. A repeat performance, however, could be hard to come by with the next matchup coming in South Beach. Surging Boston tries for an eighth win in 10 games Tuesday night against a Heat team that's been nearly unbeatable at home. The Celtics (32-24) have used a 7-2 run to climb into first...
I often wonder what opposing teams, their beat reporters and bloggers are saying about the Celtics after playing the Celtics. Here's a dose of 'enemy chatter' from Miami. Beyond the standings, though, the way they seem to be coming together has grabbed the league's attention. Already at the top of most of the defensive rankings because of their intensified focus...
NBA News

Delivered to your inbox

You'll also receive Yardbarker's daily Top 10, featuring the best sports stories from around the web. Customize your newsletter to get articles on your favorite sports and teams. And the best part? It's free!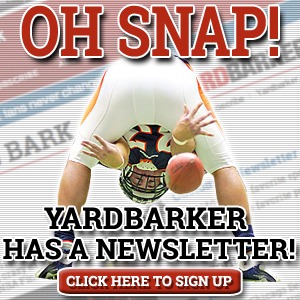 Latest Rumors
Best of Yardbarker

Today's Best Stuff

For Bloggers

Join the Yardbarker Network for more promotion, traffic, and money.

Company Info

Help

What is Yardbarker?

Yardbarker is the largest network of sports blogs and pro athlete blogs on the web. This site is the hub of the Yardbarker Network, where our editors and algorithms curate the best sports content from our network and beyond.