Posted May 21, 2012 on AP on Fox
(Eds: With AP Photos.) By JIM LITKE AP Sports Columnist Spectacular as it seemed, it was nothing we haven't seen from LeBron James before. Maybe that's the funny thing about all the hoopla over James' performance in Game 4 of the Pacers-Heat series. Because for once, it wasn't just his talent that deserved the spotlight, but his maturity. The question, after all, was never how good James was; he answered that long before his fateful decision to trade Cleveland for Miami turned James into the superstar everybody loves to hate. He won a scoring championship, back-to-back MVP awards and single-handedly dragged the Cavs into the playoffs each of his last five seasons there - and still had enough energy left to deliver a handful of postseason performances every bit as eye-popping as the one he dropped Sunday on Indiana. People forget that now. In 2007, James scored 48 points, including all of his team's last 25, in a double-overtime victory over Detroit. Former NBA sharpshooter Steve Kerr, who played alongside Michael Jordan and was doing the color commentary that night, bestowed the ultimate compliment that night: ''Jordanesque.'' In 2009, James put up 41, 44 and 37 points in consecutive games against Orlando. Over those five postseasons with the Cavs, he averaged 43 minutes and 30 points. Somehow, it was never enough. So it's worth remembering the reason that Jordan, Charles Barkley and a handful of other NBA greats - plus nearly every NBA fan outside Miami - turned thumbs-down on James' decision to leave Cleveland in the first place. They simply thought he was too good and too young to go looking for so much help so soon. To say James should have developed a sense of urgency since doesn't tell the half of it. He's 27 and still without a ring after the first season of the ''Big Three'' experiment ended in failure against the Dallas Mavericks. So when Chris Bosh went down in the first game of the series against Indiana, and Miami's response was two shaky losses in a row, everybody was quick to drop the blame into LeBron's lap instead of where it squarely belonged - on Dwyane Wade's shoulders. It's one measure of how much James may have matured that he took the criticism in silence. Usually, he finds no slight too small to ignore and he's had so many public feuds running at any moment that it's hard to keep track of them all. Earlier this season, he correctly pointed out, ''If someone wants to get a point across - just throw LeBron's name in there. You could be watching cartoons with your kids and you don't like it, you say, `Blame it on LeBron.' If you go to the grocery store and they don't have the milk that you like, you just say, `It's LeBron's fault.' '' And so it seemed likely to happen again this postseason as the Heat's tailspin - and Wade's funk - continued through the early going in Game 4. Consistency comes when people know what's expected of them. And despite two-plus seasons trying to make their talents mesh, James' supporting cast in Miami is finding it just as hard as the one he left behind in Cleveland to figure out what their roles are when the star of the show is still trying to decide what his is going to be. For this one game, at least, James erased all doubts by doing just about everything. He scored down low, knifed through the lane, blocked shots, defended the post, brought the ball up - anything and everything Miami needed to stay within touch of the Pacers. Just before halftime, with 19 points of his own, he fired off an assist to set Wade up for a dunk that may have reversed the momentum in the series for good. That one pass said more than any pregame pep talk James may have considered. ''I didn't say anything to him for a reason,'' James recalled afterward. ''He's one of the best players in the world, but I know that the best thing for a scorer who's struggling is to get him an easy one.'' ''When `Bron gave it back to me, I caught it in rhythm and you could tell I wasn't thinking of anything,'' Wade confirmed. ''I was just playing basketball again.'' The two combined for 70 of Miami's 100 points - 40 for James; 30 by Wade - including 38 straight at one point. Wade had 10 in a row by himself. Even Udonis Haslem got into the act, doing a passable imitation of Bosh in the paint. ''I felt like I had to do whatever it takes for us to win,'' James said. Yet the difference between James trying to do it all himself in Cleveland and Miami wasn't apparent until the end. It was only then that Wade realized he'd already spent too many minutes doing what James' teammates have been doing since LeBron first wrapped his hands around the ball: Watching. ''We played off each other really well. We were both,'' Wade said almost sheepishly, ''aggressive at the same time.'' ---(equals) Jim Litke is a national sports columnist for The Associated Press. Write to him at jlitke(at)ap.org and follow him at Twitter.com/Jim Litke.
Original Story:
http://msn.foxsports.com/nba/story/Co...
THE BACKYARD
BEST OF MAXIM
RELATED ARTICLES
If you worked at 80% efficiency every second of every work day, would you be satisfied? 80%. That's average, right? Wouldn't that be acceptable? Your 80% may be a lot better than mine. The genius in the cubicle beside you might only need to work at 50% efficiency in order to get the same amount of work done. Still, for most of us, 80% would be a solid effort. We would all admit...
MAGIC JOHNSON-ESQUE
Check out how well LeBron James and Dwyane Wade can play together when things are clicking. That's some Magic Johnson no look stuff right there, but on PEDs. Yeah, this team definitely needs to break up.
Over the last week Miami Heat All-Star LeBron James has been criticized endlessly by fans of the Association as well as by the media; including on these pages. After being presented the 2012 NBA MVP Trophy by Commissioner David Stern last Sunday, James certainly did not look like an MVP as his team fell behind the Indiana Pacers 2-1 in their series after Chris Bosh was injured...
The UnlovedFirst things first: LeBron James is the best basketball player on the planet, and it's not even really close.Sure, there are flaws to the game. His free throw shooting is a little dicey. He's prone to turnovers. He can defer too much, especially in late and close situations, possibly due to the free throw worries. But there's no more versatile player, no one...
MIAMI (AP) -- LeBron James scored 30 points, Dwyane Wade added 28, and the Miami Heat moved a win away from another trip to the Eastern Conference finals with a 115-83 victory over the suddenly hurting Indiana Pacers on Tuesday night. James added 10 rebounds and eight assists. Shane Battier scored 13 and Mario Chalmers had eight points and 11 rebounds. The Heat lead the best-of...
INDIANAPOLIS -- This time, the power of two was enough. With power forward Chris Bosh still out with a lower-abdominal strain, the Miami Heat's tag team of LeBron James and Dwyane Wade landed the equivalent of a shot to the gut to the Indiana Pacers on Sunday afternoon with a 101-93 victory over the Pacers at Bankers Life Fieldhouse. "You get the ball out of one of those...
It was just last Thursday that the Miami Heat were written off for dead.  LeBron James and Dwyane Wade were the least-clutch superstars ever.  The sky was falling.  Less than a week later, things done changed.LeBron has shown why he is the best player in the world, averaging 35 points, 14 rebounds, 8.5 assists over the past two games.  Wade has shown why he is the best &quot...
Jay Pharoah generally does a solid job on Saturday Night Live, but his impression of ESPN analyst Stephen A. Smith was especially funny. Pharoah had Smith's mannerisms, voice inflection and personal stories down to a tee, which drew plenty of laughter from the audience. As part of the skit, Pharoah gave advice to LeBron James and the Miami Heat. Acting as Smith, he revealed that...
It was the choke seen 'round the world.  Seen by everyone except the one man it was aimed at, LeBron James.  And who was the one that fired off that shot?  Some guy named Lance Stephenson.  Who is that you might ask?  Well, he's just some guy.  Some guy that plays on the Pacers…well, is [...]
The NBA playoffs are in full force right now, and it's interesting and sometimes fun to wonder how athletes might fair if they played another professional sport. Since many athletes played multiple sports as late as high school or college before choosing the one they had the best chance to go pro in, many of the skills they had in other sports may not have eroded much and could...
This video (courtesy of That NBA Lottery Pick) is one of the least exciting we've ever posted, but it's newsworthy because LeBron James read Young Adult super-novel The Hunger Games before Sunday's Heat-Pacers Game Four in Indianapolis, dropped 40 points and evened the series at two games apiece. It's the best remedial reading basketball performance since Vlade Divac cried...
INDIANAPOLIS -- This time, the power of two was enough. With power forward Chris Bosh still out with a lower-abdominal strain, the Miami Heat's tag team of LeBron James and Dwyane Wade landed the equivalent of a shot to the gut to the Indiana Pacers on Sunday afternoon with a 101-93 victory at Bankers Life Fieldhouse. James closed with 40 points, 18 rebounds and nine assists...
NBA News

Delivered to your inbox

You'll also receive Yardbarker's daily Top 10, featuring the best sports stories from around the web. Customize your newsletter to get articles on your favorite sports and teams. And the best part? It's free!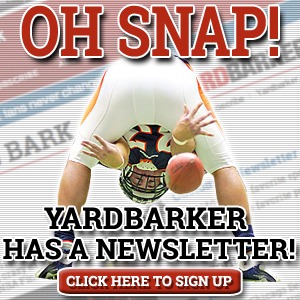 Latest Rumors
The Backyard

Today's Best Stuff

For Bloggers

Join the Yardbarker Network for more promotion, traffic, and money.

Company Info

Help

What is Yardbarker?

Yardbarker is the largest network of sports blogs and pro athlete blogs on the web. This site is the hub of the Yardbarker Network, where our editors and algorithms curate the best sports content from our network and beyond.