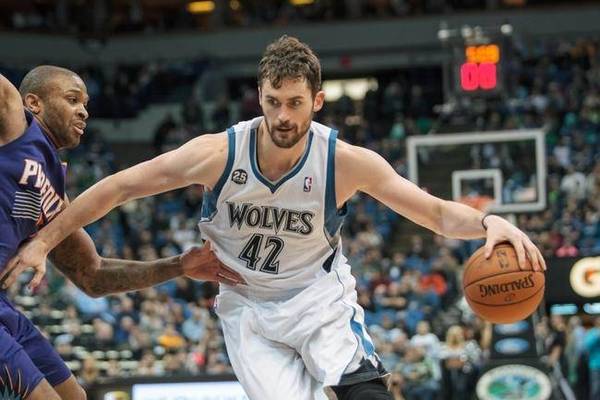 Mar 23, 2014; Minneapolis, MN, USA; Minnesota Timberwolves forward Kevin Love (42) dribbles in the fourth quarter against the Phoenix Suns forward P.J. Tucker (17) at Target Center. Phoenix wins 127-120. Mandatory Credit: Brad Rempel-USA TODAY Sports
There have been many Kevin Love rumors swirling around this offseason, but one team that has been in the running is the Denver Nuggets. The Nuggets are one of the most intriguing potential suitors out there, and are interested in acquiring Love even if they are unable to get a promise that he'll sign long-term. Denver does have the necessary pieces to make a move, and they could be a very nice destination for Love with the current team that they have put together. Could the Nuggets actually end up acquiring Love from the Minnesota Timberwolves this offseason? Love ended up playing and starting in 77 regular season games with the Timberwolves last season, averaging 26.1 points, 12.5 rebounds and 4.4 assists per game. He isn't very much of a defensive presence, but he more than makes up for that deficiency on the offensive side of the ball. His scoring ability would be very much welcomed in Denver, and would make a very nice pair with point guard Ty Lawson. Denver does have some pieces that they could move for Love, including Arron Afflalo, Kenneth Faried, Wilson Chandler and potentially JaVale McGee. The Nuggets would also be able to throw in a couple first-round picks if needed, but there is no doubt that they have the pieces to pull a deal off. Minnesota has had previous interest in acquiring Afflalo, and they would likely have interest in Faried as well to help replace Love. Brian Shaw loves to run his offense through his big men, and Love would be able to add an incredibly interesting skill set to the team. A duo of Lawson and Love could be extremely dangerous, and the Nuggets would still be able to field a decent supporting cast around them. It would be very interesting to see what the final trade package between the two teams would be, but there are plenty of movable pieces on the Timberwolves' side of things. This type of move would completely change the future for the Nuggets, and it could get them back on the map as potential championship contenders. Love would still be the number one scoring option obviously, but he would be playing with a point guard who can make plays and be a legitimate scorer as well. Ricky Rubio was a very good playmaker in Minnesota, but he was unable to score the basketball and give Love some relief. Perhaps Love's most underrated aspect is his ability to be an effective passer. He is able to force defenses to respect his passing ability, which gives him a bit more space for scoring. That being said, he is also one of the best double-double machines in the league, which would be another nice addition for the Nuggets. When everything is said and done, it will be very interesting to see how serious the Nuggets get in trade talks with the Timberwolves. There is definitely interest in a potential deal, especially because Denver is willing to make a deal without assurance that Love would sign a long-term contract. He is interested in playing for a new team in a new place and giving it a shot, and the Nuggets could be a team that he would consider a long-term deal with if things go well and they can compete in the playoffs. That being said, there are plenty of things that need to happen before the Nuggets are able to make a deal for Love. Follow @massey_evan // The post Could the Nuggets end up acquiring Kevin Love? appeared first on Sports Glory.
Read the rest of this story...
MORE FROM YARDBARKER

Nuggets News

Delivered to your inbox

You'll also receive Yardbarker's daily Top 10, featuring the best sports stories from around the web. Customize your newsletter to get articles on your favorite sports and teams. And the best part? It's free!