Found April 09, 2013 on Fox Sports North:
MINNEAPOLIS There's a certain stigma to the numbers: four teams in four seasons. Four teams in four seasons, you'd think, would signal problems. It would signal perhaps a lack of talent, perhaps a lack of need, perhaps a lack of a concrete role. It would signal, you'd think, a leaguewide ambivalence. Dante Cunningham has played for four teams in four seasons. Dante Cunningham is not a problem, not without talent, and now, finally, certainly not a player toward whom his team can feel anything approximating ambivalence. Cunningham was picked 33rd overall out of Villanova by the Trail Blazers in the 2009 NBA draft. After a season and a half in Portland, he was part of the package that brought the Trail Blazers Gerald Wallace from Charlotte, and after those few months with the Bobcats, he was a free agent. When the lockout ended in December 2011, Cunningham signed a three-year deal with the Grizzlies, who liked him but eventually found themselves with a dearth of guards last summer and summarily dealt the forward to Minnesota for Wayne Ellington. That, at a glance, is Cunningham's career. He was always good enough to dangle in a deal, never great enough to want to keep, but the 25-year-old military kid from Maryland was certainly never a problem. Now, though, in Minnesota, as the fourth year of his career winds down, Cunningham is something more. He should have a measure of security. For perhaps the first time in his career, or at least to the greatest extent, he has a meaningful role. Dante Cunningham, oft-traded former second-round pick and current second-string player, is the Timberwolves' closer. That statement in itself, of course, is flawed. It is true, and Cunningham has played well, but in it lies a harsh reality. The forward has the most fourth-quarter minutes of any Minnesota player since March 1 because he has played well, but the sheer fact that he does is the perfect illustration of how the injured, depleted team is relying heavily on second-string players. The inherent problems with Cunningham's prominent role aside, it's important to consider what he's done over this relatively short time frame. In the 21 games since March began, Cunningham has averaged 10.7 fourth-quarter minutes, a full 1.6 minutes more than J.J. Barea, who has the next-most over the time span. His team-high 4.3 fourth-quarter points per game also eclipses Barea's 4.2, and his 2.5 fourth-quarter rebounds is the best among all the Timberwolves. Cunningham also attempts more fourth-quarter shots 3.8 per game than anyone on the team, and he makes more 1.9 per game as well, for 50 percent shooting in the quarter. (Only Greg Stiemsma with 55.0 percent, Nikola Pekovic with 52.4 and Andrei Kirilenko with 54.5 are shooting better in the fourth quarter since March 1, but their marks are with far fewer shots and minutes than Cunningham's.) On the season, Cunningham has averaging 9.5 fourth-quarter minutes, but recently those numbers have seen an even greater uptick. He's been shooting better since March 1 48.2 percent compared to 45.6 percent before and that, combined with his superior defensive skills and energy, has catapulted him into a new role. "I wouldn't necessarily say a closer, just a solid defensive presence," Cunningham said of his role. "I mean, I just have a good understanding of what's going on." Timberwolves coach Rick Adelman touts Cunningham's defense above all else. "He defends so well as a team defender, especially," the coach said. "He gets his hands on a lot of balls. He's always in the right spot." But really, his late-game offense has mattered almost as much of late, and Cunningham has not only risen to the occasion presented by injuries, but he's also exceeded it, something few players did last season when the team found itself depleted and won just one game in April. Cunningham has played in all but one game for the Timberwolves this season he was ill on Jan. 19, a sickness that ruined his chance at a perfect 82-game season and if he continues on that pace, he'll surpass his season high of 78 games played in 2010-11. Already, he's played more minutes this season than he has in any other, made more field goals, attempted more field goals, snared more rebounds (already 105 more than in his next-best season) and dished more assists. Four years into Cunningham's career, this has been something of a coming-out party, born of injuries but upon which he's building a shot at a better career. "I wouldn't necessarily say I've done everything differently," Cunningham said. "I'm just getting a little more opportunity, a little more time here to develop and be on the court consistently. It's a lot easier to get a rhythm when you go out and play." "You really can't overthink it, if you're worried about making the big shot or making the shot, there's lot of other things in the game and you should be doing what you've been doing the whole time." Cunningham's big minutes are a symptom of the Timberwolves' problems. There's no questioning it. But that doesn't mean he hasn't done better with the chance than anyone might have expected, that he hasn't played himself into a bigger, more concrete role than would have been his had he remained an indistinguishable bench player buried under Kevin Love's minutes all season. The Timberwolves hold a 2.2 million option on Cunningham's contract next season, and they'd be crazy not to take it. Talk to Cunningham after practice, and his eyes look straight ahead over your head, in fact. There's rarely eye contact, rarely expression, sometimes barely even an acknowledgment that he's talking to you and not himself. It might seem rude, but it's not. Follow that piercing gaze, and it hits upon his teammates and coaches. He's talking about himself but always watching them. He's focused, locked-in, and now that he has this opportunity, it's hard to imagine him letting it go. Follow Jesse Temple on Twitter.
Original Story:
http://www.foxsportsnorth.com/nba/min...
THE BACKYARD
BEST OF MAXIM
RELATED ARTICLES
MINNEAPOLIS The NBA announced Monday that Nikola Pekovic was named the player of the week in the Western Conference for April 1 7. He is the first Timberwolves player to earn the honor since Al Jefferson did so in Jan. 2009. Pekovic averaged 25.0 points on 58.9 percent shooting and 8.5 rebounds on the week, leading the Timberwolves to wins over Boston, Milwaukee and Detroit and...
MINNEAPOLIS The Timberwolves announced Wednesday evening that Kevin Love underwent successful arthroscopy on his left knee earlier in the day. The surgery, performed by Dr. David Altchek at the Hospital for Special Surgery in New York, was to remove a buildup of scar tissue in the joint, and a typical recovery time is between four and six weeks. Doctors also removed the metal plate...
After nearly six months of worrying about a right hand, the Kevin Love injury saga has shifted to a left knee. The Timberwolves announced Monday evening that their star power forward, who has missed all but 18 games this season with a broken right hand, will undergo arthroscopic surgery on his left knee later this week to remove a buildup of scar tissue. The surgery, which the team...
A season that never really started for Kevin Love is now officially over. Love will have arthroscopic surgery to remove a buildup of scar tissue in his left knee, the Timberwolves announced on Monday night. The Wolves called it a minor procedure and said Love was expected to be out four to six weeks while recovering. The Timberwolves and Love were hoping the star forward could...
The basketball gods have dealt Brandon Roy a terrible hand.  While you have some guys in the league who don't truly appreciate the privilege they've been blessed with, Roy has had his all-star career interrupted by chronic knee issues. Roy who signed a free agent deal with the Timberwolves in the off-season, was hoping to resume his high level of play. Roy played in the first...
  Kevin Love has had the quintessential nightmare season. He has spent two different stints on the injured list with a broken hand and now, according to the Pioneer Press , the Minnesota Timberwolves power forward will have arthroscopic surgery on his left knee that will bring a definite end to his season . The surgery, tentatively scheduled for Wednesday in New York, officially...
Minnesota Timberwolves forward Kevin Love was already set to miss the remainder of the season due to a knee injury. Now, the team has announced that the All-Star will undergo an arthroscopic procedure on the injured knee to remove a buildup of scar tissue.Minnesota's President of Basketball Operations David Kahn told reporters that the operation is expected to take place Wednesday...
Minnesota Timberwolves forward Kevin Love had an inclination to sit out the rest of the season.  Well, his season is definitely over now.  Love will undergo arthroscopic surgery to remove a buildup of [...]
If my coach trained me to practice and read minds like Ricky Rubio's did. I would probably be a flamboyant Spanish point guard playing in the league, possessing great facial hair with [...]
I talk about this all the time but I really feel sports fans have a tendency to forget history. The Portland Trail Blazers had the potential to be great had the potential to be great had injuries not cut short the careers of Brandon Roy and Greg Oden. Remember this? Portland had a potential trio [...]
NBA News

Delivered to your inbox

You'll also receive Yardbarker's daily Top 10, featuring the best sports stories from around the web. Customize your newsletter to get articles on your favorite sports and teams. And the best part? It's free!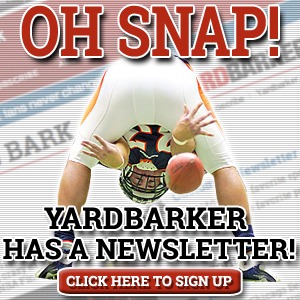 Latest Rumors
The Backyard

Today's Best Stuff

For Bloggers

Join the Yardbarker Network for more promotion, traffic, and money.

Company Info

Help

What is Yardbarker?

Yardbarker is the largest network of sports blogs and pro athlete blogs on the web. This site is the hub of the Yardbarker Network, where our editors and algorithms curate the best sports content from our network and beyond.