1. Portland Trail Blazers point guard Damian LillardStats: 47.3% FG, 40.5% 3PT, 20.2 points, 3.0 rebounds, 6.0 assists, 1.3 steals, 3.3 turnoversLillard has made an amazingly smooth transition from mid-major Weber State to the NBA, and leads all rookies in points, assists and three-pointers made. He's also leading the Blazers in scoring, ahead of All-Star LaMarcus Aldridge.2. New Orleans Hornets power forward Anthony DavisStats: 49.3% FG, 16.0 points, 8.3 rebounds, 0.8 assists, 1.0 steals, 2.2 blocks, 1.5 turnoversA stress reaction in his left ankle has limited Davis to just six games, but his activity level and production have been stellar when he's played. 3. Charlotte Bobcats small forward Michael Kidd-GilchristStats: 47.2% FG, 11.7 points, 6.9 rebounds, 1.7 assists, 1.3 steals, 1.5 blocks, 1.6 turnoversMKG's energy and effort has helped lead the Bobcats back to a near-.500 team, which is saying something, as the Bobcats set an NBA record for futility last year, posting the worst winning percentage in league history.4. Cleveland Cavaliers shooting guard Dion WaitersStats: 38.0% FG, 40.3% 3PT, 14.9 points, 2.3 rebounds, 2.5 assists, 1.1 steals, 1.6 turnoversWhile his shot selection is still suspect, A Kyrie Irving/Waiters backcourt looks like a nice pairing.5. Golden State Warriors small forward Harrison BarnesStats: 47.5% FG, 35.5% 3PT, 10.7 points, 5.0 rebounds, 1.3 assists, 1.5 turnoversBarnes likely will never be an All-Star, but his solid mid-range jump shot and NBA body will likely help make him the Warriors long-term starting small forward.6. Toronto Raptors power forward/center Jonas ValanciunasStats: 50.0% FG, 8.6 points, 6.0 rebounds, 1.2 assists, 0.9 blocks, 1.3 turnoversValanciunas' biggest issue has been decision-making, as he's already fouled twice this season. The Lithuanian has done a great job of crashing the boards, and has been a solid compliment to the perimeter-oriented Andrea Bargnani.7. Minnesota Timberwolves guard Alexey ShvedStats: 37.3% FG, 24.0% 3PT, 9.6 points, 2.8 rebounds, 4.1 assists, 1.7 turnoversShved's shooting stroke hasn't been great this season, but his numbers should improve with the return of Kevin Love and impeding Ricky Rubio.8. Detroit Pistons power forward/center Andre DrummondStats: 65.5% FG, 6.8 points, 5.2 rebounds, 1.0 blocks, 0.8 steals, 0.8 turnoversDrummond's free throw percentage has been as bad as advertised (42.1%), but his athleticism and size have been an asset for the Pistons, as he's putting up great numbers in just 16.3 minutes per game.9. Washington Wizards shooting guard Bradley BealStats: 32.8% FG, 33.3% 3PT, 11.3 points, 3.6 rebounds, 2.1 assists, 0.8 steals, 1.9 turnoversThe lack of a healthy John Wall and Nene put too much pressure on Beal to score early this season, but he has too good of a stroke for his shooting percentages to stay so low.10. Milwaukee Bucks power forward John HensonStats: 50.0% FG, 6.3 points, 4.3 rebounds, 0.8 blocks, 0.7 turnoversWhile the glut of big men in Milwaukee has given Henson inconsistent playing time, his 17 points and 18 rebounds against the Heat shows that despite his slight frame, Henson's nose for the ball and smooth athleticism make him an asset.
Original Story:
http://sportsjunkieonline.blogspot.co...
PLAYERS:
Damian Lillard
,
LaMarcus Aldridge
,
Kyrie Irving
,
Andrea Bargnani
,
Kevin Love
,
Ricky Rubio
,
John Wall
TEAMS:
Portland Trail Blazers
,
Charlotte Hornets
,
Cleveland Cavaliers
,
Golden State Warriors
,
Toronto Raptors
,
Minnesota Timberwolves
,
Detroit Pistons
,
Washington Wizards
,
Milwaukee Bucks
,
New Orleans Pelicans
,
Weber State Wildcats
MORE FROM YARDBARKER
NBA News

Delivered to your inbox

You'll also receive Yardbarker's daily Top 10, featuring the best sports stories from around the web. Customize your newsletter to get articles on your favorite sports and teams. And the best part? It's free!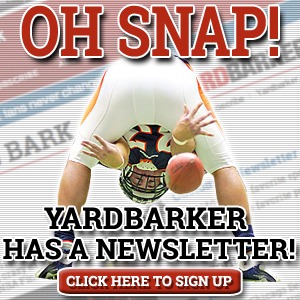 Latest Rumors
Best of Yardbarker

Today's Best Stuff

For Bloggers

Join the Yardbarker Network for more promotion, traffic, and money.

Company Info

Help

What is Yardbarker?

Yardbarker is the largest network of sports blogs and pro athlete blogs on the web. This site is the hub of the Yardbarker Network, where our editors and algorithms curate the best sports content from our network and beyond.