Found June 25, 2012 on Awful Announcing:
When LeBron decided to take "his talents to South Beach" a couple years ago, Dan Le Batard celebrated "LeBronakuh" with a classic rant on his radio show in Miami. Le Batard was more than happy to embrace the villain role and has gloated with similar rants usually after the Heat had closed out a playoff series. To no one's surprise, a hopefully much more bundled up Le Batard was more than ready for one more bragging rant for when the Heat did finally win in the Finals. Here's the audio, although you may want to make sure your speakers or headphones are turned down...
Some of the highlights:
"WHAT'S MIAMI SAYING TO BILL SIMMONS RIGHT NOW? TELL US HOW OUR ASTERISK TASTES!"
"YOU (OKC) PUT YOUR OIL IN BARRELS, WE PUT OUR OIL ON WOMEN!"
"MIKE MILLER BROKE YOUR BACK! WITH A BROKEN BACK!"
"EDDY CURRY HAS MORE RINGS THAN BARKLEY"
"DOODLE JUMP! DOODLE JUMP!"
"PHIL... IPINO JACKSON! (Spoelstra)"
There was a lot to like here. I certainly didn't want the Heat to win, but the music combined with the hoarse screaming voice make this a pretty classic bit of radio.
He also takes a couple of well-deserved shots at the absurd fickleness displayed by many in the sports media during these playoffs. The Heat were counted out by a multitude in the media many times during the playoffs, even though the only time they faced the threat of elimination was against the Celtics in the Eastern Conference Finals. Well, I guess that is to be expected when you have Skip and SAS providing their "analysis" courtside for much of the Finals.
Original Story:
http://www.awfulannouncing.com/2012-a...
THE BACKYARD
BEST OF MAXIM
RELATED ARTICLES
If you're wondering who LeBron James views as his primary competition in the NBA, the answer is Kevin Durant. During an interview with ESPN's Rachel Nichols, LeBron identified Durant, not Kobe Bryant, or Derrick Rose, or anyone else, as the player that pushes him the most. "For him to continue to work hard … he's going to be my inspiration," James said. "He's going...
You don't have to be a basketball analysis to note that Miami Heat PG Mario "Chalmy" Chalmers gets yelled at a lot. You also don't have to be an analyst to know that 1. In the midst of being a very good player he really does have some astounding brain farts 2. sometimes he gets yelled at when it doesn't appear to be his fault 3. it seems the yelling doesn't really phase...
DATELINE: HUMOR! We noticed on a popular but insipid sports website that bored writers are debating how many championship rings LeBron James shall collect in his career. If we noticed correctly, the planet Saturn started with three rings and seems to be still increasing the total: up to six or seven, and the envy of LeBron. This may be the first time since John Fowles wrote his...
Today, the city of Miami embraced the Heat with a championship parade. On Thursday night, immediately after the Miami Heat won the 2012 NBA Championship Dwyane Wade, LeBron James, and Chris Bosh charged the winners suit and in a roar of celebration and doused Pat Riley and his white Armani shirt with Dom Pérignon Vintage 2003 Luminous. Pat Riley said with a smile "Now we grow...
Last night while I was watching my beloved Kardashians pretend to hate fame on Oprah's Next Chapter, a commercial aired about next week's episode. Next Sunday at 8pm on OWN (a channel most of my readers probably don't frequent!) Oprah will interview NBA Champs Chris Bosh, Lebron James and Dwyane Wade about their championship and the women in their life. I don't know if that...
PRESERVING THE PAST
Employee and friend of Taj Gibson, Floyd FSharp Johnson, had this amazingly awesome birthday cake made today for the Bulls power forward, an homage to the legendary dunk over Dwyane Wade in the 2011 Eastern Conference Finals: photos via Twitter @sharkpbk
Dwyane Wade plans to use the offseason to improve his outside shooting.
Turning on ESPN or talking with casual fans (or even die-hard fans) about the 2012 NBA Finals leads to one conclusion: this one is LeBron James' title. It has cemented his legacy and achieved status as an all-time great. Now it is just about rank-ordering him, but at least we can have those conversations. ESPN has run its segments trying to figure out what it would take to have...
  It's the Cabbage Patch, y'all! Now, show us some Macarena moves…
Tonight was a great way to celebrate the Miami Heat's victory over the Oklahoma City Thunder in the NBA Finals. We broke down the Finals player by player. Adam Cristo was live at the American Airlines Arena for the party and parade today and he give his thoughts and observations. We recapped the Jerry Sundusky trial and his convictions on 45 of 48 counts of sexual child abuse....
2012 NBA Finals Recap Look, I was just happy once the 2012 NBA Finals finally started. It was one thing for every national sportswriter, blogger, Governor, and late-night TV host to offer their fly-on-the-wall predictions. And it was entirely another for every Hollywood Celebrity, family member, and professional colleague to throw down their own gauntlet. But once my 85 year old...
Heat News

Delivered to your inbox

You'll also receive Yardbarker's daily Top 10, featuring the best sports stories from around the web. Customize your newsletter to get articles on your favorite sports and teams. And the best part? It's free!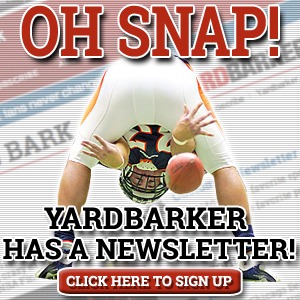 Latest Rumors
The Backyard

Today's Best Stuff

For Bloggers

Join the Yardbarker Network for more promotion, traffic, and money.

Company Info

Help

What is Yardbarker?

Yardbarker is the largest network of sports blogs and pro athlete blogs on the web. This site is the hub of the Yardbarker Network, where our editors and algorithms curate the best sports content from our network and beyond.