Posted March 15, 2012 on AP on Fox
Mike D'Antoni waited nearly four years before he could re-create the high-octane success he had in Phoenix, and for three exhilarating weeks in February, the New York Knicks were the NBA's team to watch. They played fast and fun, sharing the ball and sharing laughs, and their coach enjoyed the ride as much as anyone. Just as quickly, it was gone again. And now, so too is D'Antoni, a casualty of the forces generated by a mercurial owner perpetually rebuilding the roster, the caprice of a star player and the heightened expectations of a fan base desperate for a winner. He resigned Wednesday, a stunning finish for a coach who only a month earlier seemed rejuvenated by Jeremy Lin. ''Nobody saw it coming,'' said Carmelo Anthony, the star who was sidelined when Lin emerged and seemed unlikely to ever mesh with him the way D'Antoni wanted after he returned. That meant Linsanity couldn't last, and D'Antoni may have realized it first. Lin had come from the end of the bench to play so well that D'Antoni would compare him to Suns star Steve Nash, who ran his wide-open offense better than anyone. The undrafted Harvard point guard outplayed Kobe Bryant one night, toppled the champion Dallas Mavericks another, and D'Antoni had that feeling again that his team could outscore anyone. ''You know what, I think at that point in time we started to play well and he started to build on that offense,'' forward Amare Stoudemire said. The Knicks won seven straight, leading newscasts on a nightly basis for the first time in memory. But D'Antoni also had the same fear as many fans. He knew Anthony would soon be back from injury, and his vision of beautiful basketball would stop. And when that happened, followed by reports of the friction it created between the coach and star, D'Antoni decided it was time to walk away. ''He had a certain ideal of a system we were supposed to implement,'' said Stoudemire, who also played for D'Antoni in Phoenix. ''We all didn't quite buy into it, and he got frustrated and I think that's why he took his way out.'' His departure may have been hardest on Lin, who was barely hanging on to an NBA job before D'Antoni's schemes catapulted him onto two straight Sports Illustrated covers and TV screens around the world. ''Obviously, I miss him a lot,'' Lin said after the Knicks' 121-79 victory over Portland under interim coach Mike Woodson. ''What he did for me and my career, I'm not going to forget. I'm not going to forget what he did for me personally. Just very emotional and sad to see him go. I owe a lot to him.'' Minutes after he spoke, it was clear the same affection didn't exist between D'Antoni and Anthony. D'Antoni communicated with some players via phone or text message Wednesday afternoon, but Anthony said he hadn't talked to him since a brief conversation when D'Antoni ran the Knicks' morning workout. He acknowledged the sacrifice it took for him to play in D'Antoni's system, where he didn't get the ball as much as he wanted, but denied having any role in the coach's resignation. ''I didn't have anything to do with that. That was Coach's decision,'' Anthony said. ''I really don't know where his mindset was at, what he thought, what he was thinking as far as his decision to step down. So anything about me and Mike, you guys who probably know Mike personally, anything like that, he will tell you we never had any issues. Any disagreements that he had with us as a team, we talked it out and went from there.'' D'Antoni was a coaching star in Phoenix, averaging 58 wins in four full years. He got a big contract to come to the big city, but rarely much chance to compete. He sat through two years of rebuilding and too many trades that halted momentum while failing to deliver the type of roster he craved, and interim general manager Glen Grunwald admitted D'Antoni had a ''rough go of it'' in New York. Still, the Knicks went 42-40 last season to make the playoffs with their first winning record in a decade, and they were a basketball story again after years of mostly being in the headlines for all the wrong reasons during Isiah Thomas' tenure. D'Antoni relished being relevant again, his easygoing personality and quick wit returning as the success of Lin and the team brought more media attention. He joked one day after meeting with the large Asian contingent that came to cover the NBA's first American-born player of Chinese or Taiwanese descent that he felt like he was opening for the Beatles. But with the Knicks mired in a six-game losing streak, his final days brought back the way it was before his arrival. Anthony wanted a trade and D'Antoni had lost the support of players, according to two of the stories based on anonymous sources that appeared Wednesday morning. Perhaps that's when D'Antoni made his decision. He wasn't able to turn the Knicks into a regular winner again and seemed unlikely to return anyway, with his $24 million, four-year contract set to expire this summer. ''I think in life there are times where change could be for the better,'' Anthony said. ''This is an unfortunate situation for Coach Mike, but sometimes something will just spark off for guys to wake up and say, `OK, something is real right here and we got to change.' Obviously, I'm not speaking for Coach, but that's how he felt. He stepped down for the sake of the team. He felt like the team needed change and he did that. I wish it was under better circumstances, but at this point it is what it is.'' --- Follow Brian Mahoney on Twitter: http://www.twitter.com/Briancmahoney
Original Story:
http://msn.foxsports.com/nba/story/DA...
THE BACKYARD
BEST OF MAXIM
RELATED ARTICLES
HYPE TRAIN CRASHING
One minute you're on top of the world, the next minute peel-and-stick tattoos bearing your jersey number are marked 50% off at a store in Times Square. What a fickle mistress fame can be. Particularly in New York. Now hipsters in New York will only purchase Jeremy Lin's New York Knicks jersey for the irony [...]
Carmelo Anthony has some SERIOUS BAD BLOOD for fellow New York Knicks star Jeremy Lin, as it's being reported that Anthony -- during basketball games -- acts as if Lin isn't a member of the basketball team.When "Melo" first returned to the basketball court -- after being injured -- Lin would try to include "Melo" into D'Antoni's system. When Anthony...
And just like that, the masses have turned against Jeremy Lin. Last month, Lin was a story everyone could feel good about. He was an Ivy League kid who injected life into a struggling Knicks team that came close to releasing him just a few days prior. Now, Bull fans are chanting "overrated" at him. Lin may not be a 30-plus point-scorer anymore or the only person in New York...
Things are not going very well for the New York Knicks, as last night's 104-99 loss to the Chicago Bulls extended their losing streak to 6 games and dropped them 6 games below .500 and into a tie with the Milwaukee Bucks for the 8th seed in the Eastern Conference playoff race. At the center of the drama is Knicks coach Mike D'Antoni, who is the target of both the wrath of fans...
The Knicks have lost six in a row, 8 of their last 10, and they looks like a mess again. The New York Post reported after Monday's loss that Carmelo Anthony and Mike D'Antoni were clashing, and they took it a step further a day later, saying Melo wants out if D'Antoni isn't fired. According to the Post, Melo has asked for the Knicks to trade him before Thursday's deadline...
Carmelo Anthony's discontent with the Knicks organization became so severe after Monday night's loss to the Chicago Bulls, he told a confidant he preferred to be traded before Thursday's trade deadline. According to a person familiar with his thinking, Anthony's disillusionment stems most from a belief coach Mike D'Antoni and interim GM Glen Grunwald do not trust...
                If you've blinked, you've missed about two thirds of the NBA season. If you blink again, it'll be playoff time, so The Sport Sofa's doing work for you, and evaluating the contenders, pretenders, and underdogs of the NBA season to date. East Contenders Miami Heat They are the favourites to get back into the finals and rightfully so.  They have only...
As the Knicks scrambled to pick up the pieces in the wake of coach Mike D'Antoni's sudden resignation earlier this week, interim coach Mike Woodson made a vow to New York fans that things were going to be different going forward. And thus far, he's been right -- but only to an extent. Things were different Friday during New York's 115-100 throttling of the Indiana...
Just last month, the New York Knicks were the NBA's feel-good story as Jeremy Lin burst onto the scene to reinvigorate a slumping team that had seemingly lost its way. Now they look to be a far bigger mess than they were before. Hours after coach Mike D'Antoni's stunning resignation, New York tries to avoid its first seven-game slide in more than two seasons Wednesday...
Mike D'Antoni has resigned as New York Knicks coach, a source tells Y! Sports.— Adrian Wojnarowski (@WojYahooNBA) March 14, 2012 Some more big NBA news! The recent buzz has been about a rift between Carmelo Anthony and coach Mike D'Antoni. Woj describes it as a mutual decision between the team and D'Antoni, who had conflicting visions of the team's future. Assistant...
A person with knowledge of the decision says New York Knicks coach Mike D'Antoni has resigned. The person spoke to The Associated Press on the condition of anonymity because the team had yet to announce the move. Yahoo Sports first reported the news. New York has lost six in a row for the second time this season and is in danger of missing the playoffs. Loaded with talent...
This commercial by MLB 12′ The Show about the Cubs is what was the inspiration for this article by special contributor Victor Marinier. It's 2012, the Chicago Cubs haven't won a World Series in 104 years and Cub's fans like myself have been saying "wait till next year" my entire life. Which begs the question: Is this "next year"? Stranger things have happened. Hell...
NBA News

Delivered to your inbox

You'll also receive Yardbarker's daily Top 10, featuring the best sports stories from around the web. Customize your newsletter to get articles on your favorite sports and teams. And the best part? It's free!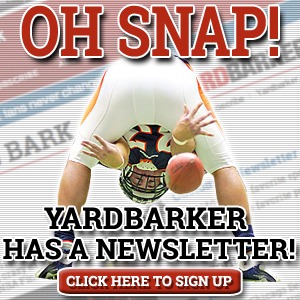 Latest Rumors
The Backyard

Today's Best Stuff

For Bloggers

Join the Yardbarker Network for more promotion, traffic, and money.

Company Info

Help

What is Yardbarker?

Yardbarker is the largest network of sports blogs and pro athlete blogs on the web. This site is the hub of the Yardbarker Network, where our editors and algorithms curate the best sports content from our network and beyond.