Found November 19, 2012 on Fox Sports West:
LOS ANGELES Ten games into the season, it's probably safe to say that the Lakers have arrived. Or they've returned, depending upon your point of view. Dwight Howard is back. So is his back. Pau Gasol is back. Enthusiasm is back. Entertaining and effective basketball has arrived at Staples Center, as the Lakers won their second in a row with Mike D'Antoni in the building, beating the Houston Rockets 119-108. D'Antoni is still unable to coach games as he recovers from knee replacement surgery performed on Halloween. But he's running practices and is involved in the game-planning and at halftime. His influence is undeniable. The results are, too, even with the past and future maestro of D'Antoni's offense Steve Nash missing his eighth game in a row after fracturing his left leg on October 31. Interim coach Bernie Bickerstaff who is 4-1 during his stint since Mike Brown's firing has done a great job of awakening the basketball player in each of the Lakers. It's no longer a group of individuals who look confused and unsure about the new offensive system they are supposed to be running. It's a team just playing basketball under the leadership of two men preaching one system move the ball, take the shots, don't turn it over and play some defense, especially when momentum or the game's result is on the line. Not only have the Lakers done that, they've actually gotten better in the first two games played under D'Antoni's influence. Through three quarters of Friday night's 114-102 win over Phoenix, LA scored 92 points. Sunday night, they scored 98. Against the Suns, the Lakers shot 47.2 percent; versus the Rockets, 54.1 percent. And after giving the ball away haphazardly since the doors to training camp swung open, the Lakers have given up an average of just 12 turnovers per game, despite the much faster tempo of their play. It's the type of game they've been yearning to play. We're picking apart the defense, said Kobe Bryant, who had the 18th triple-double of his career 22 points, 11 rebounds and 11 assists. We're putting them in predicaments where they have to choose what to do, and we're making them pay." Bryant is leading the league in scoring with a 26.9 ppg average, and he was going up against the man trailing him by just two-tenths of a point, James Harden, who's been the talk of the NBA since he was acquired from OKC prior to the season opener. It was a rough night for the reigning Sixth Man of the Year. He shot just 7-for-18 with five turnovers, and couldn't do anything about the suddenly raging Lakers' offense. All five Laker starters had double-doubles by halftime a rarity at any level of basketball. Howard was particularly impressive, moving as he was before he injured his back last season and had to have surgery. He scored 28 points and grabbed 13 rebounds as the Lakers improved their record to .500 at 5-5. They host Brooklyn in their next game Tuesday night at Staples Center. Notes: Gasol scored 17 points, including the 15,000th of his career. He becomes only the ninth European-born player to reach that milestone. FIVE THOUGHTS D'Antoni expects to be back for the game against the Nets, but why rush it? Bickerstaff and his assistants have done an outstanding job with both the mental and physical aspects of the game that were dulled by the attempted installation of the Princeton offense. D'Antoni should take all the time he needs to get as healthy as he can, because he can be a dynamo on the sidelines during the games and at practices. It's been less than three weeks since the knee replacement, and it's not enough time to heal. As long as he is able to direct the practices and conduct the pregame and halftime meetings, things will be fine until he gets back. D'Antoni said it was Laker trainer Gary Vitti who counseled him to sit out at least another game. There was probably another voice ringing in his ear as well, that of his wife. From the minute he arrived in Los Angeles last Wednesday, it's been a struggle for Laurel to keep D'Antoni from mimicking his offense and upping the tempo of his rehabilitation. Before (his first) practice, he promised me that he was going to stay off the court, sit in a chair and do what he had to do that way, said Mrs. D'Antoni. As soon as I walk in the gym what do I see?," she said laughing and shaking her head. Him on the floor. But that's Mike. He absolutely loves basketball and he's so excited about being here with the Lakers that nothing's going to keep him down very long. It was announced before the game that Bickerstaff would remain on the bench as an assistant as soon as D'Antoni was cleared to go. It was a smart and classy move by the new coach and the organization to keep Bernie on the staff. He stepped into one of the toughest and most unenviable situations anyone can face when he replaced Brown, a longtime friend and someone he hired for his first NBA job. Without his knowledge and calming presence, the Lakers might not have readjusted so quickly. The Rockets are going through a similar situation with Sunday's loss being the fourth straight game they've had to play without their head coach, Kevin McHale. He's been away from the team dealing with a family matter. They miss McHale, who Jeremy Lin described as a player's coach, much like D'Antoni. They've lost three of the four games. If Brown had just let the players play like Bickerstaff has and D'Antoni will he'd probably still have his job. There's too much talent on this Laker team not to be a big winner. And a potential champion.
Original Story:
http://www.foxsportswest.com/11/19/12...
THE BACKYARD
BEST OF MAXIM
RELATED ARTICLES
Dwight Howard was once associated with the Orlando Magic and the whole he said/she said continued to plague the league for almost a year.  Now that he is with the Los Angeles Lakers, everyone seems to have forgotten about the whole "Dwightmare" that surrounded him and the Magic. At that time of difficulty between both parties, other teams were clearing space in an attempt to...
In last night's game against the Houston Rockets, Kobe Bryant recorded his 18th triple-double of his veteran career.  Not only was the Black Mamba being his usual self being a scorer and hitting the most difficult shots, but he was also grabbing rebounds and dishing out assists.  Most of his assists came from Dwight Howard being active and catching Kobe's lobs. When the Dwight...
Adam Silver was made available to the media while the Magic were in Atlanta and the Magic media contingent asked the deputy commissioner and commissioner in waiting his thoughts on how Dwight Howard exited Orlando (h/t Josh Robbins of the Orlando Sentinel): It's an unfortunate circumstance," Silver answered. "I don't want to sugarcoat it. It's been that...
OF COURSE HE DID
Los Angeles Lakers guard Steve Nash was caught doing the 'Gangman Style' dance sitting on the bench next to Steve Blake at the Staples Center during the Lakers-Rockets Sunday showdown. The Lakers beat the Rockets 119-108.  Kobe Bryant recorded his 18th triple-double with 22 points, 11 assists and 11 rebounds.  "I'm a scorer, not a triple-double player," said Kobe Bryant.
Deron Williams may have been more anxious than any other player or coach in the NBA during the whole Dwight Howard saga that took place last season. Williams wanted to play alongside a superstar, which is why he openly stated he was hoping Howard would come to the Brooklyn Nets and also why he strongly considered signing with the Dallas Mavericks. When all was said and done, he decided...
Tweet The Los Angeles Lakers are finally on a roll. The high-profile team has gone 4-1 since firing head coach Mike Brown, and appear to be playing with a lot more energy since scrapping the Princeton offense and just playing basketball. Kobe Bryant is off to one of the best starts of his career, with [...]
PAST IS THE PAST
Lakers big man Dwight Howard doesn't appear too concerned about a rift that has seemingly developed between him and his former pal, Nets star Deron Williams.
Brooklyn Nets (6-2) vs. Los Angeles Lakers (5-5) 10:30 p.m./NBATV This was not supposed to be the first time Dwight Howard and Deron Williams were supposed to share the court together. They were supposed to be in the same uniform, in fact, not opposite colors. That was the plan at least. It was pretty clear from the moment Dwight Howard asked out of Orlando that he wanted...
One of our twitter readers Mike Gomez brought this pic to our attention. Interesting. Funny how Rajon Rondo isn't allowed to "disrespect" the Laker legend Jerry West, but a Laker is.  Could have just been an accident, but if he does it again the NBA better be on Howard and the Lakers. Speaking of Howard and the Lakers the damaged goods they traded, Andrew Bynum, had...
The NBA came up with a creative advertisement featuring their "BIG Color" Christmas Day uniforms that will be worn by the teams playing that day. The commercial features superstars Dwight Howard, Carmelo Anthony, Joe Johnson, Russell Westbrook and Dwayne Wade wearing the special uniforms and dribbling to the beat of "Carol of the Bells". BIG Color gear...
Deron Williams and Dwight Howard were unable to join forces with the Nets or any other team, but both have seemingly moved on.
Zach Randolph and Marc Gasol provide a reminder to "small ball" teams that there are still plenty of good big men in the league.credit: media.commercialappeal.com Over the past few years, many teams around the league have made the switch from traditional lineups to much smaller, quicker ones. This development has been made possible by small forwards who are talented enough to...
NBA News

Delivered to your inbox

You'll also receive Yardbarker's daily Top 10, featuring the best sports stories from around the web. Customize your newsletter to get articles on your favorite sports and teams. And the best part? It's free!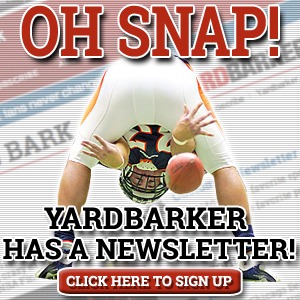 Latest Rumors
The Backyard

Today's Best Stuff

For Bloggers

Join the Yardbarker Network for more promotion, traffic, and money.

Company Info

Help

What is Yardbarker?

Yardbarker is the largest network of sports blogs and pro athlete blogs on the web. This site is the hub of the Yardbarker Network, where our editors and algorithms curate the best sports content from our network and beyond.