Found November 18, 2012 on Give Me The Rock:
PLAYERS:
Andrew Bynum
,
Brandon Jennings
,
Nicolas Batum
,
Scott Skiles
,
Monta Ellis
,
Ersan Ilyasova
,
Anthony Davis
,
Jason Terry
,
Rajon Rondo
,
Marc Gasol
,
Kemba Walker
,
Carlos Boozer
,
Chris Kaman
,
Danny Green
,
Manu Ginobili
,
Daniel Gibson
,
DeJuan Blair
,
Markieff Morris
,
Luis Scola
,
Shane Battier
,
Jared Sullinger
,
Alvin Gentry
,
Jared Dudley
,
Bradley Beal
,
Jordan Crawford
,
Paul Millsap
,
Derrick Favors
,
Marvin Williams
TEAMS:
Philadelphia 76ers
,
Milwaukee Bucks
,
Portland Trail Blazers
,
New Orleans Pelicans
,
Boston Celtics
,
Memphis Grizzlies
,
Charlotte Hornets
,
Chicago Bulls
,
Dallas Mavericks
,
San Antonio Spurs
,
Cleveland Cavaliers
,
Phoenix Suns
,
Miami Heat
,
Utah Jazz
Before we get into the performances last night, I can't not talk about Andrew Bynum. It was recently reported that Bynum had yet another setback with his knees; he is now having trouble with his left knee in addition to the right knee that has kept him out so far this season. That would be troubling enough news, although the latest report is that Bynum actually hurt his other knee while bowling. Bowling! Leaving aside the question about why he would be bowling given his status, the more troubling fact is that he hurt his knee WHILE BOWLING. And this is your franchise center who is supposed to be on the court next month? Just wow. Line of the Night: I'm getting deja vu all over again from Day 14, where Brandon Jennings (2.19) also had the best fantasy line of the day. His 22 points, 4 threes, 9 assists and 4 steals in a 117-113 win over the Hornets is not a mind blowing line like we've had on some other days, but that's the type of day is was. Jennings is not the first multi-day line of the nighter here at GMTR this year (both Kevin Durant and Nicolas Batum have already double-dipped) Honorable Mentions: Just as I've finishing purging Mike Dunleavy (1.61) from every single fantasy team that I run (and there are many) he goes out and has himself a game with 17 points (including 4-7 from three), 9 rebounds and 5 assists in 31 minutes. My one consolation is that Dunleavy, like every Buck not named Jennings or Ellis, is going to have their minutes toyed with from game-to-game by a one Mr. Scott Skiles. It's going to be tough for any of those guys to find consistent minutes or fantasy value. But since I can't stop speaking about the Bucks, Monta Ellis (1.30) was also strong against the Hornets with 22 points and 9 assists. And no, there is no good news to report on the Ersan Ilyasova (0.07) front. Ilyasova finished with 10 points and 5 rebounds in 26 minutes. The Hornets best fantasy performance came from Anthony Davis (1.09) who was huge with 28 points and 11 rebounds. Davis is now averaging 16 points, over 8 rebounds and 2 blocks a game this year. Nice start for the rook. Jason Terry (1.58) had what is easily his best game with the Celtics so far this year, scoring 20 points and hitting 4 threes in an easy win over the Raptors. The Celtics were able to cruise in this one – giving their big three a little more rest than usual – which probably helped Terry go big. Also going big in this one was Rajon Rondo (0.52) who finished with an insane 20 assists in only 32 minutes on the court. The rest of his game couldn't keep up with all that passing – Rondo also finished with 6 points and 5 turnovers – but you can't complain too much when the guy is single handedly winning people the assist category in fantasy leagues. *** Marc Gasol (1.50) led the Grizzlies to a win over the Bobcats with 12 points, 9 rebounds, 7 assists and 2 blocks. For Charlotte, Kemba Walker (0.18) scored 17 points, adding 8 assists, but shot just 6-17 from the floor. Walker has been the ultimate good/bad fantasy player so far this year. He's scoring a ton and averaging over 5 assists, 4 rebounds and 2.5 steals a game, but his FG% can be painful at times, he doesn't shoot threes and there are times when he turns the ball over quite a bit. Still, Walker is currently ranked at #20 on our rater for a reason, and his owners have to be happy with what he's been doing this year. Carlos Boozer (1.30) had a huge double-double for the Bulls with 22 points and 12 rebounds is a loss to the Clippers. Despite the big performance (and two huge double-doubles in a row now), Boozer sits at #99 on our rater because of his early season stretch of really uninspired play. If he can keep doing what he's been doing over the past week (which is not going to happen) he'd be back to being a top-25 player in this league. Nels can dream… Chris Kaman (1.24) led the Mavs over the Cavs – if a win over the Cavs counts as leading – with 15 points, 8 rebounds and 6 blocked shots. Kaman is playing very well for Dallas right now and was a very good pickup at the back end of drafts as one of the last decent big men available. However, it's always been injuries that have derailed Kaman over the years, so you may want to flip him for someone with a bit better injury track record down the road if he continues to play well. The Spurs completely dismantled the Nuggets 126-100 after jumping to an 18 point lead in the first quarter. So not surprisingly, we have a couple Spurs in the top 10 fantasy performances today, although it somewhat surprisingly who they are. Danny Green (1.27) scored 15 points, hitting 3 threes and added 2 steals in only 25 minutes, while Manu Ginobili (1.23) had his best game of the season by far with 20 points, 5 threes, and 4 assists in only 23 minutes. Waiver Wire Line of the Night: The addition of Dion Waiters to the Cavs could have easily meant the end of Daniel Gibson (1.55) as a marginal fantasy viable player. Instead, Gibson has done more with less this season, like last night where he scored 16 points, and added 4 threes, 5 assists and 3 steals in just 27 minutes off the bench. Gibson now has 4 double-digit scoring games in his last 5 games, and looks to be a decent add in deeper leagues if you could use some points and threes (the assists were a fluke – he's averaging 1.7 a game this year). Pick Up Lines: Amazingly, DeJuan Blair's (1.38) 19 points and 8 rebounds is not his best fantasy game of the season so far (that came in a double-double performance against the Pacers in 11/5). But this one came in a Spurs' 126-100 blowout win over the Nuggets, which allowed Blair to get his second most run of the season. That means stay away from Blair in all but the deepest leagues. Markieff Morris (0.96) had one of his best games of the season off the bench for the Suns, scoring 16 points , with 2 threes and 2 steals in 27 minutes against the Heat. Meanwhile, starter Luis Scola played just 15 minutes in the game. It could be nothing, or it could be something, but either way Morris' minutes are something to watch and he'll be worth a grab if he starts getting 25+ a game. Alonzo Gee (0.90) had a very nice Gee-like game with 15 points, 7 rebounds and 4 steals against the Mavs in nearly 36 minutes on the court. Gee has been getting a ton of minutes for the Cavs so far this season – and while he doesn't always use them particularly well – he is doing just enough to be ranked #115 on our player rater. That means he's a guy worth owning in nearly all fantasy leagues, just not one who is going to be very satisfying to own long-term. Shane Battier (0.82) followed up his line of the night performance with another strong game for the Wade-less Miami Heat. He finished with 12 points and 4 threes in the game and has been getting about 7-8 minutes of run per game with Wade out of the lineup, bumping up his fantasy value from "you're kidding me, right" to "maybe I can use him this upcoming week" for as long as Wade is out with his injury. Jared Sullinger (0.82) had the first double-double of his career with 12 points and 11 rebounds for the Celtics. This came after a 7 minute performance against the Nets, so wait for a repeat performance (or two) before picking him up. Biggest Loser: The aforementioned Luis Scola (-0.91) played just 15 minutes against the Heat and finished with 3 points and 1 rebound, shooting 1-5 from the field. Scola had been playing well up to this game, so I wouldn't worry too much, even if Coach Alvin Gentry said that lineup changes are coming (Jared Dudley is really the one who should watch his back). Bradley Beal (-0.81), who lost his starting job to Jordan Crawford, finished with just 6 points in 13 minutes off the Wizards' bench. Crawford played well in the loss (scoring 20), so unfortunately, it's time to cut ties with Beal if you are still holding on. It could be a while – like next season – before he gets his starting job back. If Crawford is available in your league and you need a scoring guard, take a look. The Jazz started a big lineup against the Wizards, throwing Paul Millsap (-0.75) out at SF and Derrick Favors at PF (and pushing Marvin Williams to the bench). The move was dripping with fantasy potential, but the reality was much less successful, as Millsap shot 2-13 from the field and scored only 6 points (although he did have 10 rebounds). Favors was only 3-10 from the floor himself, but also grabbed 10 boards and blocked 3 shots. If the Jazz even decide to go back to this lineup, it's not something they'd do against every team, but it'll be interesting to see how often they use this lineup in the future. *** Daily rankings and stats come from the GMTR H2H Player Rater (beta version). They are based on the stat Wins Above Replacement Player (WARP) an estimate of the number of wins a player produces per week in H2H leagues over a replacement (waiver wire) player. Do not miss a day of the Fantasy NBA. Subscribe to Give Me The Rock right now. You can also get bonus (and easily digestible) content by following GMTR on Twitter, or become a fan of GMTR on Facebook! We are so social! If you like what you read here, come back every day for new content! And if you come back every day, please consider donating… Want to see your ad in the GMTR RSS feed? Contact: givemetherock@gmail.com
Original Story:
http://feedproxy.google.com/~r/GiveMe...
THE BACKYARD
BEST OF MAXIM
RELATED ARTICLES
As Philadelphia 76ers anxiously await the debut of Andrew Bynum, they may be frustrated to learn one of the reasons why the big man's knees have been bothering him. According to ESPN.com, Bynum may have done additional damage to his knees when he suffered an "unspecified injury" earlier this month while bowling. Bynum said on Friday that he suffered a "setback" with his...
Tweet Philadelphia 76ers center Andrew Bynum hasn't been quite the same since that hard foul he planted on J.J. Barea in the NBA playoffs back in 2011. Since then Bynum has stated that he'll play anywhere because "there's a bank in every city", shot an ill-advised three-pointer in the second quarter (with time left on [...]
  Wanna know why Andrew Bynum has pushed back his return? Bowling. The guy re-injured his knee, bowling. I mean, c'mon, seriously? The city of Philadelphia has been waiting for his return on pins and needles, on now they have to deal with the fact that he isn't taking his recovery seriously. Bynum is a free agent next season, unrestricted. This could get ugly.
Just when the Philadelphia 76ers had some sort of timetable for Andrew Bynum's return, he suffers — yet again — another setback. This time, though, it could have been avoided, as ESPN reports it was suffered during a recent bowling adventure. The Philadelphia 76ers fear All-Star center Andrew Bynum might have done additional damage to [...]The post Report: Andrew Bynum Suffers...
Andrew Bynum has suffered another setback that pushes his December debut with the Sixers back. Initially it was his right knee that was causing all of the problems but now there's swelling in his left knee oh and a bone bruise as well. "I had a little bit of a setback," Bynum said. "Just working [...]
OPENING TIP Remember when the Cavaliers almost traded for Andrew Bynum? No ones really saying how close the Cavs actually came to obtaining Bynum from the Lakers in the off-season, but theres no doubt they were involved in talks. Instead, Bynum was shipped to Philadelphia in a deal that send Dwight Howard from Orlando to the Lakers. And Bynum hasnt played. Not preseason, not now...
Andrew Bynum's return has been delayed three times since September.
Andrew Bynum suffered an unspecified injury this month while bowling.
Andrew Bynum contends that he did not suffer any trauma to the knee.
NBA News

Delivered to your inbox

You'll also receive Yardbarker's daily Top 10, featuring the best sports stories from around the web. Customize your newsletter to get articles on your favorite sports and teams. And the best part? It's free!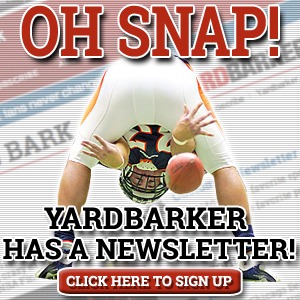 Latest Rumors
The Backyard

Today's Best Stuff

For Bloggers

Join the Yardbarker Network for more promotion, traffic, and money.

Company Info

Help

What is Yardbarker?

Yardbarker is the largest network of sports blogs and pro athlete blogs on the web. This site is the hub of the Yardbarker Network, where our editors and algorithms curate the best sports content from our network and beyond.