Found November 20, 2012 on Give Me The Rock:
PLAYERS:
David West
,
George Hill
,
Danny Granger
,
Stephen Curry
,
Harrison Barnes
,
David Lee
,
O.J. Mayo
,
Chris Kaman
,
Roy Hibbert
,
Andre Iguodala
,
Danilo Gallinari
,
Marc Gasol
,
Tobias Harris
,
Monta Ellis
,
Kemba Walker
,
Troy Murphy
,
Marcus Morris
,
Patrick Patterson
,
Draymond Green
,
Richard Jefferson
,
Matt Barnes
,
Caron Butler
,
Terrence Jones
,
Emeka Okafor
,
Kevin Seraphin
,
Daniel Gibson
,
J.J. Redick
,
Omer Asik
,
Josh Smith
TEAMS:
Indiana Pacers
,
Golden State Warriors
,
Dallas Mavericks
,
Washington Wizards
,
Denver Nuggets
,
Memphis Grizzlies
,
Milwaukee Bucks
,
Charlotte Hornets
,
Houston Rockets
,
Los Angeles Clippers
,
Cleveland Cavaliers
,
Orlando Magic
,
Atlanta Hawks
Line of the Night: David West (2.64) scored a season high 30 points (going 10-14 from the field, 10-10 from the line), adding 8 rebounds and 4 blocks to drop the Wizards to 0-9 on the season and keep them as the only winless team in the NBA. West has been very good to start the season (we've got him at 53 overall on the rater) and seems to be the only other Pacers player (other than George Hill) to have taken advantage of the Danny Granger injury. Honorable Mentions: Stephen Curry (2.37) had by far his best game of the season with 31 points, 3 threes, 6 rebounds and 9 assists against the Mavs, but the only thing I see when I look at this game is that Curry "tweaked his right ankle" in the fourth quarter. He remained in the game and in fact took it over in the 4th and OT, leading the Warriors to a win. Overall, that is good news, but putting the words "rolled ankle" and Stephen Curry together in a sentence start make me hyperventilate uncontrollably. Rookie Harrison Barnes (1.12) chipped in 20 and 12 for his fourth straight double-digit scoring game in a row, while David Lee (0.50) also added a huge double-double with 17 and 19 in this game. O.J. Mayo (2.08) led the Mavs with 27 points (going 3-6 from three), adding 5 rebounds and 4 assists. Mayo is still shooting 58% from three so far this season, so the hot streak continues. The Mavs also got a strong performance from Chris Kaman (2.01), who had 18 points, 17 rebounds and 2 blocks for his best game of the season so far. I guess all the slumping Roy Hibbert (2.05) needed to get him back on track was a little dose of the Washington Wizards. Hibbert exploded for 20 points, 12 rebounds and 4 blocks against various Wizards' big men. It's his highest scoring game of the season and only his second double-double of the year. Let's hope he has a repeat performance in him against an actual NBA team. *** Denver took down a hot Grizzlies team despite a sub par performance from Andre Iguodala thanks to the work of Danilo Gallinari (2.03), who led the Nuggets with 26 points (going 10-11 from the line) with 5 rebounds. No surprise, but it's his best fantasy game so far this year. Marc Gasol (1.50) led the Grizzlies with 16 points, 6 rebounds and 5 assists. Watch out Rondo, Marc Gasol is coming after your assist record. Mike Dunleavy (1.73) put up another strong performance as the Bucks lost to the Bobcats with 16 points (6-10 from the field), 5 rebounds, 4 assists and 4 blocks in his sixth man role off the bench. Token starter Tobias Harris has seen his role reduced to almost nothing getting 12 minutes in this game (so much for his sleeper status). However, Monta Ellis (1.23) added 31 points and 5 assists. For Charlotte, Kemba Walker (1.28) continued to play like an all-star scoring 19 points, adding 4 assists and 3 steals. Waiver Wire Line of the Night: Here is a name that we haven't heard from in a while: Troy Murphy (2.04). Murphy, who I thought might have been out of the league after failing miserably with the Nets, Celtics and Lakers all in short order has, in fact, latched on to the desperate Dallas Mavericks. With Dirk injured and Brandon Wright in the doghouse, Murphy has seen his playing time slowly creep up to the point where he's a fantasy viable player again. His 12 points, 4 threes, 4 steals and 2 blocks is a reminder of what Murphy could do back in the day (and why he was once an incredibly high fantasy draft pick), but the performance did come against the Warriors in an OT game, so I wouldn't read too much into this one. He's worth a look in deeper leagues while Dirk remains out, but his inconsistency will keep him from being worth owning in 12-team leagues. Pick Up Lines: Marcus Morris (1.21) continues to make a case for you to pick him up. His latest line includes 12 points, 4 rebounds and 2 steals in 30 minutes against the Jazz (starter Patrick Patterson only saw 21 minutes in this one). It's his 6th positive WARP game in the row and his minutes are on the rise. Morris looks like a very good pickup if you are in need of a big who isn't afraid to hit some threes. For his part, Patrick Patterson (0.76) only saw limited minutes, but did manage to score a season high 19 points and 2 blocks. I'd still rather own the guy with the momentum in Morris. Rookie Draymond Green (1.13) played 26 minutes for the Warriors and finished with 9 points, 7 rebounds and 3 steals off the bench. It's his second game of 25+ minutes as Richard Jefferson is nursing a calf injury and is worth a look in deeper leagues as long as Jefferson is out. I'm not exactly the world's biggest Matt Barnes (1.06) fan boy (although I do cosplay as him for fun sometimes), but has been getting some decent run for the Clippers lately. His latest included 14 points, 9 rebounds and 3 steals in nearly 35 thanks to a right shoulder strain from Caron Butler last night. The injury doesn't sound serious, but if I know my Caron Butler and I think I do, he's going to miss some time with this injury, giving Barnes the starting role at least temporarily. So while Barnes ceiling isn't as high as some guys out there, he's worth a look in all leagues, especially while Butler is out. Rockets' small forward Terrence Jones (0.28) hasn't seen much playing time this season, but did get a career high 30 minutes last night and finished with 12 points and 8 rebounds. He remains simply a guy to watch at this point, but if you want to know what he's capable of, here it is: And Emeka Okafor was benched last night for – I think – simply not being a good basketball player. That meant more run for Kevin Seraphin (-0.51), who didn't exactly capitalize on his 25 minutes, finishing with an empty 13 points and 3 rebounds. Still, if Seraphin sticks as the starter, then he could regain some of his low end fantasy value at least while Nene remains out, although I'm not incredibly optimistic. Injury Report! Oh no! Kyrie Irving is expected to miss 4 weeks with a hairline fracture in his left index finger. Dude really needs to stop breaking his hands. This is obviously bad news for Irving owners as well as the Cavs, who don't exactly have a great backup in place for Irving. Jeremy Pargo recently took over the backup PG spot from the ineffective Donald Sloan and will presumably get promoted to starter while Irving is out. Irving owners may want to stash him if they can, although he has almost no NBA experience, so it's difficult to predict what – if anything – he'll do for fantasy owners. A guy like Daniel Gibson is not a traditional PG, but could also see a boost in value while Irving is out. In less devistating news, Stephen Jackson also broke a finger and is expected to miss 4 to 6 weeks with the injury. With Kawhi Leonard likely out for at least the next week, it means good things for Danny Green most likely, who is worth a short term add over that span. Gary Neal may also become fantasy relevant again. Biggest Loser: J.J. Redick (-1.25) skipped Sunday night's game with an illness. Based on his line yesterday, he should have skipped Monday night's game as well. Redick finished with a season low 2 points, 1 rebounds and 1 assist on 1-7 shooting from the field in 18 minutes as the Magic lost to the Hawks fairly convincingly. The stretch of double-doubles for Omer Asik (-1.17) appears to be over as Asik finished with 2 points against the Jazz (shooting 0-5 from the field and 2-6 from the line), although he did have 7 rebounds and 2 blocks. Asik has been bringing the boards (12.3 per game this season) and the 1.2 blocks are ok, but that's all you'll be getting with the big man. It's telling that the player I've seen offered up most often in trades this season has been Asik. The Hawks didn't need Josh Smith (-0.99) do to much in their 81-72 win over the Magic, and he complied, scoring only 6 points on 3-10 shooting, adding 2 rebounds and 1 assist in 22 minutes. Why NBA TV decided to feature this game last night is beyond me, but I watched some of it and left as depressed as everyone on the court looked playing this game. *** Daily rankings and stats come from the GMTR H2H Player Rater (beta version). They are based on the stat Wins Above Replacement Player (WARP) an estimate of the number of wins a player produces per week in H2H leagues over a replacement (waiver wire) player. Do not miss a day of the Fantasy NBA. Subscribe to Give Me The Rock right now. You can also get bonus (and easily digestible) content by following GMTR on Twitter, or become a fan of GMTR on Facebook! We are so social! If you like what you read here, come back every day for new content! And if you come back every day, please consider donating… Want to see your ad in the GMTR RSS feed? Contact: givemetherock@gmail.com
Original Story:
http://feedproxy.google.com/~r/GiveMe...
THE BACKYARD
BEST OF MAXIM
RELATED ARTICLES
It should never have come down to it, but a win is a win, even if it was an ugly one against the winless Washington Wizards.The Indiana Pacers somehow managed to squander a 20-point lead in the third quarter before David West activated beast mode in the fourth, scoring 13 of his season-best 30 points, including 4 of the team's last 5 field goals (he assisted on the 5th one to...
WASHINGTON -- In the basketball-loving nation's capital, the letter "W" stands for Wizards or Washington, but not "win" -- not yet. The Washington Wizards fell to 0-9, the worst start in franchise history, as the Indiana Pacers snapped a six-game road losing streak with a 96-89 win Monday at the Verizon Center. Despite a furious second-half rally, Washington...
There were boos early and at the end for the winless Washington Wizards, who dropped to a franchise-worst 0-9 with a 96-89 loss to the Indiana Pacers on Monday night. Indiana's David West scored 13 of his season-best 30 points in the fourth quarter, and Roy Hibbert broke out of a slump with 20 points and 12 rebounds. Still without point guard John Wall, the No. 1 overall pick...
WASHINGTON (AP) -- There were boos early and at the end for the winless Washington Wizards, who dropped to a franchise-worst 0-9 with a 96-89 loss to the Indiana Pacers on Monday night. Indiana's David West scored 13 of his season-best 30 points in the fourth quarter, and Roy Hibbert broke out of a slump with 20 points and 12 rebounds. Still without point guard John Wall, the...
NBA News

Delivered to your inbox

You'll also receive Yardbarker's daily Top 10, featuring the best sports stories from around the web. Customize your newsletter to get articles on your favorite sports and teams. And the best part? It's free!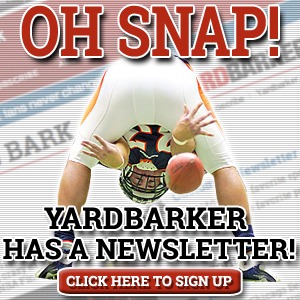 Latest Rumors
The Backyard

Today's Best Stuff

For Bloggers

Join the Yardbarker Network for more promotion, traffic, and money.

Company Info

Help

What is Yardbarker?

Yardbarker is the largest network of sports blogs and pro athlete blogs on the web. This site is the hub of the Yardbarker Network, where our editors and algorithms curate the best sports content from our network and beyond.