Found November 26, 2012 on Give Me The Rock:
PLAYERS:
Deron Williams
,
LaMarcus Aldridge
,
Damian Lillard
,
Tim Duncan
,
Rajon Rondo
,
Steve Novak
,
Jonas Valanciunas
,
Robin Lopez
,
Anthony Davis
,
Rasheed Wallace
,
Al-Farouq Aminu
,
Andrea Bargnani
,
Gerald Wallace
TEAMS:
Brooklyn Nets
,
Portland Trail Blazers
,
San Antonio Spurs
,
Phoenix Suns
,
Boston Celtics
,
New York Knicks
,
Toronto Raptors
,
New Orleans Pelicans
Line of the Night: Up until this point Deron Williams (2.12) has had a relatively quiet start for the season. Last night, however, the late first-round fantasy pick came up big as he filled up the stat sheet to the brim and beyond. Pardon the hyperbole there, but I just got carried away seeing him notch a career-high four blocks to go along with a diverse line that consisted of 15 points, 12 assists, 3 steals, and 2 bombs from downtown. The Brooklyn Nets faced the Portland Trail Blazers who were without LaMarcus Aldridge, who logged a DNP due to a stiff back. Damian Lillard (1.10) and company tried to put up a fight, but the Blazers were outmatched in the paint. Nonetheless, his 13 points (3 threes), 6 rebounds, 7 assists, 2 steals, and 2 blocks must have satisfied his fantasy owners nonetheless. Honorable Mentions: More guards. Kyle Lowry (1.62) took advantage of a double overtime game versus the Spurs (albeit a loss) to log some serious numbers. He scored 20 points (4 threes, 4-4 from the line), and added 8 rebounds, 4 assists, plus one steal and block to his totals for the night. DeMar DeRozan (1.15) continued to make a case that he's on a comeback fantasy season. He had a remarkable effort with 29 points, 7 rebounds, and 3 steals.  The Spurs won on the efforts of Tim Duncan (1.47) and his 26 points (4-4 from the line), 5 rebounds, 6 assists, 3 blocks. Ageless – well at least while the season is still young. His owners should enjoy the first half of the season, while Timmy's still fresh and productive and not getting any "DNP-Old" just yet. Kenneth Faried (1.59) meanwhile, had a solid Manimal-ish night against the Anthony Davis-less New Orleans Hornets. He had a sweet double-double with 14 points (7-8 from the field), and 12 rebounds, while adding 2 steals and 2 blocks to round things out on the defensive end. Jrue Holiday (1.57) scored a career-high 33 points (13-21 from the field) in a close game against the Phoenix Suns. He also added 13 assists. I'm so stoked I have him as a three-year eligible keeper. Rajon Rondo (1.46) missed a triple-double by one rebound last night as an overtime Boston win over Orlando allowed him to put up 15 points, 9 rebounds, 16 assists, and 2 steals. *** Waiver Wire Line of the Night: Steve Novak (1.49) is as streaky and as erratic as they come. You don't really know when he's going to get both the opportunity and the hot hand to catch fire and drop 18 points (5 threes), 2 blocks (16% owned) The best use for Novak is as streaming fodder for his threes when the Knicks have a four-game week against so-so opponents. Pick Up Lines: Jonas Valanciunas (1.12) took advantage of muscling over San Antonio's three-headed center of Splitter, Diaw, and Blair. Even though he's a rookie, he's been getting some solid playing time. And while we won't see him do 22 points (9-13 from the field), 7 rebounds, 3 blocks every night this season and in fact see him show up with some stinky lines, it is reassuring that he's only going to get better overall and that he has a bright future ahead. (25% owned) Robin Lopez (0.94) seems to have recovered from his slump, at least for now, and showed a spark of deep-league viability via 14 points, 5 rebounds, 2 steals, and 4 blocks. This may still be a short-lived improvement as his production should surely take a hit when Anthony Davis returns from injury. (33% owned) Call me crazy, although I would prefer the term nostalgic, but I am really tempted to target Rasheed Wallace (0.81) in a couple of deep leagues I'm in. He's an interesting add as he contributes about a three and a block per game while occasionally heating up enough to muster a double-digit scoring output now and again. He had yet another productive night with15 points (3 threes) (4% owned). He should remain a tempting low-end add while STAT is still nursing his injuries, and possibly even after his return as Sheed doesn't need a ton of PT to log his trey, block, et al. Biggest Loser: Al-Farouq Aminu (-1.20) cost me a salvagable loss this week. He's been ok so far for most of the early season and his 2 points, 2 rebounds, 0 assists , 1-4 from the field should just be considered an ugly bump in the road. He will now remain a multi-cat threat for the rest of the season, although he still may have an issue with consistency of its delivery. Andrea Bargnani (-1.19) and his stinker of a game was not enough to sour my matchup against and injury-riddled team. 4 points, 8 rebounds, 1 assists , 2-19 from the field can be attributed to the horror of having to play against Duncan and the Spurs' stifling defense. He should bounce back in his next game. Gerald Wallace (-0.98) is clearly still suffering from the effects of his injury. He's not yet at 100%, as evidenced by his piss-poor performance with 2 points, 1 rebounds, 0 assists , 1-8 from the field. Give him time. He hopefully should come around as his foot gets better. *** Daily rankings and stats come from the GMTR H2H Player Rater (beta version). They are based on the stat Wins Above Replacement Player (WARP) an estimate of the number of wins a player produces per week in H2H leagues over a replacement (waiver wire) player. Do not miss a day of the Fantasy NBA. Subscribe to Give Me The Rock right now. You can also get bonus (and easily digestible) content by following GMTR on Twitter, or become a fan of GMTR on Facebook! We are so social! If you like what you read here, come back every day for new content! And if you come back every day, please consider donating… Want to see your ad in the GMTR RSS feed? Contact: givemetherock@gmail.com
Original Story:
http://feedproxy.google.com/~r/GiveMe...
THE BACKYARD
BEST OF MAXIM
RELATED ARTICLES
Deron Williams has a sprained right wrist, but the Brooklyn Nets' All-Star point guard has been playing through the pain.  Williams injured his wrist last Friday while bracing himself after a fall.  He says he has been playing with the injury ever since. According to Mike Mazzeo of ESPN New York, Williams suffered a minor sprain of the joint in his right wrist.  Williams...
For a split second on Friday night, Deron Williams must thought he was just as tall as 6-foot-10 Blake Griffin and 7-foot Ryan Hollins as he leapt up to try to dunk over the towering pair. The way up must have seemed like an eternity for Williams as he saw Griffin elevating as well, arms outstretched and ready to reject Williams' offering. Well, we have that entire exchange in...
Deron Williams had 15 points, 12 assists, four blocked shots and three steals, leading the Brooklyn Nets to a 98-85 victory over the Portland Trail Blazers on Sunday. Joe Johnson scored 21 points and Brook Lopez had 15 for Brooklyn, which has won five straight games at Barclays Center. The 6-1 beginning on the new home court is the Nets' best start since the 2002-03 season when...
In the 2005 NBA draft, the Utah Jazz selected Deron Williams with the #3 pick and Chris Paul went #4 to the New Orleans Hornets. Since that day this has been quite a rivalry. And frankly, it's been pretty lopsided. Actually, the rivalry started seven months earlier, when on December 1, 2004, Paul and the #1 ranked Wake Forest Demon Deacons marched into Champaign and got buried...
NBA News

Delivered to your inbox

You'll also receive Yardbarker's daily Top 10, featuring the best sports stories from around the web. Customize your newsletter to get articles on your favorite sports and teams. And the best part? It's free!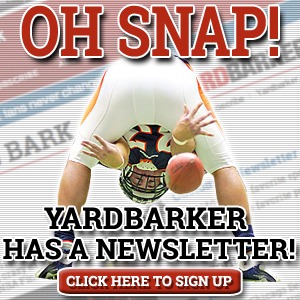 Latest Rumors
The Backyard

Today's Best Stuff

For Bloggers

Join the Yardbarker Network for more promotion, traffic, and money.

Company Info

Help

What is Yardbarker?

Yardbarker is the largest network of sports blogs and pro athlete blogs on the web. This site is the hub of the Yardbarker Network, where our editors and algorithms curate the best sports content from our network and beyond.