Found November 27, 2012 on Give Me The Rock:
PLAYERS:
LaMarcus Aldridge
,
Kevin Durant
,
Russell Westbrook
,
Brook Lopez
,
Chris Paul
,
Anderson Varejao
,
Joakim Noah
,
Greivis Vasquez
,
Kyle Singler
,
Tayshaun Prince
,
Tiago Splitter
,
Emeka Okafor
,
Caron Butler
,
Jamaal Tinsley
,
Ekpe Udoh
,
Scott Skiles
,
Ersan Ilyasova
,
Beno Udrih
,
Doron Lamb
,
Richard Hamilton
,
Kevin Seraphin
,
Kemba Walker
,
Ramon Sessions
,
Byron Mullens
,
Blake Griffin
TEAMS:
Charlotte Hornets
,
Portland Trail Blazers
,
Oklahoma City Thunder
,
Brooklyn Nets
,
Los Angeles Clippers
,
Cleveland Cavaliers
,
Chicago Bulls
,
New Orleans Pelicans
,
Detroit Pistons
,
San Antonio Spurs
,
Utah Jazz
,
Milwaukee Bucks
Line of the Night: I guess LaMarcus Aldridge's (2.56) back is doing just fine, thank you very much. A night after sitting out with a sore back, Aldridge returned to the lineup against the Pistons and had his best game of the season, scoring 32 points, and adding 10 rebounds, 3 steals and 3 blocks in 41 minutes on the court. Word is that the Pistons focused their defensive efforts on stopping Damian Lillard, leaving Aldridge (relatively) free to do his thing. The result was a huge night for Aldridge, a quiet one for Lillard, and one win for the Pistons. Still, its great news for anxious Aldridge owners, who can now relax just a bit. Honorable Mentions: The Thunder absolutely destroyed the Bobcats by a score of 114-69, led of course by Kevin Durant (2.01), who scored 18 points (6-8 from the field, 4-4 from the line), with 6 rebounds, 4 assists, and 4 blocks in only 26 minutes on the court. Russell Westbrook (0.98) added 12 and 11 in 22 minutes. Tyson Chandler (1.85) scored a career high 28 points (on a crazy-good even for him 12-13 from the field) with 10 rebounds and 2 steals in a loss to the Nets. For Brooklyn, Brook Lopez (1.24) added 22 and 11 in the game with 5 blocks. Lopez is out to #41 on the season on our player rater and looks to be picking up where he left off before last season's injury. *** And in the interest of time (or lack thereof), here are a few of the other best lines from last night: Chris Paul (1.88) 20 points (9-14 from the field), 8 assists, 4 steals Anderson Varejao (1.56) 15 points (7-11 from the field), 22 rebounds, 2 steals Joakim Noah (1.53) 6 points, 10 rebounds, 4 steals, 4 blocks Greivis Vasquez (1.47) 25 points, 6 rebounds, 10 assists. Waiver Wire Line of the Night: Three of the top 4 fantasy performances last night came from guys owned in 20% of fantasy leagues. Detroit rookie Kyle Singler (2.48) led them all with 16 points, a career high 10 rebounds, 5 assists and 3 threes in 36 minutes on the court. He also had the assist of the night – a 50-foot bounce pass Tayshaun Prince – not bad for a 6-8 shooting guard. Like most rookies, Singer is all over the map from game to game in terms of his performance. He's a bit too inconsistent for 12 man leagues, but worth a look in deep leagues, especially roto ones where his do a little bit of everything style plays a little better. Pick Up Lines: We've had a Tiago Splitter (2.21) sighting. Splitter exploded for 15 points, 12 rebounds, 7 assists, and 2 blocks in only 23 minutes on the court for the Spurs. A couple of words of caution about this line. One, it came against the 0-12 Wizards and the corpse of Emeka Okafor. Second, this is Splitter's first double-digit rebounding performance all season, and only his third double-digit scoring game. Splitter just isn't doing it on most nights to be worth owning in all but the deepest leagues. Caron Butler (2.02) went absolutely insane in the second half of the Clippers game last night. He finished with a career high (and all-time franchise high) 9 threes, on his way to a season-high 33 points and 6 rebounds. Says Butler about his performance, " The [guards] were doing a great job of when they were getting blitzed on the screen, throwing the ball back and finding me in rhythm and with guys closing out a little late, I was just knocking down shots." Am I running out today to pick up Butler? No, I am not. He attempted more than double the shots than in any other game this season. This game is also coming off two games where he scored a combined 10 points. We'll look back on this game at the end of the season and be like, WTF happened there. Jamaal Tinsley (1.56) continued to turn back the clock and take advantage of a Mo Williams injury to score 15 points, adding 6 assists and 3 threes in a win over the Nuggets. Williams is expected back on the court sometime this week, which will push Tinsley back to getting 15 minutes a game off the bench. But if (or when) Williams gets hurt again, remember to immediately jump on Tinsley if you need the PG help. Ekpe Udoh (1.55) had his best game of the season so far, with 11 points, 6 rebounds and 5 blocks in 29 minutes off the bench for the Bucks. And just when you thought you had this Bucks rotation thing figured out… To their credit, the Bucks came back down from 27 points to squeak out a win against the Bulls. Scott Skiles rode his bench for the entire fourth quarter of this game: Ersan Ilyasova, Epke Udoh, Beno Udrih, Mike Dunleavy and Doron Lamb. And for this one game at least, the move paid off. On most night's, however, Udoh, is not getting the run to be a consistent fantasy presence. Leave him on the wire in most leagues for now. The Bucks' comeback win also means we finally saw signs of life from Ersan Ilyasova (1.80) who finished with 18 points, 6 rebounds and a three in only 22 minutes on the court. The minutes still aren't great, but I think his owners will take absolutely any ray of sunshine at this point. Should you pick up Ilyasova if he's available? Maybe. I still stand by the ascertain that in made in this post. Can he be a decent 12th man for some fantasy teams? Yes. But anyone expecting the Ilyasova from last season is going to be wildly disappointed. Richard Hamilton (1.27) had his best game of the season for the Bulls, scoring 30 points and hitting a couple threes in 36 minutes. Hamilton is averaging close to 17 points a game over the last two weeks and although he doesn't do too much more than that, is worth a look if you need a scorer. Kevin Seraphin (1.14) continues to alternate good games with bad, but last night he finished with a strong 18 points, 7 rebounds and 2 blocks in a 32 minute start as Nene sat with a sore left foot. Seraphin definitely has value, especially in leagues that require two starting centers, although I'm not sure I'd want to be the guy to put up with him from game to game. Biggest Loser: The Charlotte Bobcats shot 29% as a team last while getting destroyed at the hands of the Thunder. No one was worse than Kemba Walker (-1.51), who was held scoreless on 0-6 shooting, with 0 rebounds and 2 assists in 20 minutes on the court. Ramon Sessions (-0.79) shot 1-9 from the field and Byron Mullens (-0.27) was 3-11, although 2 of those baskets were threes. Blake Griffin (-0.96) had an off night, shooting 1-9 from the field to finish with a career low 4 points, adding 6 rebounds, 3 assists and 4 turnovers against the Hornets. *** Daily rankings and stats come from the GMTR H2H Player Rater (beta version). They are based on the stat Wins Above Replacement Player (WARP) an estimate of the number of wins a player produces per week in H2H leagues over a replacement (waiver wire) player. Do not miss a day of the Fantasy NBA. Subscribe to Give Me The Rock right now. You can also get bonus (and easily digestible) content by following GMTR on Twitter, or become a fan of GMTR on Facebook! We are so social! If you like what you read here, come back every day for new content! And if you come back every day, please consider donating… Want to see your ad in the GMTR RSS feed? Contact: givemetherock@gmail.com
Original Story:
http://feedproxy.google.com/~r/GiveMe...
THE BACKYARD
BEST OF MAXIM
RELATED ARTICLES
Blazers drop close one The Headline: despite a nagging back injury, LaMarcus Aldridge comes alive for Portland; unfortunately, it's not enough to hold off the Pistons in this 101-108 loss. Lets review the game, Love'em & Hate'em style. Portland Trail Blazers vs. Detroit Pistons When: 7:30 ET, Monday, November 26, 2012 Where: The Palace of Auburn Hills (Detroit) Officials...
LaMarcus Aldridge hurt his back during the Blazers' win over the Timberwolves on Friday night.
The Detroit Pistons have lost 12 straight to Western Conference opponents, but could be catching a break in their bid to end that skid. The Portland Trail Blazers may be without All-Star forward LaMarcus Aldridge as they visit the Pistons on Monday night. Aldridge, averaging 19.7 points and 5.8 rebounds, missed his first game Sunday when he sat out a 98-85 loss at Brooklyn with...
Rip City travels to Motown The Portland Trail Blazers have a legitimate chance at taking down an Eastern Conference foe on the road Monday, but they'll have to worry about the big men in the middle when they take on the Detroit Pistons. Matchup: Portland (6-7) @ Detroit Pistons (3-11) Venue: The Palace of Auburn Hills Time: 4:30 PM PT Date: Monday, Nov. 26, 2012 The Blazers have...
The Portland Trail Blazers' long road trip hasn't gotten off to a fabulous start, but their struggles seem minimal compared to those of the Washington Wizards. Portland continues its seven-game road stretch against Eastern Conference foes Wednesday night as it looks to keep Washington winless. The Blazers (6-8) set a season low for points in a 98-85 loss to Brooklyn to...
The Trail Blazers have left town and they aren't coming back … at least not for a while.  They are in the East Coast for a seven game road trip that will test the mettle of this young team.  They departed with a .500 record after an exciting victory at the Rose Garden against the Minnesota Timberwolves on Black Friday.  Road trips always challenge a team, but if the Blazers...
NBA News

Delivered to your inbox

You'll also receive Yardbarker's daily Top 10, featuring the best sports stories from around the web. Customize your newsletter to get articles on your favorite sports and teams. And the best part? It's free!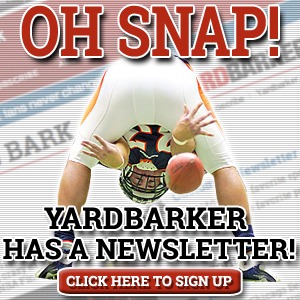 Latest Rumors
The Backyard

Today's Best Stuff

For Bloggers

Join the Yardbarker Network for more promotion, traffic, and money.

Company Info

Help

What is Yardbarker?

Yardbarker is the largest network of sports blogs and pro athlete blogs on the web. This site is the hub of the Yardbarker Network, where our editors and algorithms curate the best sports content from our network and beyond.