Found November 04, 2012 on Give Me The Rock:
PLAYERS:
Tobias Harris
,
Samuel Dalembert
,
Nicolas Batum
,
James Harden
,
Ray Allen
,
Chris Bosh
,
LeBron James
,
Kyle Lowry
,
Jeremy Lin
,
O.J. Mayo
,
Paul George
,
Marcus Thornton
,
Anderson Varejao
,
Steve Nash
,
Jarrett Jack
,
Harrison Barnes
,
Jamal Crawford
,
Larry Sanders
,
Drew Gooden
,
D.J. Augustin
,
Ramon Sessions
,
Ersan Ilyasova
TEAMS:
Milwaukee Bucks
,
Portland Trail Blazers
,
Houston Rockets
,
Miami Heat
,
Los Angeles Lakers
,
Dallas Mavericks
,
Indiana Pacers
,
Sacramento Kings
,
Cleveland Cavaliers
,
Golden State Warriors
,
Los Angeles Clippers
,
Charlotte Hornets
Only 5 days in and we have our first Line of the Night/Waiver Wire Line of the Night combo! Mike Dunleavy (3.33) shot too well to technically qualify as the WWLotN since we don't like to let people get in with 70%+ FG shooting… but with 29 points, 6 threes, 12 rebounds, 6 assists, and 2 steals, we're going to let the 10-12 from the field have a pass on this one. Dunleavy is only 31% owned (mostly because everyone – myself included – was out picking up Tobias Harris, who only played 13 minutes in this one). I'm going to say Dunleavy got 34 in this game because he was on fire, and because Cleveland is a fairly small team. Samuel Dalembert only got 10 minutes against them, so I think the Bucks just weren't putting out the big guys. I used my waiver claim on Harris, so he better come through. (Let me also say, this is the awesome thing about Continuous Waivers – a new option that Yahoo added this season. I had to pick up Harris off waivers and use my waiver priority because all the players in the league are on waivers. It's kind of the greatest thing ever. It gives everyone a chance to pick up the hot guys, and it also makes you really think about picking guys up since every time you do it drops you to the back of the waiver priority list. It's not like there's always someone else trying to pick up the same guy as you, but it means that if there and when there is, the waiver priority actually means something. Although I did just discover in making some changes to my team in the GMTRoto league that I'll have to start checking on Saturday since trying to pick a guy up on Sunday means that you don't get him until Monday… Not such a problem for a Roto league, but big time difference for H2H leagues) Honorable Mentions: Nicolas Batum (2.61) came back from an awful game with 17 points (4 threes), 9 rebounds, 4 assists, 6 steals, and 2 blocks. The Blazers went into overtime against the Rockets, so that certainly helped as Batum got 44 minutes of PT. James Harden (-0.03) traded places with Batum (almost) going 8-24 from the field to end up with a mere 24 points. Harden was only #109 on the night. Ray Allen (2.32) made 3 threes in the 4th quarter including a go-ahead bucket with 6 seconds left en route to 23 points (6 threes, 8-12 from the field), 5 rebounds, 2 steals, and a Miami victory. The Lakers better get their **** together if they hope to compete with LeBron, Wade, Bosh, Allen, and Ringo. Speaking of LeBron and Bosh: Chris Bosh (2.16) was also an Honorable Mention with 40 points (15-22 from the field, 9-10 from the line) and 7 rebounds, while LeBron (2.04) was close behind with 20 points (4-4 from the line), 9 rebounds, 11 assists, and 2 blocks. Sorry to all the people out there in leagues with Triple-Doubles as a category. Mo Williams (2.29) showed off what Mo Williams does with 29 points (9-13 from the field, 9-9 from the line), 9 assists, and 2 steals. This guy would have been a good pick for leagues that count triple-doubles (you know, if you couldn't get LeBron James): Kyle Lowry (2.22) had 28 points (4 threes), 8 rebounds, 8 assists, and 3 steals. Why does it seem like NBA teams don't really want him? I mean, I guess for the Rockets, it worked out since I'm guessing they picked up a lot of new fans by installing Jeremy Lin at PG, but Lowry is a workhorse at least as far as stats are concerned… does that just not translate into wins? I know I was down on O.J. Mayo (2.17) coming in to this season and for the first 2 games, I was right. Last night, though, Mayo went for 30 points (7 threes), and 6 rebounds and showed that maybe if he keeps getting 31 minutes per game, he'll be able to pick his fantasy rank up and take it to the prom. Maybe our Indiana expert Trevor can explain what's going on with Paul George (2.03) and his 16 points (2 threes), 17 rebounds, 2 steals, and 4 blocks. I don't think you can argue with a line like that, cause I mean, who knew he could rebound like that? I bet people who drafted him in leagues where Double-Doubles count are very happy. Going against George, but unable to stop the Pacers assault was Marcus Thornton (1.89), who had 26 points (4 threes, 4-4 from the line), 6 rebounds, 4 assists, and 2 steals. Sacramento is now 0-3, Indiana is 2-1. No real commentary on that one… I think that's about what we'd expect. Finally, another double-double machine (so far): Anderson Varejao (1.72) had 20 points (10-13 from the field), and 17 rebounds. *** Injury of the Night (sort of): Steve Nash has a small left leg fracture and will be out for at least a week. The Yahoo article says that the Lakers will re-evaluate him next weekend. It wasn't as if he was playing well, so get him out of your lineups for weekly changes leagues. Pick Up Lines: Jarrett Jack (1.46) got 31 minutes off the bench for the Warriors while Harrison Barnes only got 20 minutes on the floor. The Warriors went small against the Clippers who gave Jamal Crawford 23 minutes off the bench. Crawford is already owned in 62% of leagues (and if he keeps scoring like he has been, that number is sure to keep going up), but Jack, who had 16 points (5-8 from the field, 6-6 from the line), 6 rebounds, and 7 assists is only 30% owned. I just picked up Danny Green (1.44) in one of my leagues after his 3rd pretty good game: 21 points (3 threes, 8-9 from the field) (35% owned). He did shoot above 70% so I'm a little skeptical, but it seems like they want him in the game in San Antonio… I strongly considered adding Larry Sanders (1.32) in one of my leagues are his 17 point (8-9 from the field), 7 rebound, 4 block game (1% owned). It looks like with Drew Gooden not playing and Dalembert's minutes getting squeezed that Sanders is kind of the man in Milwaukee now. The Bobcats definitely did the right thing by letting DJ Augustin go and picking up Ramon Sessions (1.23). I feel like Sessions never gets any respect despite that he always puts up solid numbers like: 22 points (8-13 from the field, 5-5 from the line), and 5 assists (23% owned). I think he might have gotten a little bonus time since the Bobcats got blown out by the Mavericks, so for now, I'm going to say just keep an eye on him. Alonzo Gee (1.17) also deserves a look after his 18 points (4-4 from the line), 6 assists, and 2 steals (8% owned). The Cavs have a halfway-decent starting lineup now, but the key for fantasy is that they don't really have anyone on the bench worth putting out there for more than the minimum amount of time. That means that Gee, Varejao, Kyrie Irving, Dion Waiters and Tristan Thompson are all going to log heavy minutes this season. Obviously Irving is already a fantasy stud, Varejao was sort of a known commodity, and people are picking up Tristan Thompson pretty quick from what I can see. That leaves Waiters and Gee and the latter is definitely the better option there. Biggest Loser: Ersan Ilyasova (-0.99) was 1-8 from the field and 1-2 from the line to end with 3 points, 3 rebounds, 2 assists, and 1 turnover. Pretty awful for 27 minutes of basketball and certainly painful for the 94% of fantasy ballers who own him. Bradley Beal (-0.74) is down to 71% ownership and that number will probably continue to plummet with performances like last night's 2 points (0-5 from the field), 1 rebound, 1 assist output. Ouch. *** Daily rankings and stats come from the GMTR H2H Player Rater (beta version). They are based on the stat Wins Above Replacement Player (WARP) an estimate of the number of wins a player produces per week in H2H leagues over a replacement (waiver wire) player. Do not miss a day of the Fantasy NBA. Subscribe to Give Me The Rock right now. You can also get bonus (and easily digestible) content by following GMTR on Twitter, or become a fan of GMTR on Facebook! We are so social! If you like what you read here, come back every day for new content! And if you come back every day, please consider donating… Want to see your ad in the GMTR RSS feed? Contact: givemetherock@gmail.com
Original Story:
http://feedproxy.google.com/~r/GiveMe...
THE BACKYARD
BEST OF MAXIM
RELATED ARTICLES
Is Jeremy Lin overrated? Will his star fall back to earth in Houston? Can he mesh with the Rockets and continue his run of improbable success? No one knows, but this much is sure: Tons of people love Lin's story, and that story got 10 times cuter when Lin posted a photo of himself from a Halloween of yesteryear this week. Lin apparently went trick-or-treating...
This haircut of a member of the Red Rowdies (a group of Houston Rockets hardcore fans) is extremely frightening and wonderful. Check out the super fan's haircut which is one of the best tributes to James Harden that you will most likely ever see. I am a bit confused as to the interesting changes that the barber made to Harden's mug, but when all is said and done the beard will...
The city of Houston is buzzing. With the fanfare that always seems to accompany Jeremy Lin since his anointment last year, and the acquisition of James Harden followed by two monster games, The Rockets have not garnered this type of attention in years. Amidst all of the excitement, several Rockets role players are ready to [...]
Would you believe me if I told you James Harden's encore was even more spectacular than his debut? What if I told you he dropped 45 last night, and that only Michael Jordan and Wilt Chamberlain have scored more points in a team's first two games of any NBA season? It's all true, folks. Remember, I have no reason to stretch the truth. I, like many, have been critical...
(one thing I've learned is I need to find a photo of Harden in a Rockets jersey)Every night (well - perhaps not EVERY night) I'll be firing up my NBA League Pass and scanning that night's box scores to bring you, my beloved reader, what I learned from the NBA that night.  Because the internet was invented for knee-jerk, totally premature, irrational reactions to things...
HOUSTON -- Portland Trail Blazers guard Wesley Matthews seemingly did enough by burying the game-tying 3-pointer with just under a minute left in regulation time on Saturday night at Toyota Center. But when he stripped Houston Rockets guard James Harden in the waning seconds, preventing Harden from hoisting a potential game-winning jumper at the fourth-quarter buzzer, he gave Portland...
After netting 6 points, 6 assists, 5 rebounds and 3 steals in a win over the Atlanta Hawks, Chandler Parsons took a second to discuss the role players on the Houston Rockets roster. sr_adspace_id = 1000001551307; sr_adspace_width = 728; sr_adspace_height = 90; [...]
James Harden has put on quite a show in each of his first two games with the Houston Rockets. The reigning Sixth Man of the Year is only starting to get comfortable. Harden looks to continue his remarkable play Saturday night as the undefeated Rockets open their home schedule against the Portland Trail Blazers, who haven't experienced much success during their last several...
There is one thing we do know is that the NBA is a copycat league. When the Boston Celtics revived the 'Big Three' theory, Pat Riley decided that he wanted his own with a slight twist. As a result he got the 'super-brats' together in South Beach and won the 2011-12 NBA title. This year, for some reason, the NBA is not only obsessed with small-ball but the pick-n-roll...
NBA News

Delivered to your inbox

You'll also receive Yardbarker's daily Top 10, featuring the best sports stories from around the web. Customize your newsletter to get articles on your favorite sports and teams. And the best part? It's free!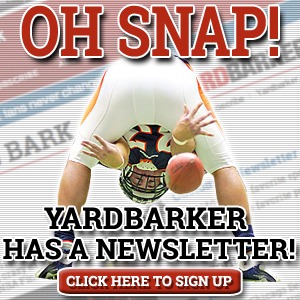 Latest Rumors
The Backyard

Today's Best Stuff

For Bloggers

Join the Yardbarker Network for more promotion, traffic, and money.

Company Info

Help

What is Yardbarker?

Yardbarker is the largest network of sports blogs and pro athlete blogs on the web. This site is the hub of the Yardbarker Network, where our editors and algorithms curate the best sports content from our network and beyond.