Found August 03, 2013 on Pass The Pill:
Photo Credit: Wikipedia.org Before Kevin Garnett and Paul Pierce packed their bags for Brooklyn, rumors swirled that they may instead be joining coach Doc Rivers in Los Angeles with the Clippers. This was before David Stern stepped in and went all "I'm David Stern AND I RUN SH*T HERE." The presumed package for Garnett, Pierce, and Rivers was based around Eric Bledsoe, and DeAndre Jordan going back to the Celtics. There have been numerous circumstances where players in Jordan's position would be angry with management, and feel disrespected that the team tried to ship him off. However, Jordan couldn't disagree with that mindset more. He told RealGM that trade talks are a sign of respect, and he never discussed his situation with management. Here's some more details: In Jordan's mind, interest from other NBA teams meant he was desired in a way perhaps the Clippers didn't feel at times this offseason. As the Clippers pursued Kevin Garnett, Jordan was ready to move on if they pulled off a deal – and he took all the supposed interest as respect out of franchises. "If I go, that just means that, honestly, somebody else wants you," Jordan told RealGM on Tuesday. "As long as someone else is interested, and you're wanted, you can't feel negative. I never listened to the s— on the news or the radio. I just wanted to get better and be ready for the season. Whatever jersey I had on, I really didn't care to be honest with you. "And if I got traded, then s—, so what? I'm still going to be in the NBA. I'm still going to be playing the game that I love, just for a different team." I love Jordan's mindset in this situation, and many other players could learn from his perspective. As a Net fan, I always had this thought about Brook Lopez, who was the focus of Dwight Howard trade rumors for approximately 345 years. Lopez, who also handled himself like a professional, should have felt honored that the only reason that the team was considering trading was to acquire the most dominant center in the game. Similarly, Jordan understands that this is a business, and has seemingly moved on from the situation, and will continue to be an integral part in the Clippers pursuit of a championship. Now, if only we can get the corpse of Brandon Knight on this bandwagon. By: Frank Santos- Pass the Pill Manager The post DeAndre Jordan on trade rumors: 'That just means somebody else wants you' appeared first on Pass The Pill - Kings of Hoops.
Original Story:
http://sports-kings.com/passthepill/d...
THE BACKYARD
BEST OF MAXIM
RELATED ARTICLES
Clippers center DeAndre Jordan has had his named mentioned in trade times several times over the past two seasons, and they all included high-caliber players in exchange. Jordan told RealGM that he took all the trade talk as a sign of respect from opposing teams. "If I go, that just means that, honestly, somebody else wants you," Jordan told RealGM on Tuesday. "As long as...
GOT HOPS
Jordan Brand and Blake Griffin hosted a shoe release party in Santa Monica for the Super.Fly2 which will be worn by the Clippers All-Star this upcoming season. Among the highlights at the unveiling included 6'10 Griffin playing prop and getting dunked over by 5'10 Young Hollywood. photo via Cassy Athena
While his wife, Brandi Padila, is in New York, taking care of their two kids, Brooklyn Nets star Kevin Garnett is paying a Toronto woman money for fun time.The word is that Garnett flew out to Toronto so he could be the first NBA player to score with a woman, Mona Halem, before other NBA players flew into the city to "hang" with Halem during the Caribana Festival. According...
It's not often that we get to talk about Los Angeles Clippers forward Blake Griffin getting dunked over but this is one of those few times that we get to. Over the weekend, Griffin was at a Jordan brand sneaker release party in Santa Monica, California when Blake gave some assistance to a street ball player by the name of Young Hollywood. Check out as the 5'11 Hollywood rises...
I keep saying it and I will say it again. One of the most underrated things in sports is having an owner willing to spend whatever is necessary to win a championship. After the moves the Brooklyn Nets pulled off this summer, I would say owner Mikhail Prokhorov certainly falls into that category. After adding Alan Anderson for the league minimum, the Nets are scheduled to have a team...
The NBA free agency period is dying down, so it time to look back at each team who they signed. Also many trades went down, which I will also recap below. Free Agent Signings -Agreed to one year deal worth $1.4 Million with Andray Blatche. -Agreed to a one deal with guard Shaun Livingston. -Signed Andrei Kirilenko to a two year deal worth $6.4 Million. -Signed Alan Anderson. Trades...
INDIANAPOLIS — D.J. White was in a good professional situation last year. While he didn't get nearly as much playing time as he did in Charlotte, White got a chance to learn under veteran forward Kevin Garnett with the Celtics. The former Indiana forward was sent to the Nets with Garnett and Paul Pierce in [...]The post D.J. White on NBA future: 'I've got a couple options'...
Before coming across this quote, I didn't think that Brooklyn Nets head coach Jason Kidd was a huge fan of classic sci-fi flick, "The Matrix" but apparently, the story of Neo really settled with the new head man in Brooklyn. Recently, Kidd attended a special New York City screening of the new movie Matt Damon movie, "Elysium" and the fine folks over at The Source caught...
Whether you wanted to admit it or not, the summer of 2013 was almost guaranteed to be a busy one for the Boston Celtics. The team was coming off of a first round playoff exit they suffered at the hands of the New York Knicks and, judging by the emotional exchange that took place between Doc Rivers and Kevin Garnett as the final minute or two of Game 6 ticked off the clock, it was...
Nick Young continues to do the rounds with the L.A. media. Since signing with the Lakers, Young has been all over the place doing interviews, but one of his more revealing appearances was on Power 106 Los Angeles. Nick talked about dunking on LeBron James in his rookie season, as well as the kind of trash Kevin Garnett talks on the court. Note: the video below contains swearing.
Photo courtesy of Dime Magazine BOSTON--  This particular thing has been on my mind lately, so here goes nothing. The Boston Celtics have undergone huge changes this offseason from losing their captain and a "Big Ticket via trade to hiring a new coach that made his mark in the game as one of the brightest young minds in college basketball. When you take two perennial All-Stars...
NBA News

Delivered to your inbox

You'll also receive Yardbarker's daily Top 10, featuring the best sports stories from around the web. Customize your newsletter to get articles on your favorite sports and teams. And the best part? It's free!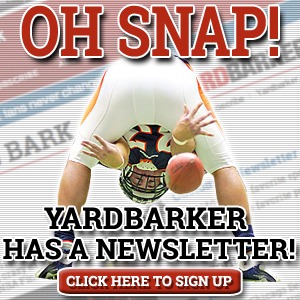 Latest Rumors
Best of Yardbarker

Today's Best Stuff

For Bloggers

Join the Yardbarker Network for more promotion, traffic, and money.

Company Info

Help

What is Yardbarker?

Yardbarker is the largest network of sports blogs and pro athlete blogs on the web. This site is the hub of the Yardbarker Network, where our editors and algorithms curate the best sports content from our network and beyond.