Found June 07, 2013 on BlackSportsOnline:
I think every athlete is protective of their eras. Especially when new players come into the league and receiving the shine they use to have. I don't play the "What If" game, I try to stick to the here and now, but Dennis Rodman isn't overly impressed with LeBron James. "If LeBron was playing in the late '80s or early '90s," Rodman said, "he'd be just an average player." "If Michael played today … really? If he played the game today at 28 years old, he would average 40 points a game, probably more," "Look at those teams [when Rodman played]. Look at the Cleveland Cavaliers. Look at Golden State when they had Chris Webber and all of those guys. If those teams then could play now, they would kick anybody's ass today. Are you kidding me?" "The Heat has better talent than we had, but we had smarter players," Rodman said. "We would match up with the Heat easy. I would take Bosh out of his damn game easy. That's not even a problem. How would Dwyane Wade match up with Scottie Pippen? Really? Scottie Pippen would guard LeBron easy. How are you going to cover those two guys [Jordan and Pippen]?" "If I was 28 years old guarding LeBron … are you kidding me?" Rodman said. "If he scored on me, I would be like, OK, thanks. Guess what, though? Sooner or later, somebody's gotta win, somebody's gotta lose, and most of the time I don't lose." Prime Rodman or Pippen guarding Prime LeBron, would have been a sight to behold. But, once again it is different eras and different times, so who knows how LeBron would have worked back then, just like no one knows if Michael Jordan would be averaging 40 PPG now. But, since we have to "Embrace the Debate" these conversations will always take place.
Original Story:
http://blacksportsonline.com/home/201...
THE BACKYARD
BEST OF MAXIM
RELATED ARTICLES
Dennis Rodman is crazy.  It is not only because of his now 'friendship' with the terrorist leader of North Korea or his quirky off court antics.  Rodman came out and claimed that Lebron would be just an average player in the 80′s and 90′s. Here is the full quote from Rodman, comparing today's game and players to the past's game and players. "If LeBron was playing...
I've always felt like it's best to leave "what ifs" out of sports. A person could sit there and do them all day. What if LeBron didn't leave Cleveland? What if Kobe didn't play with Shaq? What if Jordan got called for the pushoff on Russel in Utah? No point in doing it, better off [...]
The most dominant perimeter player in the NBA is always going to get compared to Michael Jordan. It is both a blessing and a curse, as being mentioned in the same conversation with MJ is an incredible honor, but many of his accomplishments are impossible to live up to. LeBron James is the latest superstar to receive endless comparisons to Jordan, and there have been some spirited...
Put a microphone in front of Dennis Rodman and magical things are bound to happen. Like the Kamikaze song, an old ditty Rodman used to sing while he was at bars in Chicago. He is also liable to say outrageous and sneakly perceptive things about today's NBA and the days of yesteryear. Take Dan Patrick asking Rodman on the Dan Patrick Show on Friday about how LeBron James would...
Dennis Rodman is doing his darndest to set an all-time record for dumb things said lately, which is pretty offensive, because that's my record and I work hard to protect it. Even so, his latest statement ranks right up there with his most absurd comments — which is saying something for a guy who cannot seem to say enough nice things about North Korea and his pal Kim Jong Un....
Dennis Rodman joined the The Dan Patrick Show Friday morning where he was asked to compare former teammate, Michael Jordan, and LeBron James. While the Hall-of-Famer said LeBron is a 'helluva player', he claimed that Jordan prevailed in a much a tougher era and if James were to play in the late '80s or early '90s, he'd be just an average player. "If LeBron was playing...
Dennis Rodman went on the Dan Patrick Radio Show today and put his two cents in about the recent run of "Alltime Top 5s" and all that stuff. Some of these quotes are pretty telling though…. "If LeBron was playing in the late '80s or early '90s," Rodman said, "he'd be just an average player." "If Michael played today … really? If he played the game today at...
When comparing some of the greatest players the NBA has ever seen like Michael Jordan and LeBron James, the issue of the game's evolution always comes into play. Can you ever truly compare two players who played in different eras? On some levels, you can. But for the most part, it's impossible. For example, Dennis [...]
Dennis Rodman, in a radio interview with Dan Patrick, stated that LeBron James would only have been an "average player" in the late '80s and early '90s.
NBA News

Delivered to your inbox

You'll also receive Yardbarker's daily Top 10, featuring the best sports stories from around the web. Customize your newsletter to get articles on your favorite sports and teams. And the best part? It's free!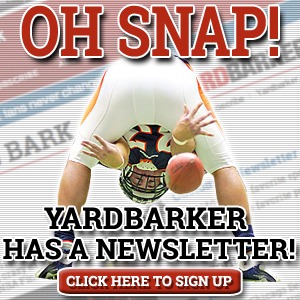 Latest Rumors
Best of Yardbarker

Today's Best Stuff

For Bloggers

Join the Yardbarker Network for more promotion, traffic, and money.

Company Info

Help

What is Yardbarker?

Yardbarker is the largest network of sports blogs and pro athlete blogs on the web. This site is the hub of the Yardbarker Network, where our editors and algorithms curate the best sports content from our network and beyond.