Found November 16, 2013 on Hardwood Gold Rush:
PLAYERS:
Chandler Parsons
,
Jeremy Lin
,
Wilson Chandler
,
Dwight Howard
,
James Harden
,
Kenneth Faried
,
Ty Lawson
,
J.J. Hickson
,
Jordan Hamilton
,
Evan Fournier
,
Brian Shaw
,
Quincy Miller
,
Timofey Mozgov
TEAMS:
Denver Nuggets
,
Houston Rockets
,
Minnesota Timberwolves
,
Oklahoma City Thunder
Denver Nuggets vs Houston Rockets: Lose 122-111 The Denver Nuggets traveled to take on the Houston Rockets on the second half of a back-to-back. Denver won its third straight on Friday night before heading to Texas. Houston is the 2nd highest scoring team in the NBA. Houston came out of the gates with guns blazing and put Denver in a 12-2 hole early. Chandler Parsons had 8 of those 12 Rockets points. Later in the quarter Parsons hit a wide open 3-pointer. This came on a play that saw Jeremy Lin draw three defenders as he drove down the lane and found Parsons on the perimeter for a 3-pointer. Parsons drew a foul on Wilson Chandler to turn this into a 4-point play. The Nuggets turned in a mediocre shooting performance in the first quarter, going 11-25 from the field missing many driving layups. Houston shot 57% and led 33-23 at the end of the first quarter. Dwight Howard added 7 points and James Harden tallied 6 points, 4 rebounds and 4 assists. The Rockets won the rebounding battle 12-9 and the fast break points were even at 4 for each team. Following this week's trade rumors, Kenneth Faried has been on a hot streak and carried that into the first quarter with 8 points to lead the Nuggets in scoring. Unfortunately this did not provide Denver with any momentum in the second quarter as the Rockets opened this game up and led by as many as 23 points. Donatas Montiejunas had netted a season-high scoring total of 1 point prior to this game and netted 9 points in the second quarter for a total of 11 points in the first half. The Lithuanian big man played more minutes in the first half than he has the rest of this season combined. Lin also chipped in 8 points to help the Rockets to a 63-46 lead at halftime. An illustration of the #Nuggets jump-shooting struggles in the first half. pic.twitter.com/DmtRQSEJSD — Chris Dempsey (@dempseypost) November 17, 2013 Ty Lawson helped the Nuggets to a 13-3 run to begin the third quarter and cut the Rockets lead to 7 points with 8:55 to go in the period. As has been the case for Denver so far this season, they allow their opponents to go on runs equal to or greater than their own. This has left the team spending most of their energy trying to come back and not enough on defending their opponents to limit these runs. Following Denver's early second half run, the Rockets went on a 14-2 run of their own, negating the Nuggets progress. Lawson did not look like the eye injury he sustained on Friday night was bothering him as he notched his third double-double in the first 9 games of the season. He recorded his 10th point and 10th assist during the third quarter. He did not record his first double-double of last season until the 23rd game in against the Minnesota Timberwolves. Lawson recorded 9 double-doubles in the 2012-13 regular season, but is on pace for three times as many this year. Faried was invisible offensively in the second half after recording 8 points in the first half. JJ Hickson also disappeared after scoring 12 points in the first half. Lawson, Jordan Hamilton and Evan Fournier each contributed 6 points in the quarter but were no match for the Rockets as the score was 90-75 after three. Howard and Lin kept the Rockets rolling early in the fourth with each chipping in 3 points. The big man added 14 more points from the foul line down the stretch, shooting 10-15 overall from the free throw line. The Rockets have attempted and made the most free throws so far this season. Nuggets coach Brian Shaw decided that they needed even more attempts as he had his team begin to intentionally foul Howard who is usually a notoriously bad free throw shooter. This backfired as Howard shot 14-20 from the free throw line in the fourth quarter as Denver went with the hack-a-Howard. Lawson had a career night with 28 points and 17 assists; 17 of his points came in the fourth quarter as Denver tried to kill the Rockets momentum. The Nuggets outscored Houston in the fourth quarter 36-32 but it was too little too late as the Rockets won 122-111 Notes: The Rockets had 7 players in double figures, a night after the Nuggets accomplished this feat Lawson was caught in the eye again, this time by James Harden Harden had a very inefficient scoring night adding 17 points on 5-16 shooting Quincy Miller received his first minutes of the season and nailed a 3-pointer with 19.4 seconds left in the game Denver came out flat in this one and lacked energy due to this being the second half of a back-to-back Houston won the rebounding battle 47-44 Timofey Mozgov had a near double-double with 10 points and 9 rebounds and only played 3:22 in the final period The points in the paint battle was pretty even but Houston edged the Nuggets 62-60 Chandler continues to produce for the Nuggets since coming back from injury (14 points) Houston's 3-point shooting was a key factor in this game – 9-21 (42.9%) Overall the Rockets shot 50.6% which makes it tough for the Nuggets to win under any circumstances Next up the Nuggets travel to take on the Oklahoma City Thunder on Monday night with a 6pm (MST) tip-off. Follow Peter Sherwill on Twitter @PeterSherwill or add him to your network on Google. photo by: thepanamerican The post Denver Nuggets Hack-a-Howard and Lose to Houston 122-111 appeared first on Hardwood Gold Rush.
Original Story:
http://hardwoodgoldrush.com/denver-nu...
THE BACKYARD
BEST OF MAXIM
RELATED ARTICLES
12► The one mother of Dwight Howard's kids who never seems to be involved in any drama Hope Alexa has just come out with a new bikini photoshoot. Hope has been working with Gamma Labs over the past year and seems to be working toward being independent and doing her own thing than living off Dwight Howard. You can check out more about what she is doing at Gamma Labs here.
Elmo and "Mr. Dwight" demonstrate the meaning of the word when they have to come up with a strategy to get the ball back from Mr. Tiger.Now if only "Mr. Dwight" could come up with a strategy to improve his free throw shooting. Visit us at holdoutsports.com and follow us on Twitter @HoldoutSports.
Dwight Howard took just five shots in 34 minutes and was on the bench late in the fourth quarter due to his liabilities as a free throw shooter in the Houston Rockets' 109-106 victory over the New York Knicks. "I'm happy here," Howard said. "These guys have been great to me." Omer Asik has requested a trade from the Rockets, but they are in no hurry to...
Final Score: Denver Nuggets 111, Houston Rockets 122 The Houston Rockets split their two-game road trip after losing in OT to a resilient 76'ers squad but gained a much-needed win in Jeremy Lin's homecoming to New York against the Knicks.  The Rockets' player of the week has unquestionably been Jeremy Lin, who has revitalized the […]The post Dwight Howard Strokes 17-24 FT's...
Dwight Howard is terrible at free throws. You know it, Dwight knows it, even the league knows it. That's why the NBA decided to create a rule that would reduce how many times Howard, a career 57.6% shooter, would make it to the charity stripe. When put that way it seems ludicrous, but it's actually rather brilliant. It's filed under the NBA rule-book as an 'away-from-the...
To most players, fans, and staff of the Houston Rockets, landing Dwight Howard in free agency this past Summer was a win, but to big man, Omer Asik, the acquisition has been a nightmare. Reports of Asik requesting a trade surfaced almost as soon as Howard signed on the dotted line, but in recent weeks, the requests have turned into demands, and the defensive specialist has now reportedly...
The Orlando Magic have taken a hit in popularity since Dwight Howard left, but I didn't realize that it was this bad. This one comes courtesy of page five of the NBA Store Christmas catalogue:   Notice anything about the Orlando Magic jersey? That's right. No player currently on the Magic roster wears 00. I guess wearing a Jameer Nelson's jersey doesn't carry the same cred...
Two fans decided to show up to their court side seats at the Thunder-Nuggets game in OKC on Monday night wearing Rockets' James Harden and Dwight Howard jerseys. They certainly didn't go unnoticed as both Kevin Durant and Thunder owner Clay Bennett approached the duo. KD questioned them during warmups, "Do ya'll know where you're at?," while Bennett was a bit more forthcoming...
A strong performance from the free-throw line for Dwight Howard his last time out has the Houston Rockets less worried about the ball being in his hands at the end of close games. The star center will look to continue his recently improved foul shooting and help the Rockets to their fourth win in five games Tuesday night against the visiting Boston Celtics. Again subjected to being...
Dwight Howard and Chandler Parsons understand Omer Asik's frustrations with his role with the Houston Rockets this season. Asik has started eight of the 10 games this season. He didn't play on Thursday in New York amid reports that he was requesting to be traded. "Totally, I understand where he is coming from – his frustration, sharing the floor," Howard said. "I...
A year after joining the Houston Rockets via restricted free agency, Omer Asik has reportedly asked the organization to trade him. The 27 year old Turk is seeking the change of scenery due to a drastic cut in playing time which has seen his minutes reduced from 30 per game in 2012-13 to 20.7 per game this season. That decrease is largely attributed to the offseason addition of Dwight...
Forward Chandler Parsons said the back spasms he has been experiencing for a week are like nothing he has felt. But Parsons said he will continue to play through the pain. On Saturday night, Parsons didn't look like someone hurting. He had 20 points, six rebounds and three assists in a 122-111 win over the Nuggets. He is getting treatment for his back daily but said the problem...
NBA News

Delivered to your inbox

You'll also receive Yardbarker's daily Top 10, featuring the best sports stories from around the web. Customize your newsletter to get articles on your favorite sports and teams. And the best part? It's free!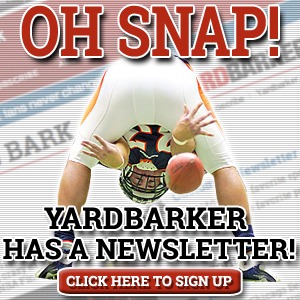 Latest Rumors
Best of Yardbarker

Today's Best Stuff

For Bloggers

Join the Yardbarker Network for more promotion, traffic, and money.

Company Info

Help

What is Yardbarker?

Yardbarker is the largest network of sports blogs and pro athlete blogs on the web. This site is the hub of the Yardbarker Network, where our editors and algorithms curate the best sports content from our network and beyond.