Found March 31, 2012 on Fox Sports West:
LOS ANGELES So, with the Lakers trailing the New Orleans Hornets 67-61 going into the fourth quarter, and Kobe Bryant 0 for 15 from the field and scoreless for the game, what was going through the mind of the game's greatest active player? A"I'd better hit a few shots or we're going to lose to a really bad basketball team." B"I need to forget about shooting, get the ball down low to Pau (Gasol) and Andrew (Bynum, and let them win it for us." C"This is pretty funny. It's entertaining to me" If you guessed A or B, you'd be a pretty logical observerand you'd be wrong. If you guessed C, you know Kobe Bryant well. He ended up shooting 3 for 6 in the final period and scoring eleven points, including a three pointer with 20.2 seconds left to lead the Lakers to an 88-85 come-from-behind win over the Hornets. Bryant was all smiles when he greeted the media at his locker after the game, seemingly so happy that you'd never know the Lakers were almost embarrassed by a team which has won 19 fewer games than L.A.. "Actually, it was all scripted that way, absolutely," Bryant kidded about his struggles. "It's a challenge, so you can't really do anything about it; you really can't hang your head about it. I was over there laughing about it with (former Laker) Trevor (Ariza) actually. We were pretty amused by it. "In that situation, you just have to relax. You can't be out there taking yourself too seriously. Things like that happen sometimes, so you just go out there and do what you have to do. Bryant's teammates carried him throughout most of the game, with power forward Pau Gasol, center Andrew Bynum and point guard Ramon Sessions each collecting triple-doubles. Gasol had 21 points and 11 rebounds; Bynum 19 points and 10 rebounds, while Sessions had 10 points and 10 assists. But they knew in order to erase a deficit that grew to as many as 10 points in the fourth quarter, Bryant would have to turn back into the game's top closer. Sessions said he never had a doubt Bryant would step up. "That's Kobe for you," said Sessions, acquired on March 15 from Cleveland. "He was positive the whole timein the locker room at halftime and all the time on the floorand he came out and hit a big shot for us. That's what he does. "You never lose faith in a guy who's done so much in this league. That's why he is Kobe Bryant, one of the best to ever do it, and that's why we ride him till the end." Coach Mike Brown echoed those sentiments. "Kobe took some great shots; had good looks," Brown said. "Normally, those shots go down for him, and if he shoots 10-21 (instead of 3 for 21) it might have been a much different game. It's ironic that he takes eight three'sand the one he makes gives us the lead. "It's just his willpower and his ability to do great things that change the course of a game." Bryant has made so many game-winning or game tying shots in his career that he knows he's the one who everyone is looking at to ignore the incessant pressure and make the basket. When you make it, you're the hero; miss and it's not too pretty. But Bryant loves the thrill of being in that situation, even acknowledging his failures. "If I would have missed that shot, everyone would have killed me," he said. "It's happened before. But I'm stubborn. You have to have that kind of attitude, that kind of determination.and that's what gets teams over the hump to win.championships." Is that the part of his character makeup that has turned him into one of the great clutch players in the history of the NBA? "Yeah, probably," Bryant said with same confidence he showed when hoisting up the winning three-pointer. "I've seen a lot of players run away from those types of situations. The ball's not going in, you're 0 for 15that's a steep hill." One that Kobe Bryant keeps on climbing.
Original Story:
http://www.foxsportswest.com/03/31/12...
THE BACKYARD
BEST OF MAXIM
RELATED ARTICLES
The clock ticked down, the Lakers trailed and you-know-who had the ball. Kobe Bryant dribbled to the far perimeter. He squared up. His shot dropped through the basket. And the 18,997 fans at Staples Center cheered ecstatically for Bryant nailing the eventual game-winner in the Lakers' 88-85 victory Saturday over the New Orleans Hornets. We've seen this play out before...
Kobe Bryant hit a go-ahead 3-pointer with 20 seconds left, after starting the game with 15 straight misses, and the Los Angeles Lakers rallied to beat the last-place New Orleans Hornets 88-85 on Saturday. It was just the third field goal of the game for Bryant, who finished with 11 points on 3 of 21 shooting as the Lakers ended a two-game skid at home. Pau Gasol had 21 points and...
Kobe Bryant scored 40 points, Pau Gasol added 26 and the Los Angeles Lakers found themselves rallying for the second straight game against one of the West's worst teams, beating the Golden State Warriors 120-112 on Sunday night. Ramon Sessions added 23 points in his best game since being traded to the Lakers two weeks ago. Gasol and reserve Troy Murphy had 11 rebounds each after...
Kobe Bryant missed his first 15 shots from the field and finished the game 3-for-21 from the field in the Lakers' 88-85 win over the Hornets.
One of the difficult duties of a coach is to manage the egoes of his players, more especially the big stars. Having the likes of Kobe Bryant and Andrew Bynum on your side doesn't make things easy by any stretch of imagination. You actually have got your work well cut out for you. They are top class with lots of achievements to boast of and of course the deep bank accounts to back...
Mike Brown is the easy scapegoat. He's replacing Phil Jackson, the greatest manager of athletic egos in the history of sports. Brown is a defensive-minded coach operating in Showtime Los Angeles. Whatever is wrong with the Lakers -- and there was plenty wrong the final three quarters Thursday night inside the Staples Center against the Oklahoma City Thunder -- must be traced...
Kobe Bryant scored 23 of his 40 points in the second half as the host Los Angeles Lakers recorded a 120-112 victory over the Golden State Warriors on Sunday. Pau Gasol had 18 of his 26 points in the second half and grabbed 11 rebounds as the Lakers fended off repeated rallies to beat the Warriors for the ninth consecutive time at Staples Center. Point guard Ramon Sessions had...
]Los Angeles Lakers and the OKC Thunder are dueling to what could be a Western Conference Finals preview, and Kobe and the rest of the purple and gold squad are playing with their hearts out on the hardwood. So, it's no surprise when Thunder's Sefolosha, there were some exchanging of words: You will see Kobe Bryant [...]
After squeaking past one lesser opponent, the Los Angeles Lakers want to avoid overlooking another one. The Lakers have won 14 of their last 15 meetings with the Golden State Warriors heading into Sunday night's matchup at Staples Center. Los Angeles (32-20) won 88-85 at home Saturday over Western Conference-worst New Orleans, blowing an early 14-point lead and eventually needing...
NBA News

Delivered to your inbox

You'll also receive Yardbarker's daily Top 10, featuring the best sports stories from around the web. Customize your newsletter to get articles on your favorite sports and teams. And the best part? It's free!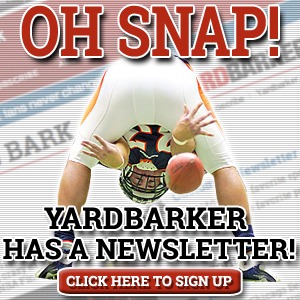 Latest Rumors
The Backyard

Today's Best Stuff

For Bloggers

Join the Yardbarker Network for more promotion, traffic, and money.

Company Info

Help

What is Yardbarker?

Yardbarker is the largest network of sports blogs and pro athlete blogs on the web. This site is the hub of the Yardbarker Network, where our editors and algorithms curate the best sports content from our network and beyond.