Found October 01, 2013 on isportsweb.com:
The revamped Detroit Pistons' journey back to the playoffs gets under way in less than a month. With all the dreaded time finally dwindling away, it's time to make some bold predictions about the Pistons upcoming season: Kentavious Caldwell-Pope will assert himself as shooting guard of the future It won't matter whether or not Caldwell-Pope cracks the starting lineup on opening night because he will assert himself throughout the Pistons' season as the shooting guard of the future. KCP will get plenty of opportunities to shine for the Pistons and his combination of size, athleticism and shooting ability will prove to be too much for Maurice Cheeks to keep on the bench. Expect Caldwell-Pope to hover around double-digit scoring figures for the Pistons in his rookie season and to have a surprisingly solid year defending on the perimeter. Andre Drummond averages a double-double in second season  This isn't bold, is it? Probably not given all the hoopla Drummond has received this offseason on and off the floor, but it would be a massive step forward for a 20-year-old, second year center. (Photo Credit: Duane Burleson, Associated Press) Drummond averaged 7.9 points and 7.6 rebounds in only 20 minutes per game last season. If Drummond is capable of giving the Pistons around 28 minutes per game this season, expect his numbers to inflate to around 12 points and 11 rebounds per game, as well. If Drummond can rebound at a 11 rebound per contest clip, he could contend as one of the league's top glass cleaners. While we're on the topic of Drummond, let's make another bold prediction: He will shoot better than 37 percent from the free throw line this season! 37 percent from the charity stripe is just foul. Drummond must fix this aspect of his game if he expects to garner a monstrous role with the Pistons. But, if Coach 'Sheed is working with Drummond on a 15-foot jumper, I bet he will also have his free throw shooting ready to roll. Rodney Stuckey is traded at the deadline Stuckey still has a bit of trade value and if his role drastically diminishes further with the arrival of Caldwell-Pope, expect Stuckey to be shipped elsewhere. Whether he's dealt straight up for a future pick, a role player, or he's packaged in a blockbuster deal, it seems very likely that Stuckey will want to be part of a new franchise if he sees limited minutes. With all of that said, I will never let go of my Rajon Rondo-to-the-Pistons speculation. His role with the Pistons just makes way too much sense and if Joe Dumars isn't satisfied with the way the team is playing after making all these drastic moves, he will do something about it. Wishful thinking? Yes. Pistons win 44 games and make playoffs as a No. 6 seed The retooled roster and coaching staff will have a major impact and yes, Dee-troit Basketball will have the engines revving and rolling all season and eventually into the playoffs. 44 wins after a 29-win season in 2012-13? I understand that can be hard to fathom, but the team is young and athletic and will cause all sorts of havoc on the defensive end. The Pistons will also be a force on the boards with the Drummond-Monroe-Smith frontline. The weakness of the Pistons will continue to be in the backcourt. Although, it is vastly improved from a year ago, it could be the team's hindrance because of it's youth and decision making. Jennings must see his game mature in Detroit and take advantage of the weapons surrounding him. Take Our Poll  
Original Story:
http://feedproxy.google.com/~r/isport...
THE BACKYARD
BEST OF MAXIM
RELATED ARTICLES
AUBURN HILLS -- Andre Drummond noticed it immediately. Josh Smith and Chauncey Billups promised it is going to continue. There's something strange in the air at the Pistons practice facility -- optimism. "As soon as I walked in here today, I noticed that everyone is excited," Drummond said at Media Day. "I'm always excited, so that doesn't mean anything...
Zimbio Peyton Siva participated in his first day of training camp with the Detroit Pistons on Tuesday. Siva was drafted by the Pistons with the 56th overall pick in the second. Most players taken that late in the draft don't usually earn guaranteed contracts, however after playing so well for the Pistons in the summer league; Siva was offered a contract in early August. The deal...
Just like Chauncey Billups promised at media day Monday there he was today directing the show during a brief full-court scrimmage at Detroit Pistons practice. He was paired with Brandon Jennings who was playing off the ball. The sight doesn't mean that Billups will be the primary decision-maker at point guard. Jennings will get plenty of run there — plus Will Bynum and Rodney...
Perhaps Detroit Pistons first-year assistant coach Rasheed Wallace did in fact say "Cheese!" when he was having his photo snapped during the team's media day for his official team photograph and the photographer was a little slow on clicking the snapshot. Otherwise, how else can his Wallace's less-than-thrilled appearance be explained? Well, if he's anything […]The post...
After a successful off-season of bringing in talent, the focus of the Pistons under new head coach Maurice Cheeks is now how they manage and maximize the talent they have brought in. Brandon Jennings, Josh Smith, Greg Monroe, and Andre Drummond will be starters, but who grabs that fifth spot? The Pistons shooting guard situation ...The post Pistons Shooting Guard Search Has Options...
Just when you thought we had run out of social networking videos to post of Detroit Pistons big man Andre Drummond, he creates another interesting one only an hour ago. Check out Andre being hooked up to an EKG machine and walking on a treadmill for the test: We can rebuild him….faster….stronger… *** Andre Drummond image courtesy of Getty Images
Rasheed Wallace may be a better coach than he was player, and we'll get the opportunity to find out rather quickly now that Wallace is an assistant coach on Maurice Cheeks' staff in Detroit. The Pistons held their official media day gathering on Tuesday and Wallace may have forgotten that coaches take photo's too. Over/under on how many times Sheed gets a technical foul or...
Rasheed Wallace may be a better coach than he was player, and we'll get the opportunity to find out rather quickly now that Wallace is an assistant coach on Maurice Cheeks' staff in Detroit. The Pistons held their official media day gathering on Tuesday and Wallace may have forgotten that coaches take photo's too. Over/under on how many times Sheed gets a technical foul or...
Dumars, out of desperation retooled his entire roster
With Brandon Jennings going to the Detroit Pistons as a free agent, I can completely understand if Milwaukee Bucks center Larry Sanders was a little salty at his former teammate. However, Sanders decided to provide an epic burn of Jennings during the Bucks Media Day back on Monday. Check out the below tweet from Fox Sports Wisconsin's Andrew Gruman: Larry Sanders when asked for...
Pistons News

Delivered to your inbox

You'll also receive Yardbarker's daily Top 10, featuring the best sports stories from around the web. Customize your newsletter to get articles on your favorite sports and teams. And the best part? It's free!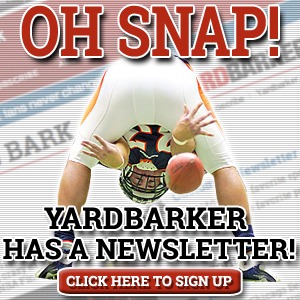 Latest Rumors
Best of Yardbarker

Today's Best Stuff

For Bloggers

Join the Yardbarker Network for more promotion, traffic, and money.

Company Info

Help

What is Yardbarker?

Yardbarker is the largest network of sports blogs and pro athlete blogs on the web. This site is the hub of the Yardbarker Network, where our editors and algorithms curate the best sports content from our network and beyond.