Found March 16, 2013 on NorthWest Sports Beat:
PLAYERS:
Greg Monroe
,
Andre Drummond
,
J.J. Hickson
,
Damian Lillard
,
Brandon Knight
,
Jose Calderon
,
Victor Claver
TEAMS:
Detroit Pistons
,
Portland Trail Blazers
,
San Antonio Spurs
,
New York Knicks
,
New Orleans Pelicans
Motown visits Rip City The Portland Trail Blazers have played both up and down to their competition this season. You'd think that a 30-point win over the San Antonio Spurs and a 15-point win over the New York Knicks would speak volumes to this team's potential, but a two-point loss to the New Orleans Hornets sandwiched between the two is probably more telling. Matchup: Portland (30-34) vs. Detroit Pistons (23-44) Venue: The Rose Garden Time: 7:00 PM PT Date: Saturday, March 16, 2013 The visiting Detroit Pistons are the coldest team in the NBA, but that doesn't mean much considering the inconsistency that has plagued Portland this year. Greg Monroe will make up one-half of the key matchup Monday night. (Photo: AP/Duane Burleson) Game Notes/How They Match Up Despite witnessing a solid win against the Knicks, it would be easy for Portland fans to get down on the team. This young, entertaining group is struggling to find consistency, and the playoffs still look like a long shot with just over a month to play. However, as frustrating as it's been for fans thus far, Rip City has it easy compared to Motown at this point in the season. Coming into this contest, Detroit has dropped its last seven games. Ten of its last 11 have all been losses, and the team that once looked promising is proving to be one of the worst squads in the league. The losing trend has almost everything to do with the injury to Andre Drummond. The rookie was playing brilliantly before hurting his back, and since All-Star Weekend, the team is just 2-11. The Portland faithful can be frustrated with what they've seen if they want, but the real frustrations will come if the team can't take down the group with the league's longest losing streak Saturday night. What to Watch: Portland The last time Portland played Detroit, the team shot an awful percentage from the three-point line. On the season, the Blazers are just 23rd in long-distance shooting. They knock down 34.7 percent of their three-point attempts, but that number dropped to 31 percent on Nov. 26. Portland needs to move the ball well in order to find good looks. Isolation basketball can work with momentum on your side, but good movement can create offense when your shots are falling. The Blazers have good shooters on this roster, but it's a matter of getting them good looks to match their skills. What to Watch: Detroit When it comes to the Pistons, the player to watch out for is Greg Monroe. The big man in the middle has emerged as one of the NBA's best young centers. He is averaging 15.9 points and 9.5 rebounds in 33 minutes per game, and he is very good at controling an offense with his passing ability. The glaring hole in Monroe's game is defense, which means J.J. Hickson will look to take advantage. J.J. Hickson has been shooting as well as anybody on the Blazers' roster as of late. If he can take Monroe off the dribble, he'll find good looks at the rim; but if Monroe wants to give him space in the mid range, the jump shot will be his No. 1 option. Damian Lillard must player better than the last time he faced the Pistons. (Photo: Carlos Osorio/AP) Monroe has the offensive tools to destroy Portland inside, but how well he plays defense will sway this outcome one way or the other. Key Matchup Damian Lillard may be just 64 games into his NBA career, but it's become painfully clear that the team's success rises and falls based on how well he plays. In his first-ever matchup against Detroit, Damian Lillard was drastically outplayed by Brandon Knight. The Pistons' point guard finished with 26 points on 9-of-17 shooting, and while he won't likely be in the lineup Saturday, the team will look for similar production out of Jose Calderon. Lillard, on the other hand, missed his first 12 shots back in November and managed to score just 12 points on the night. The problem wasn't his lack of scoring—it was his inefficient shooting. He made just four of his 18 shots, including just one of his five three pointers. He'll have to have a better performance for Portland to compete, and he'll have to start with getting good looks at the rim to make life easy. Injury Report Portland: OUT—Victor Claver Detroit: DAY-TO-DAY—Brandon Knight Prediction The Pistons surprised Portland for its fourth win back in late November, but there should be no surprises this time at the Rose Garden. Blazers 98 – Detroit 90 CLICK HERE TO CHECK OUT THE BLAZERS BLOG IN OUR CLUBHOUSE TODAY AT NWSB!
Original Story:
http://www.nwsportsbeat.com/trailblaz...
THE BACKYARD
BEST OF MAXIM
RELATED ARTICLES
Portland Trail Blazers' point guard, and rookie, Damian Lillard appears here in a Portland Trail Blazers anti-bullying campaign that can be watched on the Trail Blazers website. Bullying, namely "cyber bullying" has become a real problem in the United States over the past few years. With the continued growth of social media sites, such as Facebook and Twitter, it can really...
At this point of the NBA season, its pretty obvious that Portland Trail Blazers guard Damian Lillard is going to win the Rookie of The Year award and with below efforts like this one, it's not tough to tell why.Nearing the end of the first quarter of Thursday night's Blazers/Knicks affair, Lillard came up with a steal and despite the defensive efforts of New York's J...
Brilliant work by the guy sitting behind the TNT broadcast booth at the Knicks-Trailblazers game the other night, bringing the videobomb to a whole new level… the nose pick. (sure, Chris Bosh did a little faux pick bomb on Lebron James, but this guy's was more convincing.) As Chris Webber and Kevin Harlan discussed the game, the unkown fella felt a little on-camera gold digging...
It seems as though this guy new just exactly what he was doing and wanted to provide a bit of humor to those at home watching the broadcast.  During the pregame discussion for the New York Knicks-Portland Trail Blazers game, a man was sitting behind Chris Webber and Kevin Harlan picking his nose.  When he got done, he turned to the camera, smirked a little and winked.  Nothing...
LaMarcus Aldridge had 31 points and 12 rebounds, and the Portland Trail Blazers handed the Detroit Pistons their eighth straight loss with a 112-101 victory on Saturday night. Rodney Stuckey had a season-high 32 points for the Pistons, who have yet to win a game in March. They've lost 11 of their last 12. After trailing by as many as 11 points in the first half, the Blazers...
The Portland Trail Blazers are pretty happy with how their point guard situation has turned out. Damian Lillard had 26 points and 10 assists to lead the Trail Blazers to a 105-90 victory over the Knicks on Thursday night, outplaying New York point guard Raymond Felton in his return to Portland. LaMarcus Aldridge had 22 points and 10 rebounds and Nicolas Batum added 18 points for...
Detroit Pistons' guard Brandon Knight is likely to miss more than a couple of games as he recovers from a sprained left ankle which he suffered in the same game he got posterized on by DeAndre Jordan. Vince Ellis of the Detroit Free Press reports that assistant coach Brian Hill thinks Knight's ankle will take some time to recover."He's got pretty good swelling...
PORTLAND, Ore. (AP) -- LaMarcus Aldridge had 31 points and 12 rebounds, and the Portland Trail Blazers handed the Detroit Pistons their eighth straight loss with a 112-101 victory on Saturday night. Rodney Stuckey had a season-high 32 points for the Pistons, who have yet to win a game in March. They've lost 11 of their last 12. After trailing by as many as 11 points in the...
Blazer fans didn't heed Jason Quick's advice. Quick, The Oregonian's excellent Blazer Insider, implored fans to cheer Raymond Felton in his return to the Rose Garden last night. Felton didn't get cheered. He was booed. Booed hard. The fans booed him the very first time he touched the ball. After he checked out of the game, they booed him when he returned. They booed...
It was the dunk heard around the world when Clippers' DeAndre Jordan absolutely, positively crushed Pistons' Brandon Knight. It might end up the dunk of the year and when it happened, many thought why on Earth would Knight even think about challenging Jordan at the rim. For Jordan and Knight it up them on the map for this 2012-13 NBA season but for different reasons. However...
Based on their current play and recent history in Portland, the Detroit Pistons likely won't have an easy time trying to earn their first victory in March. Looking to avoid matching a season high with an eighth straight loss, the Pistons will also try to end a four-game road slide against the Trail Blazers on Saturday night. While Detroit (23-44) remains offensively inconsistent...
NBA News

Delivered to your inbox

You'll also receive Yardbarker's daily Top 10, featuring the best sports stories from around the web. Customize your newsletter to get articles on your favorite sports and teams. And the best part? It's free!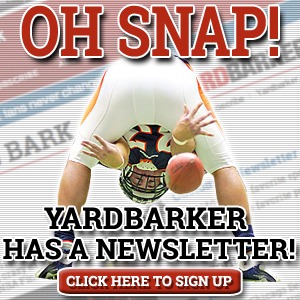 Latest Rumors
Best of Yardbarker

Today's Best Stuff

For Bloggers

Join the Yardbarker Network for more promotion, traffic, and money.

Company Info

Help

What is Yardbarker?

Yardbarker is the largest network of sports blogs and pro athlete blogs on the web. This site is the hub of the Yardbarker Network, where our editors and algorithms curate the best sports content from our network and beyond.