Found August 01, 2012 on Boston's Bettah:
Doc Rivers deflected blame from Rajon Rondo in the Ray Allen situation, but may have gone deeper into Ray Allen's character. In an interview with Yahoo! Sport's (and one of the greatest basketball writers of our time) Adrian Wojnarowski, Doc Rivers was asked about Ray Allen's departure. One of the major questions was who was at fault in the whole situation considering that a lot was made about the relationship between Allen and Celtics point-guard Rajon Rondo. Doc Rivers decided to shoulder the blame.
"People can use all the Rondo stuff — and it was there, no doubt about that — but it was me more than Rondo," said Rivers, who is working as an NBC analyst during the Olympics. "I'm the guy who gave Rondo the ball. I'm the guy who decided that Rondo needed to be more of the leader of the team. That doesn't mean guys liked that – and Ray did not love that – because Rondo now had the ball all the time. "And not starting [games] bothered Ray. I did examine it, and the conclusion I came back to was this: By doing the right things, we may have lost Ray. If I hadn't done that, I would've been a hypocrite. In the opening speech I make every year, I tell the team: 'Every decision I make is going to be what's good for the team, and it may not be what's good for the individual.'"
While I do think that Rivers was trying to deflect some of the heat from his young point-guard who has been known to be moody at times, it's not the first part of the interview where he deflects the blame to himself that interests me, it is the second part. Read that last paragraph I posted again. "By doing the right things, we may have lost Ray". When the Big Three 2.0 was joined in August of 2007, there was a lot a talk about how three superstar players would join forces in and make it work. Whenever they were asked, each of the three responded with selflessness and always reiterated that they were willing to give up the ball and the minutes in order for the team to be successful. It is what made them so successful over the years. Each of the three, and the four with the advent of Rondo, knew what their role was at all times and stuck to it. Paul Pierce was the primary scorer who could create for himself as well as spot up and knock down a shot. Kevin Garnett was the post presence and the heart of the defensive intensity. Rajon Rondo was the quarterback tasked with making the right decision with the basketball on each and every play. And Ray Allen, well his job was simple. Run around off screens, make the defense dizzy, stand in the corner and bury open shots. Yet now it seems that Ray Allen was the unhappy one through all this. Despite having a set role and despite numerous words over the years that everyone understood their role, Ray seemed to be unhappy. In Pat Riley's book about the Lakers run to the 1987 NBA title (that the Celtics' would have won if Bias didn't overdose and McHale's foot wasn't broken, but I digress) Pat Riley coined the phrase the "Disease of More". The idea is that defending champions often fail the following season because every player who returns wants more playing time, more shots per game, and more money. The Boston Celtics on the outside never suffered from the disease after winning the 2008 Championship which is a major reason why they have sustained continued success in this window. Despite all this, it sounds like Ray Allen was infected. Of the three, he was often the lesser one. He wasn't "forgotten", but he was never the first mentioned whenever bloggers or fans or the talking heads brought up the Celtics core. According to Doc Rivers, Ray wanted more. He wanted the ball more, he wanted the ability to create more, he wanted to play outside his role and make a bigger name for himself instead of doing what was necessarily better for the team. When Doc wanted to start Ray Allen because that's what he saw was best for "the team", Ray Allen was angry because he wanted more. Just because Doc Rivers, who has rarely pushed the wrong button in the past five seasons, thought Ray Allen off the bench was best for the team, Ray wasn't happy about it because it limited him. Which makes his move to the Miami Heat all the more puzzling. According to Doc Rivers, Ray Allen would have most wanted to go to the Los Angeles Clippers where he would start and have a major role in the offense. He isn't going to start in Miami, in fact, he will have the same exact role that he would have had in Boston. He will come off the bench, run off of screens, and stand in the corner and shoot open 3-point shots. In fact, his role is arguably lesser because they will run less screen plays for Allen and have more situations where he is simply the kick-out on a Lebron James or Dwyane Wade drive and kick play. It's almost as if he went to the Miami Heat just to spite the Boston Celtics for what he sees as them spiting him. Maybe it wasn't Rajon Rondo who had trouble getting along, but Ray Allen. Am I crazy, or doesn't it seem that Doc Rivers is saying "good riddance" to Ray Allen?
Original Story:
http://www.bostonsbettah.com/?p=4895
THE BACKYARD
BEST OF MAXIM
RELATED ARTICLES
Every time I reference Ray Allen on Facebook or Twitter, I got a flock of flack from Boston Celtics fans who are eager to proclaim they've moved on from the Ray-Ray saga. Many have asked, why I continue to harp on the Allen departure? My answer is simple, Ray Allen has been my favorite member [...]
Another must read Doc Rivers article from Adrian Wojnarowski, this one is full of a very candid Doc talking about the reason Ray left, a lot of them are the rumors that were reported recently. Doc also says he takes full blame for Ray Allen's decision to leave. Essentially what Doc says is Ray left for a few reasons. 1. He was upset that Rondo had the ball so much and his role...
It's not too often that a player leaves a team via free agency and that player's former coach shoulders the blame for said player leaving. Apparently in the case of Ray Allen leaving the Boston Celtics for seemingly greener pastures (pardon the pun), Doc Rivers is feeling a bit guilty about some of the decisions [...]
When Ray Allen left the Boston Celtics to join the Miami Heat in free agency many wonder why? Well it appears Allen did not get along on the best of terms with Celtics point guard Rajon Rondo and management. As you see below Doc Rivers says blame him for Rondo leaving. There is no question when he is on his game Rondo is one of the best point guards in the NBA. He is...
Earlier this NBA off-season former Boston Celtics sharpshooter Ray Allen spurned a more lucrative contract offer by the Celtics and signed with conference rival the Miami Heat. At the time many cited a rocky relationship between Allen and Celtics point guard Rajon Rondo as a key reason for Allen's decision. In a recent interview with Y! Sports [...]
Over the last couple of weeks, reports have surfaced in the media stating that the reason Boston Celtics veteran shooting guard Ray Allen, decided to take his talents to South Beach, was due to a deteriorating relationship with Boston's starting point guard Rajon Rondo. Celtics bench boss Doc Rivers, felt he had to clarify the situation and in an interview that was published Wednesday...
Doc Rivers said that his decisions to remove Ray Allen from the starting lineup and give Rajon Rondo total freedom on offense and leadership were what helped lead Allen to leave the Celtics.
When Ray Allen left Boston for the Miami Heat, my first thought was: "Damn we're going to miss his clutch 3′s."  My second thought was: "Damn I'm really going to miss his sweet J's."  No..not those J's-his Jordans. During his time with the Celtics, Ray wore some sweet Air Jordan player exclusives. I doubt we will ever see a better selection of kicks than we did...
Paul Pierce gave his first interview of the offseason to Molly McGrath over at Celtics.com where he offered his thoughts on a multitude of topics, including the departure of former Celtic Ray Allen:"It's going to be a little weird. Ray made the best decision for him. That's what it is all about. When you are a free agent you make the best decision for you. He'll always...
Ben Rohrbach from weei.com put this video together. He previously made the KG Comedy Hour video. Rohrbach writes, "Enjoy the (extremely) dry comedic stylings of Rajon Rondo."
1. Celtics at Heat (Oct. 30th) This was already going to one of the best games on this year's schedule but when Ray Allen decided to sign with the Heat this match up just got 10 times better. These teams already didn't like each other. Reports were Allen left the Celtics because of his poor relationship with Rajon Rondo. I am sure Rondo will have an extra chip on...
Date: May 21, 2012Location: TD Banknorth Garden, Boston MAFinal Score: 101-85Key Players: Brandon Bass (9-13 from the field), Rajon Rondo (13 points, 14 assists)Top Plays: 0:16 (Rondo look-away and pass inside to Stiemsma for the dunk), 1:54 (Celtics overpass, but the ball ends up in Bass's hands for a massive slam)Rundown: Brandon Bass, guys. When he gets hot, he gets hot...
NBA News

Delivered to your inbox

You'll also receive Yardbarker's daily Top 10, featuring the best sports stories from around the web. Customize your newsletter to get articles on your favorite sports and teams. And the best part? It's free!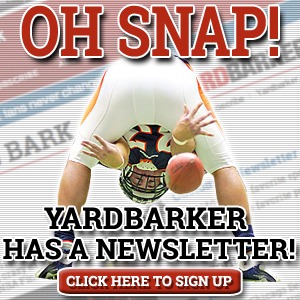 Latest Rumors
Best of Yardbarker

Today's Best Stuff

For Bloggers

Join the Yardbarker Network for more promotion, traffic, and money.

Company Info

Help

What is Yardbarker?

Yardbarker is the largest network of sports blogs and pro athlete blogs on the web. This site is the hub of the Yardbarker Network, where our editors and algorithms curate the best sports content from our network and beyond.