Found February 21, 2013 on My Sports Rumors:
Dallas Mavericks star Dirk Nowitzki doesn't expect his team to make a trade. It's not a surprise that he's saying this as the teams owner Mark Cuban has been saying the team has "nothing going on" for a while now. Only difference is I wouldn't necessarily trust Cuban he's got to keep his cards hidden till the right time. Dirk well he's got a good relationship with the boss but doesn't really care about the cat & mouse game, he just needs play. "So saying all of that, I knew we weren't going to be taking any money back. So all the deals you're basically doing are a bunch of lateral moves. We can trade one and get somebody back, but I don't really think there's a game-changer out there that we can get right now. So I figured we were going to stay pat and roll (this team) out here in the last 30 games and see what happens. I figured that's where we were at the last couple of weeks." (The Dallas Morning News) Dirk cites the luxury tax (what a shock) as the main reason that the trade deadline has been so quiet. He says there's only three teams right now that can afford to take on salaries and the rest of them have to be creative in making their teams better. "The luxury tax is so brutal now, it's going to double and triple, I think not a lot of teams at this point want money back," Nowitzki said after Wednesday night's blowout home victory over Orlando. "That's just the way it is. I think there's going to be a couple of big-market teams _ like Brooklyn, which has money _ and New York and L.A. with the TV deals, they don't really care much (about luxury tax penalties)." "All the other teams have got to find a way to have good teams, right around the salary cap, a little over, but below the luxury tax," Nowitzki said. "That's the way it's going to be. No owner is just going to write checks left and right besides those three big markets." (The Dallas Morning News) So while Dallas fans are hoping for a move I tend to agree with Dirk. What you see is what you get for the rest of the 2013 season. addthis_url = 'http%3A%2F%2Fmysportsrumors.com%2Fblog%2F2013%2F02%2F21%2Fdirk-doesnt-expect-a-dallas-trade%2F'; addthis_title = 'Dirk+doesn%26%238217%3Bt+expect+a+Dallas+trade'; addthis_pub = '';
Original Story:
http://mysportsrumors.com/blog/2013/0...
THE BACKYARD
BEST OF MAXIM
RELATED ARTICLES
DALLAS (AP) -- With or without Dirk Nowitzki, the Dallas Mavericks have virtually the same record this season -- a losing one. If they don't start winning at a pace reminiscent of the three 60-win seasons they've had in the Nowitzki era, the Mavericks are likely to miss the playoffs for the first time since the big German's second year in 2000. But Dallas better be...
Dirk Nowitzki assessed the NBA's current financial climate.
Well, here we are after the All-Star break and the Dallas Mavericks are ready to head into the final half of the season. With them sitting at 23-29, currently in 11th spot in the Western Conference, not all is as bleak as some would think. Dallas is only 1 game behind the two teams that share the 9th and 10th seeds, LA Lakers and Portland, and only 4.5 games behind the 8th spot Houston...
The NBA Slam Dunk Contest is not exactly getting better as the years go on. Despite the efforts of some of their fellow players, superstars rarely ever feel inclined to participate in the event anymore. Since convincing high-profile players to partake clearly isn't working, Mark Cuban has some other ideas. "Star power helps," Cuban told the Dallas Morning News. "But I think...
DALLAS - He's from Georgia Tech, is buddies with Dwight (for what it's worth) and can shoot the lights out. The Mavs beat the Thursday deadline by trading Dahntay to Atlanta in exchange for Anthony Morrow. 'One of the best shooters in the game,' says Mavs coach Rick Carlisle. DallasBasketball.com's Chuck Perry helps us break down the meaning of it all - talent...
Kobe's salary will certainly be a burden on the Lakers.credit: thewifehatessports.com Under the new CBA, all NBA franchises were granted the right to an amnesty clause, meaning that they could cut ties with a player that they had previously signed without suffering the salary cap consequences. The team will still have to pay the player, but it gives them the financial flexibility...
The Hawks have traded Anthony Morrow to the Mavericks for Dahntay Jones.
The Lakers issued a statement making it known they were aware of Mark Cuban's 'inappropriate' statements regarding Kobe Bryant and the amnesty provision.  Earlier Friday, Cuban questioned whether the Lakers would use the amnesty provision on Kobe Bryant to cut their payroll in the offseason in an interview with ESPN radio. According to Mike Bresnahan: "We're aware of Mark...
Cuban has been enjoying taking shots at the Lakers season, probably because the Mavericks aren't doing that much better. He has been giving advice about the Lakers coaching situation, Dwight Howard and now Kobe Bryant. Bryant is owed $30.4 million for the 13-14 season, but continues to play at a high All-Star level. "If you look at their payroll, even if Dwight (Howard) comes...
Dallas Mavericks owner Mark Cuban on Friday suggested the Los Angeles Lakers should amnesty Kobe Bryant in the off-season., http://juicedsportsblog.com/sports-news/news/lakers-cubans-remark-on-kobe-inappropriate
Huh? Mark Cuban went on ESPN Dallas radio Friday morning and openly wondered if the Lakers should amnesty Kobe Bryant to free up their $100 million payroll next season if Dwight Howard stays in LA. If the Lakers remain $30 million over, their luxury tax bill $142.5 million next season (stat via ESPN).  Cuban admits it's unlikely but think's it will be a legitimate question as...
NEW ORLEANS (AP) -- Dirk Nowitzki knows a vintage Vince Carter performance when he sees it. So with a subtle nod, Nowitzki gave Carter the green light to take a crucial shot in the final seconds, and could not have been more pleased with the result. Carter capped a 22-point performance with a 3-pointer that gave Dallas the lead with 6.5 seconds left, and the Mavericks held on for...
Mavericks News

Delivered to your inbox

You'll also receive Yardbarker's daily Top 10, featuring the best sports stories from around the web. Customize your newsletter to get articles on your favorite sports and teams. And the best part? It's free!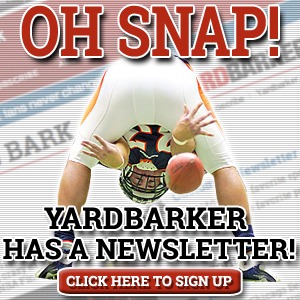 Latest Rumors
Best of Yardbarker

Today's Best Stuff

For Bloggers

Join the Yardbarker Network for more promotion, traffic, and money.

Company Info

Help

What is Yardbarker?

Yardbarker is the largest network of sports blogs and pro athlete blogs on the web. This site is the hub of the Yardbarker Network, where our editors and algorithms curate the best sports content from our network and beyond.