Found December 23, 2011 on Project Spurs:
The only thing San Antonio Spurs fans want more than to win it all this year is for the Dallas
Mavericks to lose their title as reigning NBA champions. It was undoubtedly tough to watch Mark Cuban and his team hoist the Larry O'Brien trophy, but as we inch closer to the start of the season, it looks like the chance of a Dallas repeat gets smaller and smaller. The Mavs let some of the key parts of their championship run get away. Tyson Chandler, J.J. Barea and Caron Butler are all gone, and they brought in two aging veterans in Vince Carter and Lamar Odom to replace them. 

Now, their star player is admitting he's not even ready for the season to start. Dirk Nowitzki said after a 2-for-10 shooting performance in their last preseason game against Oklahoma City that he's not at 100-percent.
"I'm fine, nothing hurts," Nowitzki said. "The wind will come back, but it's definitely better than what it was two weeks ago when we started camp. I actually wasn't joking about the amnesty thing two weeks ago. That's how bad I looked. It's been some hard work the last two weeks, but I'm still obviously not 100 percent."
I think we can expect the Mavs to have a very slow start. The championship hangover mixed with the new players and some rusty older ones is going to make it hard to get things going. They'll definitely struggle at first, and even if they can get a good stride going around mid-season, I still don't see them as a title contender. That's good news for any Spurs fan who's tired of their Texas rivals still calling themselves champions.
Original Story:
http://www.projectspurs.com/2011-arti...
THE BACKYARD
BEST OF MAXIM
RELATED ARTICLES
DALLAS -- Billionaires Mark Cuban and Ross Perot Jr. are quarreling over 200 parking spaces at the American Airlines Center.
I'll admit that on draft night when Cory Joseph's name was called I was of those skeptics who quickly said the young guard wasn't ready for the NBA. I was of the crowd to say he should have stayed at the University of Texas for a few more seasons. But, that same night, San Antonio Spurs' general manager R.C. Buford was happy that Joseph fell to the Spurs in the draft,...
After helping his team defeat the Houston Rockets by scoring six points, grabbing five rebounds, and collecting three assists in Wednesday's  preseason closer, San Antonio Spurs' T.J. Ford will be dishing out even more assists on Thursday. Only to different teammates. Ford will be participating in the Spurs Holiday Basketball Clinic on Thursday, December 22 at 3 PM (CST...
After being acquired and subsequently waived by the Dallas Mavericks, former Syracuse guard Andy Rautins has decided to sign with Spanish club Lucentum Alicante. Via Sportando: "Lucentum Alicante made official the signing of Andy Rautins. The Canadian SG was free agent after he was waived by the Dallas Mavericks. Rautins has played his rookie season in the NBA with New York Knicks...
Dallas Mavericks: It seems that fans and analysts only want to talk about what the Dallas Mavericks lost this offseason.  What about the players they've added?  Obviously I'm talking about Lamar Odom and Vince Carter, who bring with them a level of skill that easily makes this team more talented than the one that took home the trophy in June.  I'm not sure why everyone...
The Nets are among the teams negotiating for free agent DeShawn Stevenson. However, nothing was close to being finalized on any front last night, according to Stevenson's agent, Mark Bartelstein. "You know how these things go, something could happen in two minutes, two days or not at all," Bartelstein...
Dirk Nowitzki, others want to enjoy that special championship feeling again.
Dirk Nowitzki is still shaking off the cobwebs. Or the summer parties. He played in his first preseason game Tuesday night and was 2-for-10 shooting, playing 23 minutes and looking rusty. He had skipped the team's first preseason contest. After the game he admitted he's not all the way back yet to the Star-Telegram. "I'm…
Mavs guard Jason Terry is OK now, but an illness had him fearing for his life.
Hey, San Antonio Spurs fans, as the NBA 2011-2012 season gets closer, do you ever find yourself looking back on the good times of the early-mid 2000s? Maybe you are sitting there, right now, watching Game 5 of the NBA Finals vs. the Detroit Pistons on ESPN Classic, when "Big Shot" Robert Horry hit the [...]
Heat owner Micky Arison is revealing that he cast a ballot against passing the NBA's new collective bargaining agreement. Arison says it was ''a protest vote'' primarily in response to the way revenue-sharing components of the deal will be structured. He is the second owner to reveal that he voted against the CBA, joining Dallas' Mark Cuban. In all, five...
NBA News

Delivered to your inbox

You'll also receive Yardbarker's daily Top 10, featuring the best sports stories from around the web. Customize your newsletter to get articles on your favorite sports and teams. And the best part? It's free!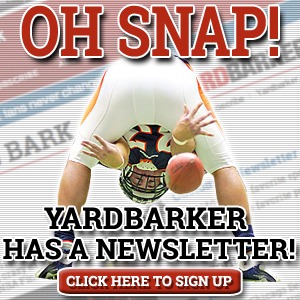 Latest Rumors
Best of Yardbarker

Today's Best Stuff

For Bloggers

Join the Yardbarker Network for more promotion, traffic, and money.

Company Info

Help

What is Yardbarker?

Yardbarker is the largest network of sports blogs and pro athlete blogs on the web. This site is the hub of the Yardbarker Network, where our editors and algorithms curate the best sports content from our network and beyond.