Found October 29, 2013 on Pass The Pill:
According to a fascinating report by Yahoo!'s Adrian Wojnarowski, the Clippers brilliant three-team deal to acquire J.J. Redick and Jared Dudley was almost derailed by Clippers owner Donald Sterling, whose success and reputation as owner of the team has been less than favorable to date. "In the early afternoon hours of July 3, owner Donald Sterling called Los Angeles Clippers president Andy Roeser and informed him he had rescinded approval on moving Eric Bledsoe and acquiring free agent J.J. Redick in a sign-and-trade agreement. The three-team deal – delivered the owner's blessing only two days earlier – no longer interested Sterling." Why Sterling would deny a trade as beneficial to his team as this one is beyond baffling. This trade was heavily influenced by brand-new coach Doc Rivers, who did not come cheap to Sterling's team. And yet here was Sterling trying to kill Rivers' first, and extremely significant, trade that would have instantly put the Clippers into title contention and over the proverbial hump. Wojnarowski does note that sources told him "Sterling was high on Bledsoe and reluctant to trade him" which makes some sense as Bledsoe is an intriguing young talent with plenty of promise. However, he has not shown much outside of tremendous athleticism, defensive ball-hawking and capable outside shooting. His ability to be a lead point guard is still in question and he was not going to get his chance to showcase that ability for a couple years with Chris Paul still running the team. Thankfully, Sterling came to his senses and Rivers breathed a huge sigh of relief. The acquisitions of Dudley and Redick immediately put the Clippers into the cream of the crop out West. Redick is an excellent outside shooter with size and his defense has improved remarkably since he's come into the league. Dudley is also a very good outside shooter with a unique blend of size and athleticism for his small forward position; he is also an exceptional defender as well. The Clippers unloaded Bledsoe to the Suns and a bloated salary in the aging Caron Butler along with draft picks to the Bucks for allowing the sign-and-trade of Redick. The Clippers are in win-now mode and this trade was a no-brainer, but for some odd reason, Donald Sterling intervened in a basketball manner that he was simply not qualified to stick his nose into. It was a general manager and coach's initiative to make this trade and their knowledge of the team and system should always supersede an owner's heavy support of one player who is clearly not the cog of the team.       The post Donald Sterling Almost Undermined Clippers' Big Offseason Trade appeared first on Pass The Pill - Kings of Hoops.
Original Story:
http://sports-kings.com/passthepill/d...
THE BACKYARD
BEST OF MAXIM
RELATED ARTICLES
Yahoo's Adrian Wojnarowski has a magnificent story about how Clippers owner Donald Sterling undermined Doc Rivers just weeks after acquiring him to run his franchise. 24 hours after news broke that the Clippers had agreements to trade Eric Bledsoe and acquire Jared Dudley and J.J. Redick, Sterling inexplicably called everything off… without reason. And Sterling's irrational...
In the opening quarter of the 2014 season, J.J. Redick scored 12 points. He broke free for 3-pointers, curled hard around screens and did all the things Redick has come to be known to do in the league. Starting at shooting guard in the opening night lineup, Redick looked to be an absolute steal for the Clippers as they looked to claim Los Angeles for the blue and red over the Lakers...
This week, the fine folks over at Kia decided to release a brand new commercial starring Los Angeles Clippers star Blake Griffin. Griffin plays a super hero-esque character who teams with actor Jack McBrayer (who is his side kick) to try and help people in need of Kia cars: *** Griffin image courtesy of Getty Images
PLAYA VISTA, Calif. One thing Doc Rivers won't do is panic. One game -- and one loss -- into the NBA season, Rivers was back to business with the Clippers, ready to forget about their season opener and already looking ahead to the Golden State Warriors on Thursday night at Staples Center. "Any time you win, it's good for your confidence," the Clippers coach said...
After a couple of months, "Lob City" has finally returned to regular season play for the Los Angeles Clippers and the first Clipper to throw down a nasty slam dunk was Clippers center DeAndre Jordan. Watch as DeAndre throws down a nasty slam dunk on Lakers center Chris Kaman: *** Jordan image courtesy of Getty Images
Did Kanye West just save Lamar Odom and Khloe Kardashian's marriage a week after announcing his? The former NBA player and his estranged wife were spotted together Monday at West's concert in LA , where Odom chatted up his lady and warmly embraced mother-in-law Kris Jenner, who had a reunion of her own with Bruce Jenner. However, sources told TMZ that Lamar and Khloe are...
 Chris Paul hopes to lead Clippers out of Lakers' shadow Clippers vs. Lakers, 10:30 p.m./TNT Chris Paul has been a Clipper now for two full seasons (well, one was a lockout-shortened season). He has transformed the franchise into legitimate contender. The Clippers have won a Playoff series and made back-to-back Playoffs for the first time since moving to Los Angeles. He re...
LOS ANGELES, CA - The Los Angeles Lakers defeated the Los Angeles Clippers 116 – 103. Sorry Clipper fans, you still aren't the best team in LA. I know how much you want to be. Since I was doing the BadCulture Radio show, I didn't have a chance to see my Lakers put a whoopin on our little brothers, the Clippers. Below is the Associated Press report: LOS ANGELES (AP) – Xavier...
NBA News

Delivered to your inbox

You'll also receive Yardbarker's daily Top 10, featuring the best sports stories from around the web. Customize your newsletter to get articles on your favorite sports and teams. And the best part? It's free!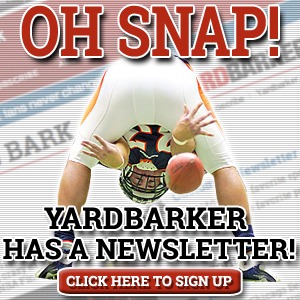 Latest Rumors
Best of Yardbarker

Today's Best Stuff

For Bloggers

Join the Yardbarker Network for more promotion, traffic, and money.

Company Info

Help

What is Yardbarker?

Yardbarker is the largest network of sports blogs and pro athlete blogs on the web. This site is the hub of the Yardbarker Network, where our editors and algorithms curate the best sports content from our network and beyond.