Found June 30, 2012 on Metta Chronicles:
Dwight Howard met with new Orlando Magic GM Rob Hennigan on Friday, and basically told him he wants to be traded to the Brooklyn Nets, according to sources with knowledge of the situation.
Honestly, pardon my language, but **** Dwight Howard.  What is up with this guy? He spends the whole first half of the past season being indecisive about leaving Orlando. Then, when the Magic are moments away from trading him, he opts in for a year to give the team a chance. And now here we are, July 1st and he's demanding a trade to Brooklyn from the Magic GM who probably hasn't even stepped in his office yet. 
Dwight Howard wants to nullify his opt-in, but since he knows that he can't just go do that for no reason, he's looking for the NBPA to file a blackmail complaint against the Magic.
At this point, if I were a Magic fan, I'd want to get rid of Howard as soon as possible. He's also very, very close to no other team wanting him long-term either. Don't get me wrong, he's still the best Center in the league, but he continually complains about anything and everything. More often than not, attitude trumps talent, and in this case, Dwight's abilities on the court are going to soon be ignored if he keeps up all this tomfoolery.
Dwight, you won't win a championship here if you continue to bring down the team's morale. Stop pretending to be loyal the city and franchise that has worshipped you. We aren't angry, just extremely frustrated and annoyed that you continue to act like an immature brat.
Howard continues to be what we all thought LeBron was. Plus, if Hakeem Olajuwon wasn't able to get your post-game right, there's very little hope for you. Even Brandon Jennings is speaking the truth.
We knew the situation between Howard and the Magic was irreparable a few months back, but no one knew it would continue to get worse. Get your stuff together Dwight.
_____
Also posted on Bleacher Report.
Original Story:
http://mettachronicles.com/dwight-how...
THE BACKYARD
BEST OF MAXIM
RELATED ARTICLES
ORLANDO–*Finally* the Orlando Magic have began in earnest to move Dwight Howard. Howard met with new Magic GM Rob Hennigan on Friday and asked to be traded. Will send Howard where he wants to go? To read this feature with video please click the link below.
Remember when Dwight Howard came into the NBA straight out of high school? He was a baby-faced, awkward, braces wearing teenager that seemed to be on the straight and narrow. He came from a Christian background and was seen to be very religious. As he got older, Howard began to come out of his shell a bit. We began to see a goofball with a huge body and dominating athleticism that...
If there's a player who's become more despised than Dwight Howard over the past year, you'd have to tell me who it is. The man's inability to make a decision has created one of the most drawn-out free agency processes in recent memory. And now, after over a year of indecision, Dwight reportedly has asked to be traded again. According to ESPN, Howard met with new Orlando...
ORLANDO, Fla. (AP) -- Magic general manager Rob Hennigan says that Dwight Howard told him in a face-to-face meeting last week that he would like to be traded, and that his preference is to be dealt to the Brooklyn Nets. Hennigan said Monday that Howard singling out one team complicates any potential trade scenarios, but he has not committed to honoring that demand and said he will...
Dwight Howard's reputation has taken quite the hit in the past few months. His constant indecision & apparent lying about his role in the firing of Stan Van Gundy hasn't exactly won over fans. The next misstep by Dwight comes from a report that he claims the Magic Blackmailed him and that he is now [...]
ORLANDO, Fla. (AP) -- New Orlando Magic general manager Rob Hennigan has met face-to-face with Dwight Howard, but the team isn't commenting on what was discussed. Team spokesman Joel Glass confirmed a meeting between Hennigan and Howard, but declined to discuss any particulars from it. Howard is in California, rehabbing a late-season back surgery. Yahoo Sports and ESPN.com...
ORLANDO -- The Orlando Magic didn't solve the Dwight Howard dilemma on NBA Draft night still clinging to hopes he will stay -- but they certainly raised the team's collective IQ level. Newly-hired Rob Hennigan, the youngest general manager in the league, just drafted the smartest player coming into the NBA. Maybe Howard was looking for a tutor. The Magic have done everything...
Dwight Howard grew up in the Atlanta area and is close friends with Josh Smith, as well as the newly acquired Anthony Morrow.
The Heat has ceased to be the hot basketball topic in Florida now that a report has surfaced indicating Dwight Howard once again wants to leave the Orlando Magic.
Maybe  Jay-Z is really putting together "The Blueprint," for a championship. The Brooklyn Nets all but officially re-signed Gerald Wallace yesterday, Deron Williams says it's either Brooklyn or Dallas, nowhere else. And Jason Kidd wants to be a package deal with Williams to back him up. But here's the piece de resistance: Dwight Howard says Jay-Z's ballclub is the only...
The Nets have fully moved on from their pursuit of Dwight Howard, their long-preferred choice to pair with Deron Williams.
Yet another big man may be out of the picture for Team USA. Anthony Davis suffered a sprained ankle Saturday and almost surely will no longer compete for a Team USA roster spot for the London Olympics, according to Yahoo! Sports. The No. 1 overall draft pick of the New Orleans Hornets was added to the list of finalists for Team USA after Dwight Howard and LaMarcus Aldridge had...
NBA News

Delivered to your inbox

You'll also receive Yardbarker's daily Top 10, featuring the best sports stories from around the web. Customize your newsletter to get articles on your favorite sports and teams. And the best part? It's free!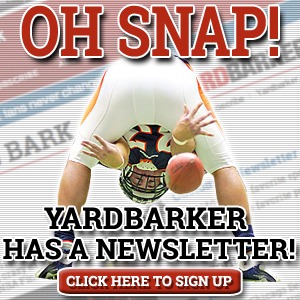 Latest Rumors
Best of Yardbarker

Today's Best Stuff

For Bloggers

Join the Yardbarker Network for more promotion, traffic, and money.

Company Info

Help

What is Yardbarker?

Yardbarker is the largest network of sports blogs and pro athlete blogs on the web. This site is the hub of the Yardbarker Network, where our editors and algorithms curate the best sports content from our network and beyond.