Found August 24, 2012 on Pass The Pill:
Via Pass The Pill:
The NBA is obsessed with comparing players to Michael Jordan. MJ was a special player and nobody will probably ever be the same. We tried with Grant Hill, Kobe Bryant and even Vince Carter, and now we're endlessly trying to make a connection between LeBron and His Airness.
Even LeBron's closest pal and teammate with the Miami Heat, Dwyane Wade, is tossing his two cents into the well. Wade says that he is unsure if LeBron can surpass Michael.
"I think everyone knows that (James) is a phenomenal, phenomenal player. He's one that we haven't seen, with the makeup of a 6-8 guy who runs as fast as any point guard, jumps as high as any center, and has the ability that he has to do so many things," Wade told ESPNChicago.com on Thursday during a promotional event for his Wade's World Foundation. "But Michael Jordan is the greatest player of all time, that's who everyone shoots for. So it's going to be hard to surpass that."
The biggest issue I have with this is why do we always have to go to Michael Jordan with everything in basketball? Look, I get it. He's the best to ever do it, but circumstances were different and comparing eras rarely gets you anywhere. Can't we just accept the greatness that is LeBron James without drawing the Jordan comparisons?
Wade went on to throw in a golf reference, which I'm sure makes Michael smile when he reads these already flattering comments by Wade.
"I don't know if (James) has the ability to surpass (Jordan) or not," Wade said. "That's yet to be seen. My version as LeBron being on par with Michael is this: They're both on the golf course. Michael's on the 18th hole. LeBron is somewhere on like the fourth hole. He's got a long way to go, but he's on par to get to the 18th hole."
It is a pretty sound analogy. My beef with all of Wade's comments is simple… why poke the bear if the bear is the reason you have your second ring, and the reason you'll get a third or fourth, or even fifth ring? Wade probably should have just declined comment and went on with his day. There's no reason to go out of your way with the potential to cause a problem with your own teammate, right?
"If you're a team that's lucky enough not to have major injuries along your run, then it can possibly be," Wade said. "But you never know that until it's over. As a Chicago Bulls fan, when they won their first championship, I didn't say, 'We're going to win five more.' You just hope that your team continues to compete and they get in that situation that they're good enough to pull it out and are able to win."
"So right now, we won one and that's a lot more than a lot of teams have done in the past, but it's a lot less than (other teams) as well. We just want to continue to get better and hopefully we're there again in the Finals to try and win another one."
I expect to see LeBron and Wade in the finals again next spring, and I expect LeBron to be in the thick of the league's MVP race once again. The sky is the limit for LeBron James and I feel like he's just scratched the surface.
Also from Pass The Pill
Mark Cuban upset with former player for leaving Dallas
Kris Humphries punks Kanye West again
Kevin Durant set to star in feature film
Original Story:
http://sports-kings.com/passthepill/d...
THE BACKYARD
BEST OF MAXIM
RELATED ARTICLES
Even though Dwyane Wade explored his free agent options during the summer of 2010, most people figured it was a foregone conclusion he would re-sign with the Heat. Wade had been drafted by the Heat, won a championship in Miami, and was the team's franchise player. Plus, his franchise was busy recruiting other stars to join him and form a super team. Why would he sign elsewhere...
Before re-signing with the Heat two offseasons ago, Dwyane Wade took a trip down memory lane, which wasn't exactly easy for the two-time NBA champion. Wade, a Chicago native, visited with the Bulls in 2010, and he admits he immediately began feeling like a kid again, even throwing on a Bulls No. 3 jersey. "I'm a Chicago guy and I grew up idolizing the Chicago Bulls,...
Now that the Olympics are over and we can stop debating who would win between the 2012 American team and the 1992 Dream Team, we can return to another argument that will never be solved: LeBron vs. MJ. After LeBron James won his first NBA Championship last season and the Miami Heat look like they could go for a few more, the comparisons between him and Michael Jordan started...
Just how close was Miami Heat superstar Dwyane Wade to returning home and playing for the Chicago Bulls? Wade was a free agent a couple of summers ago and he had to decide whether to stay in South Beach or return home to Chicago. This past week Wade was on Chicago Tribune Live Comcast Sportsnet in Chicago and he said it was a very tough decision for him to make. â€...
CHI-TOWN SHAKEDOWN
Dwyane Wade said on a Chicago-based show that his decision to re-sign with the Miami Heat two years ago was extremely difficult after he met with his hometown team.
For those of you who happen to just have $315 bucks just lying around, that is exactly enough to buy you a special version of LeBron James brand new shoe.The special-edition shoes will be the most pricey sneaker in Nike's history: Nike will release the latest installment of James' signature shoe, the LeBron X, later this year. The enhanced version of the shoe that features...
PLAY SOME PINK FLOYD!
Earlier today, Miami Heat star LeBron James started day one of his four-day promotional tour in Beijing, China at the FindYourGreatness event held at the Chaoyang Gymnasium.Below is a video of the appearance that included a laser light show, LeBron sitting on a custom throne and giving a speech to those that showed up to the event:Before attending the FindYourGreatness event, LeBron...
Earlier today, LeBron James tweeted about Paul George's ridiculous dunk he did at the Nike FOS in Shanghai, China. The homie @king24george got crazy bounce. Just saw him reverse 360 b/t the legs windmill at the Nike FOS in Shanghai. No warmup #sick — LeBron James (@KingJames) August 24, 2012 Video has just surfaced of the dunk and LeBron wasn't lying, it was disgusting. George...
Dwyane Wade doesn't want the Heat to have a similar post-championship season as the Heat experienced in 06-07.
Anthony Davis had a very very informative summer. Thanks to a wide variety of injuries to Team USA's centers, the national team was forced to turn to the top overall pick in the 2012 Draft for valuable bench minutes and potential front court depth. Davis was given an incredible opportunity to learn from some of the best players in the NBA and get a crash course from them on life...
NBA News

Delivered to your inbox

You'll also receive Yardbarker's daily Top 10, featuring the best sports stories from around the web. Customize your newsletter to get articles on your favorite sports and teams. And the best part? It's free!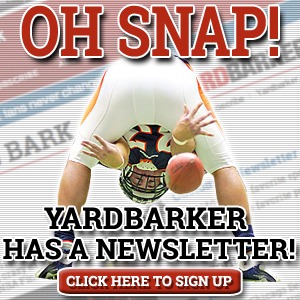 Latest Rumors
Best of Yardbarker

Today's Best Stuff

For Bloggers

Join the Yardbarker Network for more promotion, traffic, and money.

Company Info

Help

What is Yardbarker?

Yardbarker is the largest network of sports blogs and pro athlete blogs on the web. This site is the hub of the Yardbarker Network, where our editors and algorithms curate the best sports content from our network and beyond.