Found October 11, 2013 on NorthWest Sports Beat:
What have we learned so far? Before we begin, let's make one thing clear: Preseason basketball doesn't matter. The Portland Trail Blazers could go 0-7 and it wouldn't have any impact on their chances of making the playoffs during the 2013-14 season. That said, basketball has to start mattering at some point, and fans in Rip City have noticed a few things early that are both concerning and promising during exhibition play. Sloppy Play The Blazers must control the ball during the 2013-14 season (Photo: Bruce Bennett/Getty Images). The Blazers haven't been the sharpest team thus far during the 2013 preseason. During their first two games, they've average 19 turnovers per contest, which would have put them in last place by a long shot during the 2012-13 campaign. Aside from the numbers, this team is making bad passes and giving its opponents too many opportunities. A loss to the Los Angeles Clippers is understandable; a loss to the Phoenix Suns is concerning. Fans know that what happens in preseason stays in preseason, but sloppy play is a trend that will be worrisome the closer we get to the regular season. Injuries, Injuries, Injuries When it comes to NBA veterans, there's a sneaky trick that they like to play during preseason and training camp. When a vet has a nagging injury before the real play begins, it's likely because he wants extra rest before the regular season. When it comes to Mo Williams, you'd better believe this is the case. When it comes to LaMarcus Aldridge, Nicolas Batum and CJ McCollum, the team isn't as lucky. In the case of LaMarcus Aldridge and Nicolas Batum, the team is hopeful that they can be 100 percent—or close to it—by the time the season kicks off. The problem is that time off the floor means less time that the core can jell with the newcomers. And speaking of newcomers, CJ McCollum is out for the foreseeable future with a broken bone in his foot. This team has high hopes entering the new year, but it's going to be important that it is at full strength sooner rather than later. For those believing CJ McCollum's broken foot is a season-ending injury, I asked: "Absolutely not. The plan is to get back soon as possible" — Chris Haynes (@ChrisBHaynes) October 7, 2013 Depth We all know that the Blazers improved the bench during the offseason. GM Neil Olshey utilized the team's cap space by adding to the depth, and as a result, the starting lineup finally received the help it needed. As it turned out, injuries and subpar play have adjusted fans' hopes before the regular season has even begun. Victor Claver struggled to take advantage of Batum's absence. Joel Freeland has still looked spotty, and Thomas Robinson showed a little too much aggression when he was ejected for throwing an elbow against the Suns. Thomas Robinson has been a beast on the boards thus far. (Photo: Thomas Boyd/The Oregonian) The good news is that despite the struggles, the bench has already been better than last year's. When the team is healthy, this squad will have a group of reserves that can step in and be reliable on a nightly basis. Thomas Robinson is a Hustler Okay, getting ejected for throwing an elbow is bad. The Blazers have done everything in their power to escape the infamous Jail Blazer days, and as a result, they've avoided anybody willing to hurt even a fly. But while you don't want to see your players getting tossed, you need someone with an attitude, and Robinson has shown he can be just that. So far, the newest power forward on the roster has dominated the glass. He's even put up a solid effort defensively, which is exactly what this team needs in the low post. Robinson is a young player ready to break out of his shell, and as long as he can keep his cool in the regular season, he'll be an integral part of the team's rotation. There's Plenty of Ball to Play Dear, Blazers fans, Portland is 0-2. Despite Damian Lillard scoring 19 points in Game 2, nobody has stood out as a consistent source of offense. Sloppy play has caused fans to cringe inside the newly named Moda Center. And yet, there's no need to panic. The Blazers must improve before the regular season, but don't worry—there's plenty of time to improve. Portland still has potential, and two games into the preseason, it can only go up from here. CLICK HERE TO CHECK OUT THE BLAZERS BLOG IN OUR CLUBHOUSE TODAY AT NWSB!
Original Story:
http://www.nwsportsbeat.com/trailblaz...
THE BACKYARD
BEST OF MAXIM
RELATED ARTICLES
The Portland Trail Blazers will be without Nicolas Batum for at least a short time after suffering a concussion in practice on Tuesday afternoon.  The exact amount of time that Batum will be out is unknown as Batum has to pass some neurological tests and get both the approval of a team doctor and an okay from a league-appointed doctor.As reported by Kurt Helin of NBCSports.com...
The Portland Trail Blazers have definitely expanded their depth from a year ago. The injury to rookie guard C.J. McCollum will have an impact on Portland's depth, but how much of an impact is the question. The Blazers luckily weren't done this offseason when they drafted McCollum. The likes of Allen Crabbe, Mo Williams, and Earl Watson will all be great additions to help...
The Portland Trail Blazers will be without Nicolas Batum for at least a short time after suffering a concussion in practice on Tuesday afternoon.  The exact amount of time that Batum will be out is unknown as Batum has to pass some neurological tests and get both the approval of a team doctor and an okay from a league-appointed doctor. As reported by Kurt Helin of NBCSports.com...
As previously noted on TNLP, Portland Trail Blazers guard Damian Lillard created an Instagram hashtag called "#4BarFriday" to show off some of his and others rapping skills. Earlier today, Damian posted another hot rhyme for "#4BarFriday": *** Lillard image courtesy of Getty Images
Damian Lillard scored 23 points and LaMarcus Aldridge added 20 to lead the Portland Trail Blazers to their first win of the preseason, 96-86 over the Utah Jazz on Friday night. Lillard, the NBA Rookie of the Year last season, had 15 points in the first half. Aldridge, who finished 8 of 9 from the field, scored 10 points in the third quarter for Portland (1-2). Gordon Hayward led...
You could make a strong case that Portland Trail Blazers GM Neil Olshey had the best offseason in the NBA. Sure the Rockets landed Dwight Howard and the Clippers kept Chris Paul while bolstering the supporting cast. But Olshey took a lottery team and plugged as many holes as you could find without losing anything of value. As the dust settles the Blazers' offseason looks like...
Portland Trailblazers forward Dorell Wright joins the growing list of jocks who have been featured in music videos. Wright is featured in a video for Sevyn Streeter's latest single, "It won's stop." The clip was directed by Chris Brown and shot in Malibu.   Some of the other athletes to take the plunge into video vixen territory; Reggie Bush, Carmelo Anthony, JR Smith...
The Portland Trail Blazers committed big money to Nicolas Batum in 2012 when the Minnesota Timberwolves were trying to secure the services of the restricted free agent. Because of that big pricetag big things are expected out of the small forward especially in a season in which the Portland Trail Blazers have beefed up their bench and look like serious playoff contenders (vying for...
NBA News

Delivered to your inbox

You'll also receive Yardbarker's daily Top 10, featuring the best sports stories from around the web. Customize your newsletter to get articles on your favorite sports and teams. And the best part? It's free!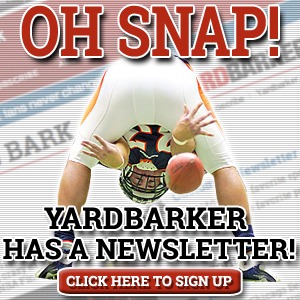 Latest Rumors
Best of Yardbarker

Today's Best Stuff

For Bloggers

Join the Yardbarker Network for more promotion, traffic, and money.

Company Info

Help

What is Yardbarker?

Yardbarker is the largest network of sports blogs and pro athlete blogs on the web. This site is the hub of the Yardbarker Network, where our editors and algorithms curate the best sports content from our network and beyond.