Found April 19, 2012 on Fox Sports Florida:
MIAMI -- For Eddy Curry, is the glass half full or half empty? Well, maybe it's not a see-through glass. On one hand, the Miami center is disappointed all his hard work this season to lose weight has not translated into playing time. On the other hand, he's well aware what the Heat have done to resurrect his career when it looked as if it might be over. "As far as playing wise, it hurts me that I'm not playing," Curry said in an interview with FOX Sports Florida. "Honesty, I feel like I did a lot to put myself in a position to be successful here but it just hasn't turned into minutes for me. But I think, on another note, my body is great. I'm continuing to lose weight, continuing to get myself in great shape. And that's all I can really ask for. It's a world-class organization here, and just to be a part of it, I feel extremely blessed and I'm still making the best of it." At one point last year, the 7-foot Curry weighed nearly 400 pounds and it was no certainty he ever again would play in the NBA again. But the Heat took a chance on him, and he's now below 300. But it hasn't translated into minutes. Curry has played in just 13 games all season, averaging 1.5 points and 0.6 rebounds over 4.5 minutes. When the Heat signed free agent Ronny Turiaf last month, Curry dropped to fourth on the depth chart at center, also behind Joel Anthony and Dexter Pittman. Considering power forward Udonis Haslem recently has slid over to start some games at center and power forward Chris Bosh also moves at times to that spot, Curry's chances to get meaningful time in the playoffs are all but nil. Heat coach Erik Spoelstra said Curry has "come a long way" both physically and in "learning a complex defensive system." But he said it didn't help Curry when he suffered a hip injury in training camp during this lockout-affected 66-game season. "The fact that it was a truncated season (and) he missed all of training camp," Spoelstra said before Thursday night's game against Chicago when asked about Curry's lack of minutes this season. "I counted the other day. I think he's had 10 practices the whole year, and we had 76 last year." But next season will be a full one. And Spoelstra spoke of a desire to have Curry return after he becomes a free agent. "He's done a lot for himself to prepare him for next year, hopefully with us," Spoelstra said. "But he's set the table for himself to resurrect his career wherever he ends up going." So that begs the question: Is Curry interested in returning to Heat next season? "I don't know," he said. "We'll see what happens. I'm here right now. I don't know what's going to happen. I don't know what's going to happen in the playoffs. We'll see what happens. That's all I can really do. At the end of this thing, I'll sit down with (Spoelstra) and with (Heat president Pat) Riley and with my agent (Leon Rose)." Curry didn't disagree it could be difficult returning to Miami after playing so little. "Obviously, it'd be tough," Curry said. "Although I haven't played and they told me I would play, it hasn't shaken my confidence at all. They're real hands-on here. Coach Spo talks to me about it and tells me what's on his mind and I tell him what's on my mind. As long as that line of communication is open, I got to take them as men of their words. I have no complaints. Of course, I would love to play. Everybody would love to play." Curry did get at least get a brief appearance Wednesday. He got in for the final 3:30 of a 96-72 rout of Toronto, just the second game he has played out of the last 16. Curry called it "a lot of fun" scoring four points, including throwing down a nifty dunk. Heat star LeBron James, sitting out the entire fourth quarter, cheered from the bench for a guy who has been his friend since James was in high school and Curry was a Bulls rookie in 2001-02. "Even if his number is called less than he thought it (would be) coming into this season, his number could still be called, and you got to stay ready," James said. Overall, Curry tries his best to look at the big picture and how far he has come. Prior to his Jan. 19 appearance against the Lakers, Curry hadn't played in an NBA game since he was with New York on Dec. 17, 2009. Curry, who had averaged as many as 19.5 points with New York in 2006-07, had become the butt of jokes during his final years with the Knicks. Disappointed with the way it was going, Curry got more and more out of shape. New York last season had him to stay away from the team, and he finally was traded in February 2011 to Minnesota because his 11.5 million salary fit into a three-team deal that got the Knicks Carmelo Anthony from Denver. The Timberwolves immediately waived Curry. But the Heat was willing to give Curry another chance. He signed a minimum deal last December that initially was nonguarateed. "It's an incredible transformation physically, and also to become a part of structure and a program and an organization that's believed in him enough to invest a full year and all this time in development," Spoelstra said. For that, Curry is grateful. "Worst case, I'm in the best shape of my life, and I'll take that," he said. Chris Tomasson can be reached at christomasson@hotmail or on Twitter@christomasson.
Original Story:
http://www.foxsportsflorida.com/04/19...
THE BACKYARD
BEST OF MAXIM
RELATED ARTICLES
A MAN OF THE PEOPLE
Following a big win on Sunday for the Miami Heat against the Knicks, Dwyane Wade made it about New York and even found time to play some pick up ball against some lucky kids. According to the NY Post: Miami Heat star Dwyane Wade's post-victory celebration Sunday included a chat with Anna Wintour, shopping for socks and a pickup game in Tompkins Square Park. After the Heat...
FLOATING AIR BISCUITS
Haha. When caught downwind, there is nothing more disgusting than the odor of someone else's gas. When you are nowhere near the affected area — fart zero, as it were — but can still witness the stinky aftermath, there is nothing more amusing. When a professional basketball team's bench is captured in a screengrab attempting [...]
Dwyane Wade is a man of the people. Not only did Wade attend the Yankees-Angels game last Sunday following his team's win over the Knicks, but he also found some time to play a little pickup basketball with some kids at the park. The New York Post reported on Tuesday that Wade was out buying clothing with his stylist in SoHo after the game when he spotted some kids playing at...
MIAMI-- If there's a more heated rivalry in the NBA now than Heat-Bulls, name it. Thursday night's slugfest between the teams produced two flagrant fouls, one resulting in an ejection, and four individual technicals. It had Miami's Dwyane Wade and Chicago's Richard Hamilton going at it the way the two did when Hamilton played for Detorit in the hotly contested 2005...
MIAMI-- Erik Spoesltra obviously has nothing against Miami fans. Not even the guy who shows up every game dressed as a banana. The Heat coach loves the homecourt advantage his team has at AmericanAirlines Arena, where it is 26-4 this season. But Spoelstra would rather not be in Miami on Thursday night. "We would probably prefer this one was on the road again and have that...
In the Miami Heat's last eight games, Dwyane Wade has sat out the four against opponents with losing records while playing four times against playoff teams. If that pattern holds, Wade won't be on the court when the Heat look for a sixth straight win in a home matchup with the Washington Wizards on Saturday night. Wade has missed 14 games this season with a variety of injuries...
LeBron James led the way with 27 points and 11 rebounds as the host Miami Heat pulled to within a game and a half of Chicago for the top spot in the Eastern Conference with an 83-72 victory over the Bulls. Dwyane Wade returned to the lineup and put up 18 points and five assists while Mario Chalmers scored 16 points for the Heat, who were without Chris Bosh. Derrick Rose did not...
Shaquille O'Neal hasn't quite had the impact on Inside the NBA that many fans of the show and the league would have expected.  Sure, he's had his funny moments and his notable on-air slip ups that have resulted in laughter, but we haven't had a seminal moment yet in Shaq's newborn media career.   We may have just found that clip thanks to somebody farting on...
The NBA MVP debate has heated up, then cooled down. Then it heated up again, and then it cooled down, again. It seems that the MVP has come down to two players: Miami Heat forward LeBron James and Oklahoma City Thunder forward Kevin Durant. Durant also has an argument for the award. He is averaging 27.8 ppg and 8 rpg. While he doesn't boast the same assists per game like LeBron...
Tensions between the top two teams out in the East are escalating at the perfect time with the Miami Heat striking the latest blow with an 83-72 decision over the Chicago Bulls and pulling within a game and a half for the top seed with just five games left in the schedule. LeBron James and Dwyane Wade played one of their more "emotional" games of the season (while Chris...
NBA News

Delivered to your inbox

You'll also receive Yardbarker's daily Top 10, featuring the best sports stories from around the web. Customize your newsletter to get articles on your favorite sports and teams. And the best part? It's free!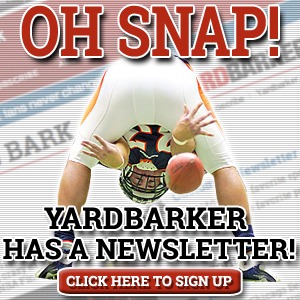 Latest Rumors
The Backyard

Today's Best Stuff

For Bloggers

Join the Yardbarker Network for more promotion, traffic, and money.

Company Info

Help

What is Yardbarker?

Yardbarker is the largest network of sports blogs and pro athlete blogs on the web. This site is the hub of the Yardbarker Network, where our editors and algorithms curate the best sports content from our network and beyond.