Found May 01, 2013 on Blog So Hard Sports:
Many NBA teams have taken advantage of the dearth of non-US players when it comes to finding talent. The Washington Wizards are not one of those teams. Players like Pau Gasol, Manu Ginobili, Tony Parker, and Dirk Nowitzski — to name a few — have recently had enormous success in the NBA. The problem with this for some NBA organizations, it appears they will do anything to find "the next" Dirk or Manu. The problem for the Wizards is the guy chasing after that talent is Ernie Grunfeld. Since taking over making the draft selections for Washington in 2004, Grunfeld has selected 6 non-American players (and yes I know PJR isn't technically a Euro because he is from Puerto Rico). Those 6 draft choices have led to…well, literally not much at all. Let's take a look at those picks:   Peter John Ramos – 2004 (32nd overall) Total NBA Games Played: 6 Total NBA Minutes: 20 Total Games Played w/ Washington: 6 Minutes played with Wizards: 20 PJR racked up 6 total NBA games in his career, all of which came with the Wizards. He played a grand total of 20 MINUTES! His averages in Washington were 1.8 points, .7 rebounds, 0 assists, 0 steals, and .2 blocks. He literally did nothing except play in a lot of Summer Leagues.     Oleksiy Pecherov – 2006 (18th overall) Total NBA Games Played: 111 Total NBA Minutes: 1,044 Total Games Played w/ Washington: 67 Minutes played with Wizards: 597 Let's just say that whoever scouted this guy, did a terrible job making the decision to select him in the first round of an actual NBA draft. He hasn't been in the league since 2010. Besides making an occasional three and looking like Stewie Griffin, Pecherov really didn't do much. I think the highlight of his NBA career was getting dunked on by Andres Nocioni. I mean really?!? Who gets dunked on by Andres Nocioni? For the Wizards he averaged 3.6 points, 2.15 rebounds, .15 assists, .2 steals, and .1 blocks. On top of all of this, he was traded by Grunfeld as part of moving the 5th pick in the 2009 draft for Mike Miller and Randy Foye — also known as the "instead of drafting the sharp shooting ace Steph Curry, let's swap the pick for two marginal bench players" trade.   Vladimir Veremeenko – 2006 (48th overall) Total NBA Games Played: 0 Total NBA Minutes: 0 Total Games Played w/ Washington: 0 Minutes played with Wizards: 0 I don't think much else needs to be said, other than 2006 was a glorious Euro draft by Ernie Grunfeld. This guy hasn't played 1 minute of NBA basketball. He was traded in 2010 to the Bulls, where get this, he hasn't played. A quote by a member on a Chicago Bulls website in 2010 summed it up best: "Well, we got our mythical stretch 4. Emphasis on mythical."     Nemanja Bjelica – 2010 (35th overall) Total NBA Games Played: 0 Total NBA Minutes: 0 Total Games Played w/ Washington: 0 Minutes played with Wizards: 0 The rights to Bjelica were traded on draft night so I am not sure I can really discredit Grunfeld for this one since he could have been making the selection for Minnesota. I would like to think however, that while Minnesota was on the phone with Ernie, they said go ahead and take the player who would be the best fit for your team, and that is exactly what he did.     Jan Vesely – 2011 (6th overall) Total NBA Games Played: 108 Total NBA Minutes: 1,679 Total Games Played w/ Washington: 108 Minutes played with Wizards: 1,679  Picks that were better than Jan Vesely at number 6: ALL OF THEM. But seriously: Kemba Walker, Brandon Knight, Klay Thompson, Morris Twins, Kawhi Leonard, Nicola Vucevic, Iman Shumpert, Tobias Harris, Kenneth Faried, Reggie Jackson, Marshawn Brooks, Jimmy Butler, and Chander Parsons. Vesely has not, and will not be able to live up to the expectations that come with being selected 6th overall. He has not shown any development in the basketball skills department, and has even regressed from a forgettable rookie year. In DC, he has averaged 3.6 points, 3.4 rebounds, .7 assists, .5 steals, and .5 blocks. The jury is still out on whether or not he can or will become more than just a bench guy, and by bench guy I literally mean a guy that sits on the bench. The smart money is on no.     Tomas Satoransky – 2012 (32nd overall) Total NBA Games Played: 0 Total NBA Minutes: 0 Total Games Played w/ Washington: 0 Minutes played with Wizards: 0  The best thing Satoransky has going for him so far is we haven't had a chance to see him fail yet. Will he end up as one of those "mythical" Euros that never makes the trip over? We will find out sooner rather than later. There is a part of me that is still holding out hope for Satoransky, hoping that he can come over and be the perfect backup guard that this team is lacking. But then there is the part of me that realizes that Grunfeld's track record speaks for itself and there is a better than decent chance that this will be another wasted pick.    Some Highlights 50% of Ernie's Euro picks have never played an NBA game Of the three who have played in the NBA, 2 are out of the league and one could be on his way You can not combine their average assist totals to equal 1 Totals if you add up all average stats: 9 points, 6.25 rebounds, .85 assists, .7 steals, and .8 blocks   With the draft lottery set to occur on the 21st of this month, Wizards fans will be anxious to see whether or not their team can make a jump to a top three selection. After the lottery balls settle comes the real time to be nervous, wondering who and what Grunfeld will do with the Wizards picks. There has been a running joke on Twitter wondering what Euro player Ernie will select. But with draft eligible players named Rudy Gobert, Sergey Karasev, Giannis Adetokunbo, and Dario Saric projected to be first rounders, this should be no laughing matter. I think it is safe to say that if Ernie drafts a Euro with our first pick, Wizards Twitter will be knocking on the front door of the Verizon Center looking something like this: Related posts: Ernie Grunfeld and "Adding" To The Wizards Roster Wizards Fans Have Had Enough, Ernie Grunfeld Needs to be Fired All I Want For Christmas is Ernie Grunfeld Fired
Original Story:
http://blogsohardsports.com/wizards-2...
THE BACKYARD
BEST OF MAXIM
RELATED ARTICLES
Outspoken former ECW star New Jack is a man who isn't afraid to speak his mind and not give a single care what anyone thinks about him.  For example, remember the night Jerry "The King" Lawler had his heart attack on RAW & New Jack tweeted that Lawler was a "racist" and that he wanted him to "die slow"?  Well, this one is sure to ruffle quite a few more feather...
  In Olmsted Township, Ohio, just about half an hour drive from downtown Cleveland, the brutally murdered body of a 20 year old transgendered woman was found tied to a concrete block and left in a pond to rot.  The body was naked from the waist down, clad only in brassiere, a tank top and a small black jacket, motionless, looking, as one observer explained, more like a mannequin...
Caroline Moos dated recently out NBA player Jason Collins and was even engaged to him. Obviously, his admission of homosexuality came as a shock.
ESPN says it regrets that one of its reporters described Jason Collins as a sinner after the NBA center publicly revealed he is gay. Chris Broussard, who covers the NBA, said on the air Monday that Collins was ''walking in open rebellion to God'' by living as a gay man. In an article in Sports Illustrated, Collins became the first male athlete in one of the country...
Jason Collins is gay. But apparently the question now is, just how gay.
Jason Collins received a gift for making his historic announcement this week: a year's supply of condoms from NuVo condoms. NuVo Condoms is also offering Jason Collins an all expense paid wedding at the 2013 NYC PrideFest on June 30, 2013, if he is ready to walk down the aisle. I don't know if Collins is engaged, or even has a boyfriend or whatever, so this second part kind...
The life of veteran NBA center Jason Collins is a lot more interesting now than it was last year, with the 34-year-old becoming the first ever openly gay athlete to play in the four major American team sports on Monday. When you also consider the fact that Collins played high school basketball with actor Jason Segel, he may even start to give the Dos Equis guy a run for his money...
The last few days have seen something dramatic in the world of sports: for the first time, an active player on a professional team in either the NBA, MLB, NFL or NHL has announced publicly that he is homosexual.  This ground-breaking event has led many to compare the player, Jason Collins of the Washington Wizards, with baseball's Jackie Robinson.  That compassion, in my opinion...
LeBron James supported Jason Collins becoming the first openly gay male athlete in a major American professional sport to reveal his sexuality while still an active player. "I think it's very noble on his part," James said. "I think it's a strong thing to do, and I think as NBA players, we all offer him our support." Collins came out in a Sports Illustrated story...
Sports Illustrated's cover story written by Jason Collins has made perhaps an even bigger impact than could have initially been expected.  The article has touched a populace far beyond the sports world and become a mainstream story with everyone from Kobe Bryant to Barack Obama proclaiming their support.  In fact, Collins' piece moved so thoroughly and so quickly across...
Wizards News

Delivered to your inbox

You'll also receive Yardbarker's daily Top 10, featuring the best sports stories from around the web. Customize your newsletter to get articles on your favorite sports and teams. And the best part? It's free!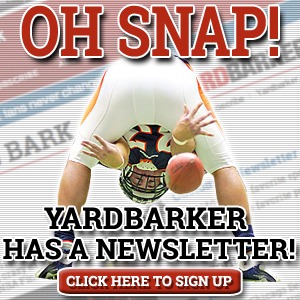 Latest Rumors
The Backyard

Today's Best Stuff

For Bloggers

Join the Yardbarker Network for more promotion, traffic, and money.

Company Info

Help

What is Yardbarker?

Yardbarker is the largest network of sports blogs and pro athlete blogs on the web. This site is the hub of the Yardbarker Network, where our editors and algorithms curate the best sports content from our network and beyond.