Found September 22, 2013 on isportsweb.com:
Yesterday, I posted where Jimmy Butler, Carlos Boozer, Luol Deng, and Joakim Noah ranked in Sports Illustrated's Top 100 Players of 2014 series. Obviously, a fifth Chicago Bulls player, a certain Derrick Rose feller, ranks on that list, higher than those four. Today, we look at where Rose came in on the list. As in the previous post, I'll show you what the tag team of Ben Golliver and Rob Mahoney said about Rose, and then afterwards, I'll offer my thoughts. And as I said earlier, please check out their post, it's a fantastic in-depth read to get the juices flowing for the NBA season. — 12. Derrick Rose "Even Rose's staunchest supporters should understand — without explanation — why the point guard slipped out of the top 10 on this year's list. He hasn't played an NBA game in 16 months. He's coming off of a serious knee injury. The other superstars at his position — Chris Paul, Tony Parker and Russell Westbrook — all had banner years. Paul led the Clippers to their best season in franchise history; Parker led the Spurs to within 5.2 seconds of a title; and Westbrook enjoyed a career year, helping lead a 60-win Thunder team whose 9.21 average margin of victory was the best since the 2007-08 Celtics. So where exactly was Rose when we last saw him? In the lockout-shorted 2011-12 season, Rose played just 39 games because of injury, making the All-Star team but missing out on All-NBA honors. The 2011 MVP finished 10th in the 2012 MVP race, drawing just one third-place vote, but his PER ranked No. 2 at his position, behind Paul. His middling outside shooting numbers held him back a bit, but his explosiveness, quickness and power off the dribble, along with his overall playmaking instincts, were enough to keep him in the discussion among the NBA's very best talents. More importantly, perhaps, the Bulls were 32-9 (.821) when he played in 2011-12. That's a 67-win pace in a normal 82-game season. Combining the 2010-11 and 2011-12 seasons, Chicago has gone 94-28 (.770) when Rose has suited up. The 2011 Eastern Conference finals aside, all Rose does is win, win, win, no matter what, what, what. Photo Credit: Matt Slocum/AP Photo It's worth noting that Rose is unique among the names in this 11-to-20 group because he's established enough to have performed at a top-five overall level (only Dirk Nowitzki fits that bill) while still being young enough to do it again (sorry, Dirk). Will Rose be able to reclaim that lofty standing in his first year back on the court? Will his knee injury — a fairly common one by NBA standards — lower his individual ceiling enough to allow other young point guards (Stephen Curry, Kyrie Irving) a window to move past him? Will the injury lead to stylistic changes in his game that reshape his reputation? It's burning questions like these that prompted the NBA to schedule Bulls-Heat on opening night. Who can wait any longer to start finding out the answers?" — Me. I can't. I'm so excited. After reading their analysis, I decided that putting Rose outside the top-ten is absolutely, positively, utterly….reasonable. That's part of the beauty of the piece, it's all objective analysis and reasonable arguments. I'm trying to think of ways to argue his ranking, and I really can't. Rose is still in the cream of the crop of the league, we mustn't forget that he won the MVP and captained a 60-win team and a 50-win team (in a lockout shortened 66 games). So of course, it would be ludicrous to drop Rose out of the top-15. But, as pointed out, Rose has to be dropped for the simple uncertainty of who he will be. We have to presume he will be a little worse than his main counterpart, Russell Westbrook, and Chris Paul. More interesting than this list, though, will be the list at the end of this season. Will the young guys, like Stephen Curry and Kyrie Irving, surpass Rose? Will Rose stay in the 12 range, or will he reestablish himself as a top-10 player in the league? Will he be ahead of Westbrook? These are some of the fascinating stories to watch in an increasingly point guard-driven league. I can't wait.
Original Story:
http://feedproxy.google.com/~r/isport...
THE BACKYARD
BEST OF MAXIM
RELATED ARTICLES
Sports Illustrated's excellent NBA blog, The Point Forward, recently rolled out their top 10 players in the NBA, to finish up their Top 100 of 2014 list. The question most Chicago Bulls fans will have, of course, is where the duo of Ben Golliver and Rob Mahoney ranked Derrick Rose, as well as the rest of the Bulls. All five Bulls projected starters made the top 100 list. For fun...
The Chicago Bulls will finally have their all-star guard Derrick Rose back on the court next season after taking last season off to recover from an ACL injury. But coming back from such a brutal injury brings questions. Can Rose perform at the level he was pre-injury? Will he play tentatively?  Rose recently opened up in an interview and weighed in on coming back from the...
The ''MVP! MVP!'' chants rained down on Derrick Rose just as they did before he was injured. Now that he's poised to return, the Chicago Bulls star figures to hear them again on a regular basis. Rose believes he's ready to dominate again and help his team contend for a championship. With training camp set to open this week, the former MVP point guard said...
Derrick Rose has recovered from his devastating knee injury and it back with a vengeance, stating that his "only goal is to win a championship" and that his "confidence grew as a player". I'm all for Rose manning up and returning to the Bulls as an improved player in 2013, but with all of the heat he's taken from the city he resides from, coming back with an added confidence...
Derrick Rose is all in for Chicago, and whether he likes it or not, all eyes in the basketball world will be on Rose and the Bulls opening night. The NBA did Rose no favors when they matched the Bulls up with the defending champion Miami Heat on banner night. Rose for his part isn't buying into the pressure, and seems to be taking his return in stride.  During his first public...
Recently, the ad wizards over Adidas decided to create a rather impactful commercial starring Chicago Bulls guard Derrick Rose. The ad shows a cinematic-style mash-up of Rose highlights and Chicago city scenery but the best part of the clip might be what comes last as Derrick puts the jersey back on after his year away from the competitive NBA hardwood: *** Derrick Rose image courtesy...
Chicago Bulls are set to open training camp on Friday, and point guard Derrick Rose told reporters -- including K.C. Johnson of the Chicago Tribune -- that he is ready to return to the court. Rose said that no mental hurdles remain for him as he prepares for the team's Oct. 5 preseason opener."Right now, my legs are good," he said. "I'm just trying to stay positive and...
Derrick Rose took time away from his first public appearance in Chicago in more than 2½ months to say that not only is he healthy but he can't contain his excitement for the start of the Chicago Bulls' preseason schedule. "I'm feeling good" Rose said Sunday following an event at the United Center to promote his latest basketball shoe. "Right now my legs...
Has it really been 17 months since the last time Derrick Rose played a NBA minute? Even if it doesn't feel like it, it has been. The Chicago Bulls star guard is prepping for his return and the pressure on him to perform this season, after taking a year off, will be through the roof. […]
 Herald  France beats Lithuania for first basketball titleFormer MVP Derrick Rose ready to lead Bulls again Globe Celtics' Kelly Olynyk Rides The Green Line - Videos CelticsGreen  Rondo Considered One of Top 3 Toughest Players in NBAMarShon Brooks is a Hard Worker (Video Proof)Distractions....CelticsBlog  Paul Pierce discusses his future in BostonBrooks finally gets his opportunity...
Bulls News

Delivered to your inbox

You'll also receive Yardbarker's daily Top 10, featuring the best sports stories from around the web. Customize your newsletter to get articles on your favorite sports and teams. And the best part? It's free!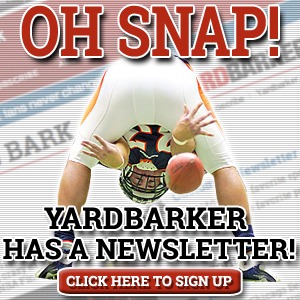 Latest Rumors
The Backyard

Today's Best Stuff

For Bloggers

Join the Yardbarker Network for more promotion, traffic, and money.

Company Info

Help

What is Yardbarker?

Yardbarker is the largest network of sports blogs and pro athlete blogs on the web. This site is the hub of the Yardbarker Network, where our editors and algorithms curate the best sports content from our network and beyond.