Found January 17, 2013 on Fox Sports Ohio:
PLAYERS:
Byron Scott
,
Kyrie Irving
,
Dion Waiters
,
Tristan Thompson
,
Damian Lillard
,
Tyler Zeller
,
LaMarcus Aldridge
,
J.J. Hickson
,
C.J. Miles
,
Alonzo Gee
,
Luke Walton
TEAMS:
Portland Trail Blazers
,
Cleveland Cavaliers
Everyone knew the Cavaliers would lose. Portland had entered Wednesday having dropped three straight, was playing at home, and is in front of the Cavs when the idea is young and up-and-coming teams. The Trail Blazers are fighting for the playoffs. The Cavs are fighting for well, continued development. Final score: Cavs 93, Blazers 88 in another semi-nail-biter at the famed Rose Garden. And guess what? The Cavs (10-31) have won six times in 25 road games. That may not sound like much, but its better than their 4-12 record at home. But the bottom line in the Cavs previous two outings is they have given GM Chris Grant and coach Byron Scott what theyre seeking. Thats right, this young team displayed (heres that word again) progress. In the process, Kyrie Irving (31 points) was the best player on the floor. Two nights ago in a loss at Sacramento, it was Dion Waiters. He scored 33 in that game, but struggled mightily (1-for-9 shooting) against the Blazers. Neither development should be a cause for drama or reason to get overly excited. After all, Irving is the best player on the floor a lot of times. And Waiters is still a rookie. These are your Cavs, people. They lose close games, they fail to show up and get blown out, they win when the media and fans have completely given up. All of that is to be expected. Whats not always expected, but whats become more of a reality, is that this Tristan Thompson kid is getting pretty doggone good. The second-year power forward finished with 19 points, 14 rebounds and tons of enthusiasm. Remember when Thompson always got his dunks blocked? Remember when he couldnt come close on that little hook shot in the lane? Remember when we all thought he couldnt score 19 points if left alone in the gym with crickets as the only defenders? Yeah, Im having a hard time remembering that myself. Thats not to say its time to start mailing in Thompsons name for the All-Star ballot. Hes got a ways to go and he knows it. But its not nearly as far of a ways as it was even four weeks ago. There were a few other signs of hope in this -- including the Cavs defense. While getting killed inside, theyve been forcing 19 turnovers a night on this trip through the Western Conference. Well, guess how many the Blazers commited? Yep, 19. Again, the Blazers (20-19) are a nice team with some real maturing talent of their own. But one of those guys is rookie point guard Damian Lillard, and he didnt score a field goal (or get many good looks at the basket) until the fourth quarter. The Cavs defense isnt typically very strong, but it sure was for the majority of this one. And yes, that included the physical inside play of Thompson and rookie center Tyler Zeller (11 points, nine rebounds). Both refused to back down from the Blazers athletic and sturdy frontcourt of forward LaMarcus Aldridge (15 points, 13 boards) and former Cavs center J.J. Hickson (13 and 11, respectively). Or how about C.J. Miles? Hes mostly viewed as a guy who probably got a new rim every Christmas, as Miles usually shoots first, second and third, and doesnt ask questions later. But thats what the Cavs want from him. The fact he took a couple of charges and kept his man from getting open on the perimeter when it mattered were merely bonuses. Not to be forgotten was the all-around hustle of Alonzo Gee (nine points, three steals) or even veteran Luke Walton in reserve. Walton can take some funky jumpers that clang off the rim, but you cant overlook the fact he keeps things under control. His seven points equaled what was manufactured by the entire Blazers bench. So the Cavs made it happen for a night, finally finishing the job after building a 17-point lead in the first half. Its not about winning, its about taking positive steps. But, hey, what do you know? On Wednesday, the Cavs did both. Twitter: @SamAmicoFSO
Original Story:
http://www.foxsportsohio.com/01/17/13...
THE BACKYARD
BEST OF MAXIM
RELATED ARTICLES
George Gund III, the former owner of the Cleveland Cavaliers and Cleveland Barons, died on Tuesday night after succumbing to a battle with cancer. He was 75. He was born in Cleveland on May 7, 1937 and once considered to be one of the most powerful bankers in Cleveland, Ohio. The long-time philanthropist and business man had reportedly been undergoing treatments for cancer over...
The Cavaliers have played more games on the road so far this season than any other NBA team. Their record in those road games heading into last night's game in Portland was 5-19. They had also lost the first three games of the current road trip, and had given up 237 points in those contests. In other words, things weren't looking very bright. The Cavaliers came out hot however...
He is young, fast, and can apparently keep spinning in the lane for a basket. Of course I am talking about Cavaliers' Kyrie Irving who showed last night versus the Blazers, he will twist and turn many times if he is determined to score a basket for his team. Check out Kyrie putting rookie phenom Damian Lillard in the spin-cycle during last night's game. [follow]
PORTLAND, Ore. -- Near the end, when the Cleveland Cavaliers had squandered all of a 19-point lead and fallen behind, Kyrie Irving came to the rescue. The second-year point guard scored 31 points, and Cleveland held off a late Portland rally to win 93-88 Wednesday night at the Rose Garden. Irving scored eight straight points down the stretch as the Cavaliers (10-31) won after...
Yeah, not sure what the Cavaliers are thinking on this one. Get this, they want DeAndre Jordan AND Eric Beldsoe….for Anderson Varejao. Smh. This is insane, and I like Varejao but super over the top. Try again, Cleveland.
LeBron James was drafted first overall in the 2003 NBA Draft by the Cleveland Cavaliers.  In the summer of 2010, he took his talents and hairline onto ESPN for "The Decision".  The self-proclaimed "king" would then waste everyone's time before finally saying that he was taking his talents to South [...]
Wednesday night two of the NBA's best young talent at the point guard position faced off against each other as the Cleveland Cavaliers and Portland Trailblazers matched up in Portland. While CJ Watson guarded Lillard for most of the contest, Kyrie Irving dropped a sweet spin move on rookie-of-the-year candidate, Damien Lillard.   Kyrie ended the night with 31 points and 5 assists...
The best matchup Wednesday night, and perhaps the most underrated, was that of last season's ROY, Kyrie Irving, and rookie point guard Damian Lillard. The Cleveland Cavaliers ended up defeating the Portland Trail Blazers, 93-88, and in the process Irving showed Lillard this delicious spin move that left Lillard perplexed.The post Kyrie Irving's Spin Move Rattles Damian Lillard...
A winnable game Tough game Tuesday night vs. Denver. Here's the Boxscore & Recap. The Portland Trail Blazers are fighting for a playoff spot in a tough Western Conference, and when winnable games present themselves, Rip City has to take full advantage. Matchup: Portland (20-18) vs. Cleveland Cavaliers (9-31) Venue: Rose Garden Arena Time: 7:00 PM PT Date: Wednesday, Jan....
PORTLAND, Ore. (AP) -- Kyrie Irving scored 31 points, Tristan Thompson added 19 points and 13 rebounds, and the Cleveland Cavaliers beat the Portland Trail Blazers 93-88 on Wednesday night to snap a four-game losing streak. Nicolas Batum had 23 points and 12 rebounds for the Blazers, who erased a 19-point second-quarter deficit and briefly took the lead. Wesley Matthews added 17...
PORTLAND -- Kyrie Irving scored 31 points and the Cleveland Cavaliers held off a late Portland Trail Blazers rally to win 93-88 Wednesday night at the Rose Garden. Irving scored eight straight points down the stretch as the Cavaliers (10-31) won after losing their first three games on this five-game road trip. Tristan Thompson added 19 points and 14 rebounds for Cleveland. ...
NBA News

Delivered to your inbox

You'll also receive Yardbarker's daily Top 10, featuring the best sports stories from around the web. Customize your newsletter to get articles on your favorite sports and teams. And the best part? It's free!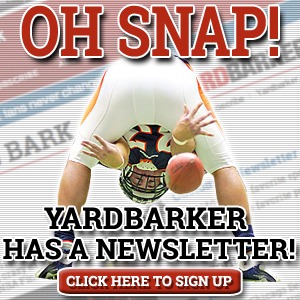 Latest Rumors
The Backyard

Today's Best Stuff

For Bloggers

Join the Yardbarker Network for more promotion, traffic, and money.

Company Info

Help

What is Yardbarker?

Yardbarker is the largest network of sports blogs and pro athlete blogs on the web. This site is the hub of the Yardbarker Network, where our editors and algorithms curate the best sports content from our network and beyond.