Found January 01, 2014 on Pass The Pill:
PLAYERS:
James Harden
,
Paul George
,
Kobe Bryant
,
Dwyane Wade
,
Klay Thompson
,
Stephen Curry
,
David Lee
,
Harrison Barnes
,
Andre Iguodala
,
Arron Afflalo
,
Monta Ellis
,
Joe Johnson
,
DeMar DeRozan
,
Rudy Gay
,
Jamal Crawford
,
Eric Gordon
,
Lance Stephenson
,
Bradley Beal
,
John Wall
,
Damian Lillard
,
LaMarcus Aldridge
,
Dion Waiters
,
LeBron James
,
Manu Ginobili
,
Tyreke Evans
,
Kevin Garnett
,
Evan Turner
,
Matt Millen
,
Victor Oladipo
,
Kyrie Irving
,
Gerald Henderson
,
Avery Bradley
,
Jeff Green
,
Rajon Rondo
,
O.J. Mayo
,
Jordan Crawford
,
Ray Allen
,
Chris Paul
,
Danny Green
,
Kawhi Leonard
,
Rodney Stuckey
,
Kyle Korver
,
Josh Smith
,
J.R. Smith
,
Carmelo Anthony
,
Courtney Lee
,
Ben McLemore
,
Thabo Sefolosha
TEAMS:
Houston Rockets
,
Indiana Pacers
,
Los Angeles Lakers
,
Miami Heat
,
Golden State Warriors
,
Orlando Magic
,
Dallas Mavericks
,
Brooklyn Nets
,
Toronto Raptors
,
Sacramento Kings
,
Los Angeles Clippers
,
New Orleans Pelicans
,
Washington Wizards
,
Portland Trail Blazers
,
Cleveland Cavaliers
,
San Antonio Spurs
,
Philadelphia 76ers
,
Charlotte Hornets
,
Boston Celtics
,
Milwaukee Bucks
,
Detroit Pistons
,
Atlanta Hawks
,
New York Knicks
,
Oklahoma City Thunder
Happy New Years' Day. If you didn't catch our piece from Christmas Day, then here's a link to check that out. We drafted the top 30 point-guards last week, and now we bring you the top 30 shooting-guards, draft style. Frank Santos and myself (Andy Flint) took turns choosing players from the shooting-guard position, until we had enough two-guards to match the amount of teams in the league. Simple, right? Frank and I decided that we had so much fun trading picks throughout our 30-player point-guard draft, that we'd continue to team up and bring you the rest of the NBA's positions one through 30. Shooting-guards were our next stop, and small-forwards will come next week. Take the time to read our reasoning for each pick, and try and put yourself in the position of the person drafting at each pick. Leave a comment and tell us who you'd select at each position. 1- James Harden – Houston Rockets (Frank Santos) Andy and I established one thing before this draft: Paul George did not qualify as a shooting guard. I tend to view PG as a shooting guard, and I would have taken him over Harden, but that's another story for another day. It was hard not to take Harden here at one when you consider the flaws in the games of the guys that will follow him. Guys like Kobe and D-Wade have age and injury concerns, and from there, a group of young guns just haven't arrived at Harden's level yet. However, Harden has taken a noticeably, and disappointing step-back defensively this season. Not to make excuses for Harden, but this can be attributed to a couple of different things: Harden just finished his first season playing superstar minutes, and he may be adjusting to that drastic change of minutes. In turn, Harden is now getting opposing guards best shot night-in and night-out as he has catapulted himself to the top of the food chain, and he doesn't seem prepared defensively to take the oppositions best shot. That being said, if Harden was to stay atop this list, and leapfrog a guy like Paul George in my mind, he needs to get it together defensively. 2- Kobe Bryant – Los Angeles Lakers (Andy Flint) I've still got love for the Mamba, and I realize a lot of readers will portray that typical prison of the moment mentality while reading this draft piece, but I stand firm on Kobe Bryant still being a top-tier NBA talent. Especially with James Harden off the board. The only two debatable players at number two were Kobe and D-Wade. I still have love for Wade as well, but given the choice for who I'd take on my team, I'd still roll with Kobe. Although, I did think long and hard about Wade here. The debate between two broken NBA stars was a tough one for me, early on in this draft. 3- Dwyane Wade- Miami Heat (Frank Santos) It's hard to bump a guy with D-Wade's resume out of the top three, and we have probably grown to the point where we don't appreciate everything he does on the court. Even though he has taken at least a minor step back, and is probably at the tail-end of his prime, he can still rev that engine up and give us the vintage D-Wade enough to justify his spot on this list. 4- Klay Thompson – Golden State Warriors (Andy Flint) Frank thought I should have pulled the trigger on Afflalo here, but the allure of Klay's ability despite playing with others who can fill it up ultimately gave him the nod over Aaron at number four. I love the steps Afflalo has taken this season, believe me I do, and as a die-hard Orlando Magic' fan, I truly do appreciate Afflalo's value right now. But his ability to fill it up on offense is kind of shaken by the lack of scorers on the Magic roster. Klay plays with Stephen Curry, David Lee, Harrison Barnes, and Andre Iguodala. Four guys who can all fill the cup. Klay's ability to still average close to 20 ppg, while shooting 41% from deep has me stunned and eager to watch his future unfold. 5-  Arron Afflalo – Orlando Magic (Frank Santos) Afflalo is an elite shooting guard that probably gets lost because he plays on the Orlando Magic. On the other hand, he is a prominent part of why that aforementioned Magic have one of the most promising futures of any team in the league. Afflalo does two things at an elite level in this league: defends, and hits the three. Those attributes make him ridiculously valuable, and someone any contender would love to have. I look at a team like the Clippers, who were rumored to be interested in Afflalo, and can't help but think he would take that team to the next level. Plus, I wanted to take Afflalo so I didn't have to see Magic fan Flint drool for six paragraphs about his young up-and-coming team. 6- Monta Ellis – Dallas Mavericks (Andy Flint) Before I start in on Monta Ellis, let two things be known. A) Frank's last sentence on Aaron Afflalo is 100% accurate. I totally would have went on a rant about how good this Magic team is going to be in two or three years. B) Frank really wanted to give me a mulligan on this choice, so that I could take Joe Johnson. But I figured I'd let him gush about Andre's (Johnson) twin brother. Back to Monta. Say what you want about this undersized two-guard from Lanier High, but Ellis has finally found a home in Dallas, and he's playing the best ball of his career. Perhaps not statistically, but certainly in terms of effectiveness. Ellis has been criticized for sloppy play, selfishness, and inefficiency, but it seems as if those days are behind him, and the 28-year old has finally figured it out. 7- Joe Johnson – Brooklyn Nets (Frank Santos)   Joe Johnson and Andre Johnson really are twins, but there will be no gushing about the awful Nets. As a fan, they make me embarrassed to root for them. I do like me some Spot-Up Joe though. People sometimes equate "Joe Johnson" is an overpaid basketball player " to mean "Joe Johnson is not a competent basketball player." That simply isn't the case. Though overpaid, Johnson can still ball: his size gives him an advantage more nights than not, and he still has a knack for the clutch moments. Johnson recently scored 29 points in a quarter, so he can still obviously get hot and carry a team. Is he worth the paychecks that he cashes twice a month? Nope. Is he better than most of  the shooting guards in this league? Absolutely. 8- DeMar DeRozan – Toronto Raptors (Andy Flint) I truly feel like this is sort of where the draft starts to go haywire. There are a few guys to fix into this spot, but I like the upside of DeRozan. He's sort of treading on thin ice at times and risking stepping into the realm of Rudy Gay, or the old Monta Ellis, but I feel like at 24-years old, he still has time to save his game, and become more than just a meaningless scorer. Part of DeMar's evolution will rely heavily on him being traded to a team who matters. I'm convinced that Toronto doesn't want to play a winning brand of basketball, and DeRozan's best chance at survival is grabbing onto the first available plane ticket south. 9- Jamal Crawford – Los Angeles Clippers (Frank Santos) I really like Jamal Crawford's game, but the fact that I can legitimately take him at nine is a tribute to the lack of depth in the shooting guard position. Let's be honest, Crawford is a one-dimensional player: a guy that can score with the best of the best, and probably takes and makes more bad shots than anyone in this league. The worst part? I would probably even take him over DeRozen. 10- Eric Gordon – New Orleans Pelicans (Andy Flint) I can't even believe I've chosen Gordon at number 10. It's kind of one of those decisions that I immediately regret. I wrote this guy off two years ago, and for good reason. But alas, Gordon has looked as if he's putting it together (from a health standpoint) this season, and I applaud his willingness to play pretty solid ball and buy-into a team with a pretty bright future. My real regret was not taking Lance Stephenson with this pick. Nothing against Gordon, I just feel like Stephenson has a more complete game. 11- Lance Stephenson – Indiana Pacers (Frank Santos)   As Mr. Flint has eluded to with his Gordon pick, Stephenson seems like a steal here at 11. For me, its mostly a consistency issue. If the Lance Stephenson we saw toward the end of last year, and thus far this season is THE Lance Stephenson, he is easily 4-5 spots higher on this list, at least. However, Stephenson does have a tendency to try and do too much on the court, and while he is riding a high point right now, I am curious how he will respond to some adversity when he finds a cold streak that even the best players find. Something that also scares me: He is an unrestricted free agent this offseason, and he seems like the kind of guy where the wrong landing spot may be extremely detrimental for his development. If he stays with the Pacers long-term, I think he catapults toward the top of this list next year. 12- Bradley Beal – Washington Wizards (Andy Flint) I love Bradley Beal's ceiling. His offense is automatic, and his defense seems to be maturing steadily. I feel like the camaraderie he and John Wall are starting to build with one another is something that every team needs. Two young, talented guys who are on the same page is exactly what can resurrect a dreadful Washington franchise. 13- Wesley Matthews – Portland Trail Blazers (Frank Santos)   Matthews has a solid game, so it's convenient he is somewhere near the middle of this draft. He does have one elite skill (three-point shooting), and is capitalizing on the best year of his young five-year career. His role for the (good) surprise of the NBA season Portland Trailblazers fits perfectly to what he does well on the floor. Basically, he roams the three-point line, and makes random cuts on offense. He compliments the primary ball-handlers Damian Lillard and LaMarcus Aldridge extremely well. Matthews is a great example, like Lance Stephenson, of a good player with a good fit. I don't know if Matthews would be as successful with any other team than he is with Portland. 14- Dion Waiters – Cleveland Cavaliers (Andy Flint) Waiters has a LOT of growing up to do, and it may be hard with a team like the Cleveland Cavaliers. I personally believe that franchise is one of the worst run franchises in all of sports. They don't seem to even have a clue what it's like to deal with the daily duties of running a professional team. If you don't believe me, ask LeBron James. Waiters has some talent, but his attitude seems to overshadow his actual game most of the time. He's another guy, much like DeMar DeRozan, who needs a change of scenery ASAP. 15- Manu Ginobili – San Antonio Spurs (Frank Santos)   Manu, Manu, Manu. I hate that he fell this far, because as a basketball fan, he is one of my favorite players to watch. He plays the game with fierce competitiveness, and an exciting form of organized chaos. He also started a trend in the modern-day NBA, where accepting the sixth man role as a guy who has the talent to be a starter somewhere else has morphed into a spot GMs look to fill on their roster. Guys like Tyreke Evans are signing with teams to play "the Ginobili role." That being said, it's obvious to basketball fans with two eyes and an IQ above Ginobili's number that his best days are behind him. While he still plays with that same intensity, his body is just failing him at the later stages of his career.  As the saying goes: "Father Time is Undefeated." If you don't believe me, just ask Kevin Garnett. 16- Evan Turner – Philadelphia 76ers (Andy Flint) FUGG Outta heeeeyyaaaa! If you did not know this already… that is Evan Turner's saying of choice. I'm to the point in this draft where I've realized that I would make the worst general manager in the history of sports. Yes, worse than Matt Millen. Turner has showed us all that he can ball this season, but his mental stability is really in question. Just Youtube anything that isn't a game highlight from Turner and enjoy his idiocy. This guy can play, but he needs the right situation, which is exactly why the rebuilding 76ers will probably deal him by the deadline this season. 17- Victor Oladipo – Orlando Magic (Frank Santos) You can ask anyone who talks basketball with me, I had a VIP ticket to the Victor Oladipo Bandwagon. From his days at Indiana, I was campaigning for Oladipo to go with the #1 pick to the Cavs. It would've been great to watch Kyrie Irving and Oladipo grow together for the next decade. The only reason why he went this low is mainly because its just difficult to rank the rookies in these kind of things. I think many people are surprised at the offensive game Oladipo possesses; the guy has legitimate offensive moves that get him to the bucket, including a very nice Tony Parker-esque spin move. The big comparison I heard at draft time with Oladipo was Tony Allen, which is fair if you are just assessing the defensive side of the basketball. Oladipo plays the kind of defense that gets under the opponents skin, much like Allen, but you can already tell Oladipo will be far better than TA could ever dream of being on the offensive side of the floor. In closing, Oladipo for President 2016. 18- Tyreke Evans – New Orleans Pelcians (Andy Flint) I've now selected my second Pelicans two-guard and we haven't even cracked number 20 yet. Although, I will stand by this pick, because unlike the last two picks (Evan Turner and Dion Waiters), Tyreke actually has maturity to his game, and seems to have finally found a great situation. Reke struggled from the jump this season, but that should be expected as he's taken on a new role in New Orleans. It's tough going from go-to player, to first guy off the bench. At least Reke has talent around him at this point, and is more of a complimentary score/set-up guy with the Pelicans. I feel like this is the perfect role for the young man, and I expect great things in seasons to come. 19- Gerald Henderson – Charlotte Bobcats (Frank Santos) Gerald Henderson: He can score. That's about it. The good news is that he can score in a variety of ways, and well enough that he can possibly carve out a nice NBA career for himself. Unfortunately, it doesn't seem like Henderson is getting any better as a player. You look at a player like Wesley Matthews, and you see progression, both statistically and on the floor. While Henderson has added some moves to his game, overall he has been at a stalemate the last three seasons. 20- Avery Bradley – Boston Celtics (Andy Flint) Admittedly, we nearly forgot about Bradley. This would have been a crucial mistake. Bradley has become one of the better wing defenders in the league, and his offensive game seems to keep getting better. Avery, alongside Jeff Green, has served as the lifeblood for a Celtics' team that has been overachieving in 2013-14. I know that 13-17 may not strike you as overachieving, but I personally felt like this club would only notch 20 wins all season. Bradley is a huge part of their success, and should only get better with Rajon Rondo back in the lineup. 21- O.J. Mayo – Milwaukee Bucks (Frank Santos) Like Henderson, Mayo can score, and probably does it even better. However, where Mayo disappoints is the consistency. I have been especially disappointed this season, where he seems like one of those guys that got paid, and then got lazy. After signing a 3-year, 24 million dollar deal with the Milwaukee Bucks, Mayo's numbers are down across the board, is noticeably out of shape, and aside from injuries, Mayo is a key reason why the Bucks have been one of this season's disappointments thus far. 22- Jordan Crawford – Boston Celtics (Andy Flint) Jordan Crawford has learned to play effective basketball, and that's a HUGE key for me. I really toyed with the idea of J.J. Reddick at number 22, but for me it boiled down to Crawford's ability to simply do more things. I feel like, while Reddick is having a pretty solid season in LA, some of his duties have sort of been shifted as he plays with an excellent cast, as where Crawford has stood out on a team (Boston) that has a seemingly never-ending logjam of similar players. Standing out in that mix says something if you ask me. 23- Ray Allen – Miami Heat (Frank Santos) Ray Allen to me is a borderline Hall of Famer, but his role now is merely complimentary for the reigning champions, making it hard for me to put him above many of the guys on this list. But, he's got a couple rings, so I am sure he can care less where he ultimately ranks right now among the shooting guards in the NBA. 24- J.J. Reddick – Los Angeles Clippers (Andy Flint) I just spoke about Reddick, above, and I do like his game a lot. He, in my opinion, was exactly the type of player the Clippers needed to round-out their team. Unlike Jamal Crawford, Reddick does not need the ball in his hands in order to put his mark on the game. Playing alongside Griffin and Chris Paul seems like a perfect fit for a guy who strives off pick-n-pop and spot up plays. 25- Danny Green – San Antonio Spurs (Frank Santos) Green is another guy that has disappointed me this season. With the Spurs big three not getting any younger, I was really expecting Green and Kawhi Leonard to take a more prominent role on the team, as the Spurs transition to life without Duncan and Ginobili. Both have failed to live up to my expectations, (yet the Spurs just keep on winning games.) Green has far too much talent to be remembered as the guy who couldn't miss a three-pointer in a Finals game against the Heat that one time. If he keeps playing like this, that is exactly what it will be. 26- Rodney Stuckey – Detroit Pistons (Andy Flint) Stuckey will never be the starting anything for a contender. That, to me, is a fact. I like his ability, but his game is more street and less organized. I think he could ultimately be your best bench player in-route to a championship, but he lacks defensively, and is far too eager to play hero-ball. That said, he is more skilled, overall, than anyone left on the board. 27- Kyle Korver – Atlanta Hawks (Frank Santos) Kyle Korver may be one of my favorite players in the league. The one thing I love about watching Korver play is that he will almost never do anything out of character. He knows what he is good at, and he sticks to it. You don't see Korver pulling a Josh Smith, and taking shots that are not in his arsenal. He possesses an elite-skill with his three-point shooting, and has used it to make a positive contribution wherever he goes. He should have been higher in this draft for sure; I would rather have Kyle Korver doing Kyle Korver things on the floor at Kyle Korver money then OJ Mayo doing OJ Mayo things on the floor at OJ Mayo money. 28- J.R. Smith – New York Knicks (Andy Flint) My least favorite pick of all-time. I have nothing good to say about J.R. Smith. I believe he's a cancer to any team he suits up for. He lacks any and all common sense. He's the definition of streaky… and lastly, he's the last possible player that I'd ever want to team up with Carmelo Anthony… yet it continues to happen. 29- Courtney Lee – Boston Celtics (Frank Santos) This is the bottom of the barrel, and it really goes to show the lack of depth with shooting guards right now. Courtney Lee is a nice player; he brings some good things to the floor, most notably his shooting. However, there is no way I consider Lee a starting caliber shooting guard in the league, yet he is my pick here at 29. Translation: with 30 teams in the league, there are roughly 25 starting caliber shooting guards (I wouldn't start Korver or Green either.) I am no mathematician, but that leaves at least five teams, well, screwed at the two-spot. 30- Ben McLemore- Sacramento Kings (Andy Flint) I do like McLemore, although I fully understand that this was the wrong pick. I jumped the gun when we originally made our selections, and I wasn't going to Welch on my selection. This pick should have been Thabo Sefolosha instead, but I guess it doesn't make a ton of difference. My apologies. Comments From The Panel: Player you felt was drafted too high? My 14th overall selection of Dion Waiters is the one I feel was too high. However, I do feel like Waiters fell in the correct area, which is somewhere between 13-18, but I feel I slept on other guys who should have probably went before him. I guess I'll live with it. (Andy Flint) There are a couple of candidates here: I thought Monta Ellis was a slight reach at 6, but the one that stood out to me was Evan Turner at 16. I know Andy probably had the same thought as me with Oladipo, which is its just tough to place where the rookies should go, but Turner over Tyreke Evans… you just can't sell me on that. (Frank Santos) Player you felt was drafted too low? Avery Bradley at number 20 was probably a bit too low. Granted, my partner in crime and I forgot about Avery for a little while. He could have come any time after number 10, but probably shouldn't have fallen quite as far as number 20. (Andy Flint) As I looked back on the draft, there were quite a few guys I felt we shafted. I referenced Korver in our write-ups, but the one that stands out the most is Lance Stephenson at 11. I really could see him going as high as seven in this draft, so to me he fell quite a few spots.(Frank Santos) The one pick I wish I could have back? The one that seems to bother me the most is one I talked about in my write-up. That was choosing Eric Gordon over Lance Stephenson at number 10. I was glad Frank took Stephenson at number 11, but If I could have one back, it'd be that selection. (Andy Flint) I am sort of cheating, but I would change a sequence of picks. Instead of 19,21,23 being Gerald Henderson, OJ Mayo and Ray Allen, I would probably bump Allen to 19, and Mayo to 21. Looking back, I think I discredited Allen too much for the role he plays on the Heat, and while I think OJ Mayo is a major disappointment, he is probably still better then Henderson… (Frank Santos)
Original Story:
http://sports-kings.com/passthepill/f...
THE BACKYARD
BEST OF MAXIM
NBA News

Delivered to your inbox

You'll also receive Yardbarker's daily Top 10, featuring the best sports stories from around the web. Customize your newsletter to get articles on your favorite sports and teams. And the best part? It's free!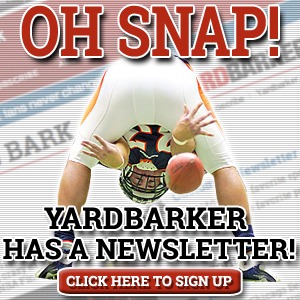 Latest Rumors
Best of Yardbarker

Today's Best Stuff

For Bloggers

Join the Yardbarker Network for more promotion, traffic, and money.

Company Info

Help

What is Yardbarker?

Yardbarker is the largest network of sports blogs and pro athlete blogs on the web. This site is the hub of the Yardbarker Network, where our editors and algorithms curate the best sports content from our network and beyond.