Found July 06, 2012 on Fox Sports Houston:
Five things I'm thinking about this weekend while teaching myself to spell "Motiejunas." 1. Something that seems true (and totally is): You did not want Kyle Lowry on the Rockets anyway. Usually a good player. Sometimes a great player. Often a malcontent. (Always beefy). You cannot win if your point guard is a malcontent. It just won't work. It's like trying to eat with a cloth fork. If your point guard and your head coach are not of like mind -- and Lowry and Kevin McHale were not -- you cannot win anything big. That's just a basketball rule. And don't tell me about Allen Iverson; he was not a point guard. Something tells me Lowry's going to find something he doesn't like about playing in Toronto, too. 2. A thing that doesn't seem true (but totally is): Daryl Morey is going to be the Rockets general manager for at least three more years. His job is not on the line and he knows it. Because if it was, he wouldn't be trading all the best players. Morey is trying his darnedest to trade for a superstar but appears comfortable with the consequence of failing to do so, which is stinking to high heaven in 2012-13. Let's say the Rockets finish the upcoming season without having made any major deals, and let's say they end up with the No. 6 pick in the 2013 draft. Well, if you go by DraftExpress.com (and you might as well), eight of the top 10 prospects likely to be in the 2013 draft are going to be 20 years old or younger next year. So you draft one of them, the team still stinks during his rookie year and you fire the GM? Of course not. Morey has at least three more years to make this work. 3. Something that is neither true nor untrue (but is fun to talk about): The Rockets don't need to worry about having a point guard (or any other specific position) because they have Royce White, Chandler Parsons and Marcus Morris. I am being 74 percent serious about this. I am about to make a comparison that will make you angry if you take it too directly. Ready? OK. Remember how the Chicago Bulls used to operate with Scottie Pippen? The Rockets could do something like that with White. This is not to say White is the second coming of Pippen, but have you seen this guy play? He can handle the ball, he's an outstanding passer and he's really difficult to guard off the dribble because he's (1) good at dribbling and (2) 260 pounds. I'm not saying you make White a point guard, but I am saying you could basically toss out the traditional basketball positions and play with one really quick guard-like guy on the perimeter, plus White, Parsons, Morris and Luis Scola. We already know what Parsons is capable of in the NBA. He's basically a 6-9 shooting guard who also happens to be an excellent rebounder and defender. We have not seen much of Morris at the NBA level, but he's a terrific scorer, especially from the mid-range, especially when guarded by power forwards, and he has great vision and passing ability. White has similar characteristics, but he is probably even more comfortable on the perimeter, even though he's got 25 pounds on Morris. And then you've got Scola. Now, that could easily be the worst defensive lineup in the NBA. But if those guys got comfortable with each other they would be a matchup nightmare on offense. Plus, in a season that looks like it's not going to be headed anywhere in particular anyway, you would get a chance to find out a lot about your younger players and be the kind of team every other team in the NBA gets really annoyed they have to play. 4. Something that recently happened: I was taken aback by a sandwich experience. Those who know my work know that I am a sandwich enthusiast, so it was with much enthusiasm that I discovered a place in Midtown called Les Givrals, which believe it or not serves Vietnamese food. Not only does a place with a French-sounding name serve Vietnamese food, it serves delicious banh mi sandwiches (I had the thit nuong, which is pork). And not only does a place with a French-sounding name serve delicious banh mi sandwiches, it charges less than 3 for them. There is other stuff on the menu, though I can't imagine why. Les Givrals is confusing in the best way possible. They could charge twice what they do for the sandwiches, but let's not tell them. 5. Something that is about to happen: The Texas A&M football program is going to unveil new adidas uniforms on July 12. And that sounds great. I'm sure the uniforms will look good. I'd just suggest the Aggies avoid making any kind of video about them.
Original Story:
http://www.foxsportshouston.com/07/06...
THE BACKYARD
BEST OF MAXIM
RELATED ARTICLES
The Toronto Raptors obtained guard Kyle Lowry from the Houston Rockets in trade that sends forward Gary Forbes and a protected future first-round draft pick to the Rockets, ESPN.com reported. Lowry averaged 15 points, seven assists, five rebounds, two steals and two 3-pointers per game prior through the All-Star break, but saw his season end with an abdominal injury that required...
The past 48 hours have been a mad dash of information.  The funny part of all this being that it won't become official until July 11th, leaving open the possibility of some Carlos Boozer-esque situations.  Now I don't have any insight on that but I like Kevin Garnett said, "anything is possible." Toronto made moves to acquire a rising point guard in...
HOUSTON (AP) -- The Houston Rockets have signed Donatas Motiejunas to a multiyear contract. Motiejunas was the 20th overall pick by the Timberwolves in the 2011 draft. He spent last season in the Polish League where he averaged 15.7 points and 6.6 rebounds in 26 minutes. He had 23 points and 11 rebounds in the title game of the Polish League finals to help his team to the championship...
According to Adrian Wojnarowski, Jeremy Lin has agreed to terms on a deal with the Houston Rockets. After taking some time to "discuss the parameters" and "structure" of the proposed offer sheet, Lin has verbally agreed to a 4-year/$30M contract.  The offer sheet is a 3-year deal with a team option in the fourth, and is expected to backload money in the deal. 
WA! I'm not sure I have a favorite part of this Chinese ad for Mini Oreos. I've narrowed it down to three things: 1. Yao Ming needing a moment to process the fact that a child has tricked him, then mumble-laughing about it. 2. The idea that Yao could probably throw that kid in the air and eat him like a Mini Oreo. 3. The weird sexual tension at the end. I think it's the...
HEADED TO HOUSTON?
Reports indicate that Jeremy Lin and the Houston Rockets have agreed on an offer sheet. Terms are currently unknown, but it is suspected to contain a "poison pill."
His NBA career was short lived, but Yao Ming will continue to be one of the most marketable athletes in the world for as long as he sees fit. In this fun spot, Yao takes a stroll with a cute little kid while enjoying Oreo Mini's. Hat tip to D Wizzle's World.
For those of you wondering what former NBA All-Star Yao Ming has been up to lately, he's been starring in Chinese Oreo commercials.Check out this spot that features Yao and a cute kid walking around a park eating Mini Oreos:(Courtesy of D Wizzle's World)
  The Toronto Raptors may have lost the Steve Nash sweepstakes, but they are still on the hunt for a decent point guard. Enter Kyle Lowry and the Houston Rockets. The Toronto Raptors are on the verge of acquiring guard Kyle Lowry from the Houston Rockets, according to sources briefed on the discussions.  Sources told [...]
Marcus Camby is also considering the Nets, Heat, Mavericks and Spurs.
  Soon Jeremy Lin will be a little richer — either it be by the Rockets or the Knicks — as Lin and the Rockets verbally agreed on a four-year $29 million offer via Adrian Wojnarowski. Jeremy Lin has agreed to sign a four-year, $28.8 million offer sheet with the Houston Rockets, league sources told [...]
Jeremy Lin was with the Rockets during last preseason, but was behind Kyle Lowry and Goran Dragic on the depth chart.
NBA News

Delivered to your inbox

You'll also receive Yardbarker's daily Top 10, featuring the best sports stories from around the web. Customize your newsletter to get articles on your favorite sports and teams. And the best part? It's free!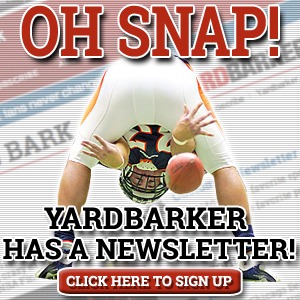 Latest Rumors
The Backyard

Today's Best Stuff

For Bloggers

Join the Yardbarker Network for more promotion, traffic, and money.

Company Info

Help

What is Yardbarker?

Yardbarker is the largest network of sports blogs and pro athlete blogs on the web. This site is the hub of the Yardbarker Network, where our editors and algorithms curate the best sports content from our network and beyond.