Found December 06, 2012 on Fox Sports Southwest:
PLAYERS:
Chris Kaman
,
Chris Paul
,
Rick Carlisle
,
Blake Griffin
,
Jamal Crawford
,
Elton Brand
,
Dirk Nowitzki
,
Lamar Odom
,
Darren Collison
,
Derek Fisher
,
Willie Green
,
Vince Carter
TEAMS:
Dallas Mavericks
,
Los Angeles Clippers
One of the overriding themes in Chris Kaman's years-past time with the Los Angeles Clippers was owner Donald T. Sterling's "Reign Of Error." One of the overriding themes of the Clippers of present-time is Sterling's willingness to maintain happiness for stars like Chris Paul, a free-agent-to-be in the summer of 2013 and a long-time Dallas Mavericks acquisition target. "Years-past" met "present-time" on Wednesday in LA, with Kaman's new team, the Mavs, being crushed by a 112-90 decision and reminding followers of the visiting team just how hungry Dallas is for a Paul-like superstar. "He's the best point guard in the game," said Dallas coach Rick Carlisle of Paul, who had 14 points and 13 assists and with his five steals keyed a Clippers defense that forced 22 Mavs turnovers. Paul is the centerpiece of a Clippers team that also features Blake Griffin 19 points, 13 rebounds, five assists) and Jamal Crawford (20 points off the bench) and a host of athletic young stars backed by a bevy of veteran talent. Paul makes it all run, though, and keeping the point guard in LA is the justifiable focus of Sterling, who at 79 may be realizing, as Kaman said on the eve of the game, "You can't win in the grave." Sterling's previous teams, even ones featuring budding stars Kaman and Elton Brand (now both Mavs) were always blocked from taking the next step due to his frugal and careless management style. Maybe that habit will revisit the Clippers and Paul will free himself to accept summer bidders a group of teams that will be led by Dallas, which has instituted "Plan Powder" as it works to maintain financial flexibility while pursuing the elusive superstar. ("Plan Powder," as in, "keeping our powder dry.") Or maybe Paul remains a Clipper long-term and speeds on as part of the development of a team that has leapfrogged its way beyond Dallas as a legit contender in the West. Dallas is now 8-10 while attempting to remain afloat despite the so-far absence of Dirk Nowitzki, the franchise icon rehabbing from knee surgery. Nowitzki is with the club on this road trip (which continues Thursday in Phoenix and Saturday in Houston) and in fact he did some practice-court work in LA. "The swelling is gone, so now I think we can push it more and more from week to week," Nowitzki said during a network halftime interview. "I did a lot of cardio last week. Now, I'm actually trying to run the court, get some shots up. Maybe next week, start running more, start cutting and reintroduce more week by week. Hopefully, in a couple of weeks, I'll get back out there." It was hoped his sheer presence might give Dallas now a 2-7 team away from home an emotional boost. Instead, the night was so stuck-in-reverse that even legendary Dallas failure Lamar Odom (who spend an odious season with the Mavs last year) was a Clippers contributor, with 11 rebounds. Also a failure: Point guard Darren Collison, who again came off the bench behind Derek Fisher and the difference between the two was resounding. The newcomer Fisher scored 15 points and was a plus-2 while on the floor. The demoted starter Collison was a minus-24 and was central to Dallas' turnover problems. "Turnovers triggered basically all the problems tonight," Carlisle said. "It was an avalanche of mistakes." LA, which is 12-6 and leading the Pacific Division, stormed to a 7-0 start, led by as many as 11 in the first quarter and gained a 20-point lead in the second. By halftime, Dallas' bench had matched LA's bench, each group with 16. But the Dallas starters had only managed 26 points while the Clippers starters totaled 44. The end of this game devolved into street ball, the Clippers seemingly being given permission to stage their own in-game dunk contest. Carlisle himself was among the Mavs who put up some fight, at one time jawing with Willie Green from the bench. But otherwise, it was about one long-embattled franchise with a star taking it on a ride and another franchise with long-term plans having to play a waiting game. "I think (turnovers) bit us in the butt," Dallas' Vince Carter said, "and the score showed it." What the score also showed is that Dallas didn't bite back.
Original Story:
http://www.foxsportssouthwest.com/12/...
THE BACKYARD
BEST OF MAXIM
RELATED ARTICLES
Wednesday night's game between the Los Angeles Clippers and the Dallas Mavericks was more of a dunk contest for the Clippers than an actual game. Seemingly every five minutes, there was a Clippers' player throwing down a nasty dunk or alley-oop. It just so happened that the three most spectacular dunks involved Chris Kaman. This guy got put on more posters in one game than most...
TAKING FLIGHT
"Take that, take that"
We love our huge dunks here at backyard sports blog, and they seem like they are coming in every night now with the NBA and NCAAB in full swing.  Caron Butler got into the mix last night when the Clippers smoked the Mavericks by 22 points.  Butler added 16 of those points, and none better than this monster jam on Chris Kaman's face.  I would tell him to go check everything...
It was a good day for LA basketball on Wednesday night. The Lakers won and the Clippers beat the Dallas Mavericks. You knew it was going to be a tough night for former Clippers center Chris Kaman after witnessing this first quarter dunk on him by Caron Butler. He was the victim of two during [...]
When most people think of nasty slam dunks and the Los Angeles Clippers, they usually link Blake Griffin or DeAndre Jordan.Last night, Caron Butler added his name to the list as he threw down a nasty dunk in the grill of Dallas Maverick center Chris Kaman.He almost added a "mush" for good measure:
Earlier we had Blake Griffin's teammate Caron Butler throwing down on Chris Kaman's face, now we have Griffin throwing down on Elton Brand.  This isn't one of his biggest dunks by any means, but it was very impressive mainly because it was left handed.  Not many players in the NBA have the talent to throw down a huge dunk with their opposite hand.  Check out the dunk...
LA Basketball Wives – both reality and real life NBA ones – were out and about on Thursday. Let's check out some of their activities. Gloria Govan, her sister Laura and Chris Paul's wife Jada hosted a toy drive on Thursday night at the Crocker club in LA. Draya posted photos of herself at her [...]
It is a luxury to have two of the best leaders in the NBA on one team. That is exactly what the Clippers have in guards Chris Paul and Chauncey Billups. CP3 was voted by the general managers in 2012 as the best point guard and leader in the NBA - the previous winner of the award - was his current teammate, Chauncey Billups.Billups is the sage voice of reason, usually found in the...
Every morning, we will give you five things from the night before in the NBA to start your day. 1: Paul, Griffin come alive in final act/quarter A good piece of music rises and falls like a good story. It climaxes at the end and builds and builds. Excuse the cliche, but it fits what happend when the Clippers won at EnergySolutions Arena, erasing a 10-point deficit entering...
Not only will the Dallas Mavericks be bringing some former Los Angeles Clippers into this matchup, they'll see some familiar faces as well. The Clippers can stretch their win streak to four Wednesday night and hand the Mavericks a third straight road loss. Dallas (8-9) features a pair of former Clippers big men in Elton Brand and Chris Kaman. While Brand has faced Los Angeles...
Injuries have prevented Chris Paul and Chauncey Billups from playing together in the backcourt. When will Billups return, and what kind of impact will that have on the Clippers going forward?
NBA News

Delivered to your inbox

You'll also receive Yardbarker's daily Top 10, featuring the best sports stories from around the web. Customize your newsletter to get articles on your favorite sports and teams. And the best part? It's free!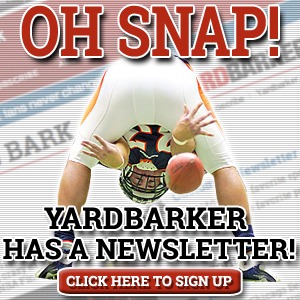 Latest Rumors
The Backyard

Today's Best Stuff

For Bloggers

Join the Yardbarker Network for more promotion, traffic, and money.

Company Info

Help

What is Yardbarker?

Yardbarker is the largest network of sports blogs and pro athlete blogs on the web. This site is the hub of the Yardbarker Network, where our editors and algorithms curate the best sports content from our network and beyond.