Found August 15, 2012 on Fox Sports Ohio:
Greg Oden is an unrestricted free agent without a team in sight. That sounds a little weird to say, considering Oden starred at Ohio State during the 2006-07 season, leading the Buckeyes to the NCAA championship game as a freshman and becoming the No. 1 overall pick (by Portland) in the NBA draft that followed. But that was five years ago, and two knee surgeries and a few assorted injuries later, the 7-foot-0 center has drawn little interest in the market. In fact, he admitted the interest hasn't been there at all. "It's not like teams are out there telling people they want me, because they're not right now," Oden told the Terre Haute (Ind.) Tribune-Star. Oden has played in just 82 total games in his NBA career. He missed all of last season. He's likely to miss all of the next. His knees are just that bad. It's as if they're made of scrambled eggs. His last game took place on Dec. 5, 2009, nearly three years ago against Houston. Interestingly, it came one game after he grabbed a career-high 20 rebounds. Still, his season ended after just 21 games and averages of 11.1 points and 8.5 rebounds per game. At the end of this past season, the Trail Blazers declined to pick up the option on Oden's contract, making him the first overall selection not to receive an extension since Kwame Brown. Making matters worse for the Blazers is the fact they went back and forth on whom to draft in '07 -- Oden, or forward Kevin Durant. As you know, Durant has been a George Gervin-like scoring machine, having led the Oklahoma City Thunder to the most recent Finals. Meanwhile, Oden confessed he once struggled with alcohol and conceded his NBA days may be over. He said as much to his agent, Mike Conley Sr., the father of Memphis point guard Mike Conley Jr., who played alongside Oden at Ohio State. "I would love to play in 2012-13, but I'm not going to rush anything," Oden told the Tribune-Star. "I need to take a year off. What I told was Look, I want to get back with a team. I want to play. If there's a chance that later on in the year, if I feel good or if I'm healthy enough to play, I would love to play this year.'" Today, Oden is back at Ohio State, pursuing a degree in sports and leisure. It's where he plans to remain unless the phone starts ringing with calls from the NBA. Those may or may not come, but one general manager told FOX Sports Ohio that, eventually, someone somewhere will take a stab at the big man. The GM listed teams with an abundance of salary cap room, such as Atlanta, Cleveland or Phoenix, as potential Oden suitors toward or at the end of the season. But, the GM stressed, even that's a bit of a reach. "Who knows, maybe he has something left," the GM said. "There was obviously something there to begin with. I would think that would be worth a minimum (contract). Then again, he's suffered so many (injuries), you have to be in a position to take on a major risk. Not many teams want to put themselves in that position." Oden is certainly open to trying it again. And he's under no illusions that he'll have a say in where he ends up, a la LeBron James or Carmelo Anthony. "I'm not out there telling people I want to go to a certain team," he told the Tribune-Star. "I want to go to a place where I can get healthy and with somebody who can believe in me and my skills -- somewhere it could be a good fit for the both of us." But if the feeling isn't mutual, well, Oden said he's prepared for that, too. "If it happens, it happens," he said. "I've got to move on with my life. I know I want to play basketball. If I physically can't play, then I've got to move on. "I've still got to wake up tomorrow. I've still got to live. One day, I'm going to want a family and I've got to provide for them. So if basketball doesn't work out, you gotta keep it moving."
Original Story:
http://www.foxsportsohio.com/08/15/12...
THE BACKYARD
BEST OF MAXIM
RELATED ARTICLES
What should PDX expect next season? The Portland Trail Blazers spent nearly the past five months without a permanent head coach, but with the news that Terry Stotts has been hired this offseason, the team is finally ready to get past the summer and hit the court in 2013. We won't know exactly what this team is going to look like until the season tips off, but one thing we do know...
You may not yet be familiar with Will Barton (or maybe you watch college basketball, I don't know), the 40th overall pick of the Portland Trail Blazers, but the man has had himself a couple of moments this summer. Back in Vegas, balling alongside SL Co-MVP Damian Lillard, Barton averaged 15 points in 5 games and 4 starts for a Blazers team that went 4-1.  He exploded for a combined...
After earning the Las Vegas Summer League co-MVP honors, Portland Trail Blazers point guard Damian Lillard appears to have the talent to be one of the 2012-2013 season's top rookies. In order to try and project how Lillard might do, I've listed every point guard selected from the third through ninth picks over the past ten drafts. From those, I've narrowed the list...
When the news came down that Terry Stotts will be the next head coach for the Portland Trail Blazers, I was a little disappointed. I was hoping for Brian Shaw all along. When it came down the final 4 candidates, I was pulling for Caleb Kanales to get his first shot as a coach in this league. But all accounts are reporting that Kanales will remain on the staff and possibly be the...
When the Dwight Howard saga came to a merciful end last Friday after his trade to the Lakers, NBA fans in small markets rolled their collective eyes, and settled in for another big market championship that will almost assuredly take place next June. Blazers fans were in the mix, and it was made more painful that their bitter rivals to the south once again reaped the rewards of an...
NBA News

Delivered to your inbox

You'll also receive Yardbarker's daily Top 10, featuring the best sports stories from around the web. Customize your newsletter to get articles on your favorite sports and teams. And the best part? It's free!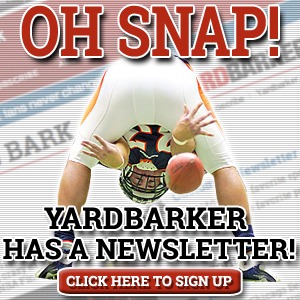 Latest Rumors
The Backyard

Today's Best Stuff

For Bloggers

Join the Yardbarker Network for more promotion, traffic, and money.

Company Info

Help

What is Yardbarker?

Yardbarker is the largest network of sports blogs and pro athlete blogs on the web. This site is the hub of the Yardbarker Network, where our editors and algorithms curate the best sports content from our network and beyond.