Found November 18, 2012 on Fox Sports North:
PLAYERS:
Ekpe Udoh
,
Scott Skiles
,
Brandon Jennings
,
Blake Griffin
,
James Harden
,
Ricky Rubio
,
Danny Granger
,
Larry Sanders
,
Monta Ellis
,
Kendrick Perkins
,
Zach Randolph
,
Kevin Durant
,
Russell Westbrook
,
Kevin Martin
,
Mikhail Prokhorov
,
Royce White
,
Eric Bledsoe
,
Jamal Crawford
,
Jeff Green
,
Andrew Bynum
,
LeBron James
,
Rajon Rondo
,
Magic Johnson
,
Andrei Kirilenko
,
Gregg Popovich
,
Phil Jackson
,
Scott Brooks
,
Brandon Roy
,
Kevin Love
,
Luke Ridnour
,
Rick Adelman
,
Martell Webster
TEAMS:
Milwaukee Bucks
,
Los Angeles Clippers
,
Houston Rockets
,
Minnesota Timberwolves
,
Indiana Pacers
,
Oklahoma City Thunder
,
Memphis Grizzlies
,
Brooklyn Nets
,
Boston Celtics
,
Philadelphia 76ers
,
Miami Heat
,
Portland Trail Blazers
After Wednesday's Bucks win over the Pacers, Ekpe Udoh walked through the locker room at the Bradley Center yelling something only a player on a surprise team expected to be the blandest of non-contenders this season would yell after his fifth win in seven tries. "It's a great time to be a Milwaukee Buck!" What's even wilder about the fact that those words were being yelled is the realization that they're true. And might remain true. The yelling didn't jinx coach Scott Skiles and company; the Bucks followed up Wednesday's win with another over the Hornets on Saturday night. They wrapped up the week with a 6-2 record, good for third-best in the Eastern Conference and best in the Central Division, and they're the truest form of an underdog story, a small-market team being led by a snubbed point guard. You almost have to wonder in some twisted way if this isn't what Bucks brass were intending when they denied Brandon Jennings a contract extension before the season began. Jennings has played out of his mind since, calling this season an audition for the Bucks and other teams. Through eight contests, he's averaging 17.5 points, 8.0 assists and 3.0 rebounds, and he's already talking a big game; since the season began, he's said he wants to be at the top of his draft class (2009, the one that includes Blake Griffin, James Harden and Ricky Rubio), and he approaches tough matchups as games against players with whom he's competing for an All-Star spot. The kid is thinking big. Maybe it's too big, but it could be what Milwaukee needs. Not only is something clicking, but it's also clicking at the right time. With Derrick Rose and Danny Granger both out for the foreseeable future, the Bucks' division is wide open, and it's hard to imagine the Cavaliers or Pistons staking their claim to the top of the heap. So yes, thanks to Jennings, Larry Sanders, Monta Ellis, Skiles, even the team's bench, it is a great time to be a Milwaukee Buck. Perhaps the greatest time since 2001. The talent is there, as is the opportunity. The challenge will be to establish that maybe they're not exceeding expectations. That maybe this should be the expectation. Fightin' words We'll never know what went on behind the scenes after Kendrick Perkins and Zach Randolph were ejected during the fourth quarter of Wednesday's Thunder-Grizzlies game in Oklahoma City. What we do know is that the two exchanged words on the court and were ejected, that something transpired in the tunnel. Some reports say there were loud noises, as if the two were fighting, while others say they were simply exchanging words (and profanities). Police officers separated the two, according to The Oklahoman, but reports of a police investigation are now being denied. Oh, and the NBA is also investigating? Whatever. Here's what I love about this, regardless of what did or didn't happen: the rivalry. No, I don't condone fighting or profanity-laced soliloquies. Not one bit. But there's a big part of me that thinks that the sentiment at the root of this is great for the game. Certain players and teams should hate each other. They should want to win as badly as these two do. They should feed off past matchups and grievances and talk smack. They shouldn't get ejected. Police shouldn't get involved. But thank you, Perk and Z-Bo, for reminding us all that we don't all necessarily have to hold hands and get along. The beard-less Can we all stop talking about James Harden in Houston and how Kevin Durant is a saint and how volatile Russell Westbrook is for one quick second? Let's take a breather and note that Oklahoma City is, thanks to a rough week for the Timberwolves, back on top of the Northwest Division. (Did you ever think you'd see that sentence in print?) And let's also pause to reflect on Kevin Martin, the beardless, unheralded replacement for Harden in Oklahoma City. Through 11 games, the Thunder's new sixth man is averaging 17.6 points, 2.9 rebounds and 2.3 assists. They're not Harden-esque numbers, but they're plenty solid. Sure, Martin might need a bit more help finding his shots, but he's scored fewer than 10 points just once this season. Martin has similar numbers to the ones he put up in many recent seasons, which would not be news except for the fact that in recent seasons, he started and was one of the main foci of his team's offense. The Thunder knew that they weren't going to get an equal of Harden in the trade. That was the point, to dump his future salary for something comparable, and Martin has been comparable. Now, the challenge will be to integrate him into the Thunder's system, and that has been a work in process. Trending up The Nets, who started off the season shaky, losing back-to-back to Minnesota and Miami, have gone on a five-game winning streak since. Granted, they haven't really played anyone in that time, and they might be the NBA team most devoid of a personality, but they've still built up a 6-2 record, second only to the Knicks in their division. This isn't their championship year, no matter what owner Mikhail Prokhorov might say, but the Nets are at least looking like a playoff team, which is a step in the right direction. Trending down Disgruntled rookie Royce White, who's refused to comply with the Rockets' demands for a week, told ESPN Saturday that he's planning to meet with Houston general manager Daryl Morey on Monday. This marks the first development in the rookie's saga that actually seems to make sense. His anxiety disorder is a touchy issue, of course, and there's a delicate line between respecting a disease and honoring a contract (and the millions of dollars involved in said contract). Neither White nor the team is doing itself any favors in this tug-of-war; White needs to learn that Twitter is not the place to air his grievances, even if he's advocating awareness of anxiety disorders, and the Rockets should have had a better plan in place long before this breakdown. Best of the week Team: The Grizzlies, who went 3-0, following up a big Sunday win over the Heat with a 10-point victories over the Thunder on Monday and the Knicks on Wednesday. They capped it off with a win over Charlotte, because why not beat a mediocre team, too, while they're at it? With an 8-1 record, the Grizzlies have the best mark in the NBA, and they haven't lost since opening night against the Clippers. Player: Randolph, ejection aside, has been lights-out on the court lately. In all nine games this season he's had a double-double, and in three games this week he averaged 19.3 points and 12.7 rebounds, shooting 55 percent from the field. Nickname: Baby LeBron, a.k.a. Clippers guard Eric Bledsoe. King James himself acknowledged the moniker after the Heat lost, 107-100, to the Clippers on Wednesday, but its genesis goes further back; Jamal Crawford started calling Bledsoe "Mini-LeBron" earlier this season. Worst of the week Team: The Wizards, who fell to 0-8 and are now the only winless team in the league. In a division with the Bobcats and the now-hapless Magic, they've separated themselves from the pack in the worst possible way, but with those Bobcats and the Pacers both on tap this week, maybe they can get their first W of the year, albeit three weeks in. Player: I've got to give this one to Boston forward Jeff Green, who after an amazing preseason has settled comfortably into a regular-season funk. You've got to cut the guy some slack -- he missed a full season with an aortic aneurysm, and he did have an explosive dunk Wednesday -- but overall, he's been wildly inconsistent and not sufficiently aggressive. Now that we've seen what Green might be able to do, we want more, and so far, he's fallen short. Injury excuse: Andrew Bynum suffered his recent setback in returning from knee problems while bowling. Yes. Bowling. Maybe he's getting his hair tips from a new buddy at the lanes. Telling stats of the week 11 games, 20-plus points: For the first time in his 10-year career, Miami's LeBron James scored at least 20 points in the first 11 games of his season (and counting). Before this year, he'd never had a season-opening streak of more than seven games with 20 or more points, which is somewhat surprising, and that seven-game streak came in just his second year in the league. 34 games, 10-plus assists: It took Celtics point guard Rajon Rondo until the last 22 seconds of Monday's game to keep the streak alive, but he's now logged 10 or more assists in 34 consecutive games. It's the third-longest such streak in NBA history; John Stockton had 37, Magic Johnson 46. 14.1 points, 8.3 rebounds, 3.1 assists, 2.2 blocked shots: Andrei Kirilenko's averages for the Timberwolves this season, making him one of the most complete players in the league a year after he sat out the lockout season and played in Russia. What we heard "I did have kind of a strange thought. I just had this thought that it was like putting the Soviet Union back together again. Let's go get Putin and put it all back together. Because I'm a strange person, that all went through my head." Spurs coach Gregg Popovich on Tuesday, discussing his reaction to rumors that the Lakers had hired Phil Jackson. "He doesn't comb his hair, very rarely washes his face when he wakes up. He just comes in and gets into the gym and gets his work in. He's so consistent and I admire that in him." Thunder coach Scott Brooks on Kevin Durant's work ethic and questionable hygiene habits. "There's a lot of bluffing going on on the court, that's all. And I don't bluff." The Grizzlies' Zach Randolph on the on-court altercation that got he and the Thunder's Kendrick Perkins ejected Wednesday. What's ahead Timberwolves at Trail Blazers, 10 p.m. ET, Friday: There are far too many connections between these two teams for this one not to be fun. Most recently it was July's Nicolas Batum-apalooza, in which the swingman played both teams for a massive contract and left a bad taste in the Timberwolves' mouths. But it goes further back than that: there's also all this on the Minnesota side: Brandon Roy (former Blazers star who was amnestied in 2011), Kevin Love (grew up in the Portland area), Luke Ridnour (played collegiately at Oregon) and Rick Adelman (coached the Blazers as his first full-time NBA gig). Oh, and there's still that residual bad blood about Martell Webster's back. Black Friday, indeed. Follow Joan Niesen on Twitter.
Original Story:
http://www.foxsportsnorth.com/11/18/1...
THE BACKYARD
BEST OF MAXIM
RELATED ARTICLES
Milwaukee Bucks point guard Brandon Jennings has a point to prove this season. After the team opted not to extend his contract – making him a free agent next summer – Jennings has said he'll spend this season auditioning for the league. The Bucks are currently in Miami to face off against the Heat but [...]
What's wrong with Ersan Ilaysova? Ersan Ilyasova broke out in the second half of the 2011-2012 season, averaging 16.1 points, 9.1 rebounds, 1.1 treys, 0.8 steals and 0.8 blocks over the final 28 games of the regular season. As a result, he was highly targeted in drafts this year, usually being selected in the fourth or fifth round. Even without getting much of a discount...
Saturday, the Milwaukee Bucks got away with one. At least that's how Scott Skiles felt. The Bucks didn't show up on the defensive end, but were able to score and make one big play in the end to win. Against Charlotte on Monday, it was more of the same. The result appeared as if it was going to be the same, too, as Milwaukee built an 11-point lead in the fourth quarter by...
MILWAUKEE -- Mike Dunleavy called it an old Western Conference shootout. Scott Skiles said his team's defense was "embarrassingly bad." But in the end, it was a defensive play that proved pivotal. With the Bucks up 114-110 with 18 seconds left, Bucks forward Larry Sanderswent up with Hornets forward Ryan Anderson and stuffed him, an incredibly tough play to make without...
The Bucks Larry Sanders is becoming a very special player. Think Rodman.  Seriously.  Plenty of tats too. People it's time to jump on the empty bandwagon and get to know your Bucks. I was at the game Saturday night and truly loved it (weird right?) First, for any of you with A.D.D. the NBA feeds your addiction.  I literally missed a key last possession because I was watching...
While Chicago and Indiana try to overcome injuries to their top players, the Milwaukee Bucks have gotten out to the early lead in the Central Division. They'll look to get off to their best eight-game start in 11 years by earning just their second victory in the last 13 meetings with the visiting New Orleans Hornets on Saturday night. Milwaukee (5-2) had one of its better performances...
Monta Ellis scored six of his 22 points in the final 2 minutes to help the Milwaukee Bucks hold off the New Orleans Hornets 117-113 on Saturday night. Brandon Jennings also had 22 points, and Mike Dunleavy added 17 for Milwaukee, 6-2 in its best start since opening 9-1 in 2001-02. Top overall draft pick Anthony Davis had a season-high 28 points and tied his season high with 11...
MILWAUKEE (AP) -- Monta Ellis scored six of his 22 points in the final 2 minutes to help the Milwaukee Bucks hold off the New Orleans Hornets 117-113 on Saturday night. Brandon Jennings also had 22 points, and Mike Dunleavy added 17 for Milwaukee, 6-2 in its best start since opening 9-1 in 2001-02. Top overall draft pick Anthony Davis had a season-high 28 points and tied his season...
MILWAUKEE -- On a night when the Milwaukee Bucks put forth one of their best offensive efforts of the season in a 117-113 over the New Orleans Hornets, Bucks head coach Scott Skiles was less than pleased with his team's defensive effort. Or, in his opinion, lack thereof. "Our defense was embarrassingly bad, pretty much from start to finish," Skiles said. "We...
A matchup between the Milwaukee Bucks and Charlotte Bobcats looks a lot more intriguing than it did a year ago. Two of the league's more surprising teams go head to head on Monday night as the Bucks visit the Bobcats looking for their first 4-0 road start in 11 years. These clubs were a combined 56 games under .500 last season, with Charlotte finishing an all-time worst 7-59...
The Honeybees The Milwaukee Bucks moved to 6-2 Saturday night with a 117-113 defeat of the New Orleans Hornets. It wasn't a stellar defensive effort for the Bucks, but Jennings and Ellis each put up 22 points and 9 assists, and it was enough for the Buckies to get the victory. Larry Sanders had a huge block late in the 4th quarter to help seal the victory. Jennings and Ellis...
The Milwaukee Bucks let one slip away Monday night, losing to the Charlotte Bobcats 102-98. This game was all about the guard matchups, with several of the quickest guards in the league meeting up – Jennings/Ellis v Kemba Walker/Ramon Sessions. Initially, the Bobcats combo got the best of the Bucks, with Walker shooting 6/6 in the first half and Sessions contributing 8 points...
NBA News

Delivered to your inbox

You'll also receive Yardbarker's daily Top 10, featuring the best sports stories from around the web. Customize your newsletter to get articles on your favorite sports and teams. And the best part? It's free!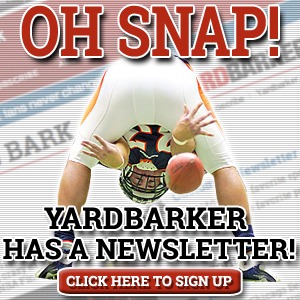 Latest Rumors
The Backyard

Today's Best Stuff

For Bloggers

Join the Yardbarker Network for more promotion, traffic, and money.

Company Info

Help

What is Yardbarker?

Yardbarker is the largest network of sports blogs and pro athlete blogs on the web. This site is the hub of the Yardbarker Network, where our editors and algorithms curate the best sports content from our network and beyond.