Found May 29, 2012 on Fox Sports West:
Pau Gasol laughed with a tone that suggested both amusement and annoyance. A little over a week removed from the Lakers' early playoff exit in the Western Conferense semifinals, and the team's forward is already finding himself the subject of trade rumors. This time it didn't involve the Lakers shopping him around with other teams. Bulls.com's Sam Smith quoted "Laker insiders" who said "Gasol would like to play for the Bulls." That contradicts the endless statements Gasol has made that he'd like to remain a Laker. He reiterated that stance again Tuesday during a visit at Children's Hospital Los Angeles. "My position is still the same," Gasol told The Times. "I still would love to be a part of the Lakers and continue to be here to help the team win more championships as soon as possible. It's out of my control and it's out of my hands, no matter what." Kupchak offered no assurances to Gasol and reporters at last week's exit interview that Gasol will remain with the Lakers, and suggested the team might use his him as their main trading chip. His two-year, 38-million contract hardly looks attractive for a team suddenly wanting to reduce payroll to avoid the harsher luxury-tax penalties resulting from the new collective bargaining agreement. His career-low 17.4 points per game this season and his 12.4-point average in the playoffs sparked to debate on whether Gasol didn't play effectively enough in a reduced role or if the Lakers simply misused his talent. (I've argued the latter). But as far as dealing Gasol to Chicago? That sparks plenty of skepticism, considering it would probably require the Lakers to acquire Carlos Boozer, who plays inconsistent defense and has an unattractive contract worth 47 million. That's why Smith spent most of his article discussing how the Lakers and Bulls could make a deal involving Gasol and Bulls All-Star small forward Luol Deng (earning 12 million) as the deal's centerpiece. "I don't know where that came from," Gasol said. "It's pointless to really worry about it. I'm totally cool with it, whatever they say. The stories will appear and then disappear on something that does or doesn't happen again. It sucks to be in that position, but it is what it is." Gasol has had plenty of experience handling that this season. The Lakers originally traded him to the Houston Rockets in a deal that would've landed them Chris Paul, but the NBA rejected the deal. Gasol spent all of training camp whether each practice marked his last day as a Laker. As the March 15 trade deadline approached, he wondered if his Lakers days were numbered. And he sounded resigned to experiencing another round of breathless reports linking him in trade possibilities. It apparently has already started. "There's a lot of rumors," Gasol said. "Different rumors, all kinds of rumors. Once the NBA draft gets closer on June 28, all kinds of stuff still again will come up." --Mark Medina
Original Story:
http://www.foxsportswest.com/05/29/12...
THE BACKYARD
BEST OF MAXIM
RELATED ARTICLES
GRASS IS ALWAYS GREENER
A report on Bulls.com indicates that according to Lakers insiders, Pau Gasol reportedly wouldn't mind a change of scenery and would like to go to Chicago and play for the Bulls.
  Much like all the Pau Gasol trade rumors of yesteryear, it's going to be much the same during this off-season. Here's another fun rumor that comes from Bulls.com Sam Smith: The interesting part, according to Lakers' insiders, is Gasol would like to play for the Bulls. And what you hardly need any sources for is [...]
It's not even the NBA offseason yet, but we already have our first crazy rumor. Sam Smith of Bulls.com reports that, according to Lakers insiders, Pau Gasol would like to play for the Chicago Bulls. Smith reported the rumor in an article in which he discusses Chicago's offseason plans. He said that Gasol and Kobe Bryant were constantly at odds this season, and that they ...
The reality show surrounding the Lakers is always captivating. The Lakers' front office is looking to make roster changes. Kobe Bryant is wondering if he'll ever win his sixth NBA championship. Pau Gasol is worrying whether he'll remain a Laker. Andrew Bynum is noticing the angst on whether he will fully mature. Metta World Peace is thriving on acting goofy. The Lakers...
Hannah Storm of ESPN did an in-depth interview with Kobe Bryant which was featured on a show called "Face to Face."In the interview, Storm asked Bryant about his early days as a teenager playing for the Lakers, his crazy work ethic, and helping the homeless near the STAPLES Center. Bryant also talked about how when he was a kid in Philly, he would play pick-up ball all...
Derrick Rose previously said that he would love for Pau Gasol to join him on the Bulls. And if you want to believe the Bulls' own website, Gasol, probably on his way out of Los Angeles, doesn't think that's such a bad idea, either. Here's Bulls.com: The interesting part, according to Lakers' insiders, is Gasol would like to play for the Bulls. And what you hardly need any...
IT'S A BIRD, IT'S A PLANE...
Have no fear, Metta Man is here! Just when you though you knew everything about both Ron Artest and Metta World Peace, the Los Angeles Lakers forward debuted his superhero alter ego, Metta Man. "Armed with a 40 pound Curling Stone, Metta World Peace transforms into Metta Man™ to complete a backboard shattering triple slam dunk after a wild free fall skateboard ride through...
Yesterday, Los Angeles Lakers star Metta World Peace decided to wish everyone a "Happy Labor Day" on Twitter.The only issue for Metta was yesterday was Memorial Day and it only provided us with this classic flip-flop on Twitter:
NBA News

Delivered to your inbox

You'll also receive Yardbarker's daily Top 10, featuring the best sports stories from around the web. Customize your newsletter to get articles on your favorite sports and teams. And the best part? It's free!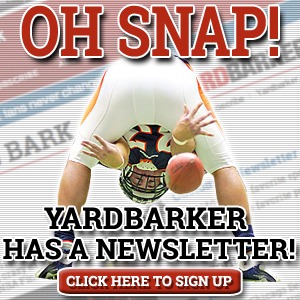 Latest Rumors
The Backyard

Today's Best Stuff

For Bloggers

Join the Yardbarker Network for more promotion, traffic, and money.

Company Info

Help

What is Yardbarker?

Yardbarker is the largest network of sports blogs and pro athlete blogs on the web. This site is the hub of the Yardbarker Network, where our editors and algorithms curate the best sports content from our network and beyond.