(6) GS Warriors vs (3) Denver Nuggets AccuScore Preview Data being processed by simulations, info to come asap. Appetizer 18.5 pts & 11.2 rebounds. That's only the beginning of what the Warriors will be losing with the season-ending injury of David Lee who tore his right hip flexor in game one. According to Dan Feldman of NBC Sports, Lee's presence on the floor has a direct correrlation to how the Warriors play: "With him on the court, they outscore opponents by 3.1 points per 100 possessions, best among the team's rotation players. With him on the bench, they're outscored by 2.4 points per 100 possessions, worst on the team." Can the likes of Bogut, Landry, and Draymond Green collectively pick up the slack? The magic 8-ball seems to think that's 'unlikely'. Main Course Let's be honest – both teams played sub-par in game one. The Warriors saw Stephen Curry miss shot after shot (he did make a big three near the end though), and the Nuggets weren't able to get out in transition and saw their own offense slow down too often. Fans can expect a higher-paced game two. Let's start with Steph Curry. He cannot start game two by missing his first nine shots like he did in game one. And I would bet a lot of money that he doesn't do that again. I expect him to come out strong, knowing that his team needs even more offense with the untimely Lee injury. The Nuggets will start the game off by putting Ty Lawson on Curry, and will cycle through Iguodala, Fournier, and Wilson Chandler on him throughout the game. What this does for Denver is not put any added pressure on just one player to guard Curry; it becomes a collective effort. With that said, Curry needs to adjust his game accordingly. When it's Lawson (and even Fournier), Curry has to get shots up. Anyone else, he has to drive and dish. He's still new to playoff basketball, and will improve as he gets more games under his belt. Being able to read the defense and take advantage is what makes you a vet – just look at Andre Miller. Speaking of Dre, he won't score 28 points again. His scoring outburst, however, did expose a flaw in the W's defense. With Denver being one of the worst three-point shooting teams in the league, the Warriors decided to employ the zone in game one. Good, smart move. But, when Denver moved all its players (minus ball handler) to the wings and baseline corners, the Warriors shifted their zone out even further, opening up more space in the middle. This ultimately gave Miller more room to operate. As we saw in the final play of the game, the Warriors weren't in position to help the drive quickly enough. Not-So-Fun Fact: David Lee is a focal point in 13 of the his team's18 most-used lineups. Four of the five lineups without him have been absolutely horrible, being outscored by 10.9, 19.1, 16.8 and 16.2 points per 100 possessions in all four. The fifth lineup without him includes Biedrins and Jenkins (not on team anymore). Dessert Quite the turn of events – Lee is out and Kenneth Faried is in. The Nuggets missed 10 FTs, missed 13 three-pointers, were out-rebounded by 10, were out-assisted by 11 … and they still won. With Lee out, the Warriors won't have as easy of a time forcing the Nuggets to play in half-court sets and I expect this game to go much more smoothly for the Nuggets than game one did (even though they did win). Game Prediction The Warriors weren't going to win this game with or without David Lee. His impact is much more relevant to the remainder of the series, especially games 3 & 4 at home in Oakland. Some outside shooting will keep this game within striking distance, but it won't be a finish ala game one. Nuggets 99 Warriors 91
Original Story:
http://mettachronicles.com/golden-sta...
MORE FROM YARDBARKER
NBA News

Delivered to your inbox

You'll also receive Yardbarker's daily Top 10, featuring the best sports stories from around the web. Customize your newsletter to get articles on your favorite sports and teams. And the best part? It's free!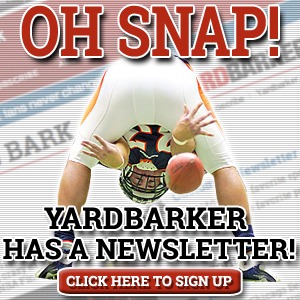 Latest Rumors
Best of Yardbarker

Today's Best Stuff

For Bloggers

Join the Yardbarker Network for more promotion, traffic, and money.

Company Info

Help

What is Yardbarker?

Yardbarker is the largest network of sports blogs and pro athlete blogs on the web. This site is the hub of the Yardbarker Network, where our editors and algorithms curate the best sports content from our network and beyond.