Found February 16, 2012 on Fox Sports Wisconsin:
MILWAUKEE When Andrew Bogut saw his season put on hold with a broken ankle, the Bucks had no choice but to turn to Drew Gooden to fill the void at starting center. He's struggled in his last two games, (7-of-27 from the field, 23 points, 12 rebounds) but overall, Gooden has provided adequate coverage in the low post, despite being undersized and often seemingly overmatched. In the 13 games since Bogut went down with his injury in Milwaukee's 105-99 victory at Houston Jan. 25, Gooden has averaged 17.4 points and 7 rebounds. He's scored 20 points or more six times and only once finished in single-digit scoring. In all, Gooden has appeared in 27 of the Bucks' 29 games this season, making 17 starts. He's averaging 12.7 points and 6.1 rebounds per game while shooting 43.3 percent from the field. That's more the kind of production the Bucks had in mind when they signed Gooden to a five-year, 32 million contract before last season. The 30-year-old has played for nine teams during his nine-year career, but found a chance to settle down in Milwaukee, where he didn't get off to a particularly memorable start, missing a majority of the season while dealing with plantar fasciitis in his left foot. Still, when Gooden was in the lineup (35 games, 18 starts), his averages of 11.3 points and 6.8 rebounds were very close to his career averages of 11.9 and 7.7. The foot still bothers Gooden, 30, at times, but the difference between last year and this year is night and day. "It still bothers me a little," Gooden said. This is the NBA, though. The way I was feeling last year is nowhere near the way I'm feeling right now. Compared to last year, I feel better than 100 percent right now." Though far from the ideal option at the five, Gooden's versatility has been beneficial for the Bucks. Lacking the size of a traditional center, Gooden has the ability to move in and out of the lane, often drawing his defender to the perimeter. "One thing he does is provide, if you penetrate, a nice outlet," head coach Scott Skiles said. "When their bigs collapse, you can throw it back to him and he can knock down the shot or in some cases, take the ball, put it on the floor and either score or get fouled." Gooden was even effective against Orlando's Dwight Howard, one of the game's best big men. In the Bucks' 99-94 loss to the Magic Feb. 11, Gooden led Milwaukee with 21 points on 9-for-21 shooting and eight rebounds in 42 minutes. Howard, meanwhile, was essentially a non-factor in that contest, finishing with 11 points on 5-of-15 shooting but did manage to pull down 14 rebounds in 42 minutes. Moving to center full-time has taken some adjustment for Gooden, but hes found it to be helpful in improving his game, especially on the defensive end. I don't feel uncomfortable at all," Gooden said. If anything, it keeps me more alert defensively because I'm giving up height and size down there. I never really felt any different playing the power forward or center position. The guys I'm playing against and guarding, I've either played with them or against them on other teams at different times." His counterpart Wednesday, New Orleans Chirs Kamen, played with Gooden for a portion of the 2009-2010 season. Hes been impressed, though not surprised, with the way Gooden has handled the move to center. He does a lot of face-up stuff," Kaman said. He's crafty, he's got a lot of skills. He does a good job for them. They're definitely shorthand with Andrew being out but he's doing what he can." Goodens own teammates have taken notice of his recent production and even Bogut himself has been pleased with the way the veteran has stepped up in a difficult situation, during a difficult start to the season. Drews doing a good job out there," Bogut said. Hes played very, very well Hes a unique aspect to us. Hes a smaller center but he can shoot the ball. He provides a lot of spacing for our offense so it helps us out a little bit." Hes happy now for the opportunity to play extended minutes, but wishes it had come under better circumstances. Unfortunately, it came due to Andrew's injury," Gooden said. That was unfortunate. But I had to respond and adjust to a different role. Trying to produce in that nature, I think I've done somewhat OK." Follow Andrew Wagner on Twitter.
Original Story:
http://www.foxsportswisconsin.com/02/...
THE BACKYARD
BEST OF MAXIM
RELATED ARTICLES
ST. FRANCIS, Wis. Since Milwaukee Bucks coach Scott Skiles arrived in Milwaukee three-plus seasons ago, he has said that if his team's offense can consistently score in the mid- to upper 90s, his team will be in good shape. This assumes, of course, that Skiles' perennially stifling defense is playing up to its usual standards. Unfortunately for the Bucks, that hasn'...
MILWAUKEE The Milwaukee Bucks' resident trick-shot artist is at it again. Reserve forward Jon Brockman hasreleased his latest viral video, which includes shots from the Bradley Center balconies and catwalks and offvarious props like boxing gloves, wait trays and even a Segway scooter. Brockman follows each shot with his trademark, "That's how it's done." Some...
The Internet has seen a lot of trickshot videos from amateur hoopers from around the world, but Milwaukee Bucks forward Jon Brockman shows 'How it's done' with his latest video. Brockman pulls an assortment of creative shots out of his arsenal including: Mike Tyson-style where he punches the ball into the hoop with an oversized...Read the Rest...
Both of these videos have been being passed around the Internet today. First, the Bucks Jon Brockman wows us with a variety of trick shots. Just lighting up the Bradley Center from all angles. Second, we have a kid in the 90's showing a mini-hoop he means business. This is Jordan-like stuff from a basement. So my question is, which is more impressive? OR...I'll say one thing...
A sprained right wrist and soreness in his knees will keep Drew Gooden out of the lineup Friday when the Milwaukee Bucks face the Magic in Orlando. Head coach Scott Skiles told the Milwaukee Journal Sentinel that Gooden, who has been starting at center in place of Andrew Bogut, did not join the team on the trip to Orlando but might be able to join the team Sunday when it travels...
Bucks forward Jon Brockman might be better at trick shots than he is at actual basketball. As TBJ points out, he makes more shots in this video than he's made in games this season. But, sometimes, that's how it's done. [H/T TBJ]
Andrew Bogut is aiming to return from a fractured ankle by the end of this season.
The cold war between Stephen Jackson and his coach Scott Skiles continues to quietly rage on in Milwaukee, as the Bucks pray that they can find a trade partner prior to the deadline for the disgruntled forward. From the Journal Times: "After Stephen Jackson was benched for the second half of a game against Denver Jan. 17, I asked the Bucks veteran swingman whether he had any inkling...
The Milwaukee Bucks have lost four straight at home while the New Orleans Hornets have dropped six in a row on the road. One of those streaks will end Wednesday night in the lone meeting of 2011-12 between the Bucks and Hornets. Milwaukee (12-16), which fell 114-96 to Miami on Monday, last dropped five straight at home March 18-April 8, 2009. New Orleans (5-23) is beginning a...
For the first 42 minutes of Friday's game in Orlando, the Bucks were in control of the Magic. Playing without Drew Gooden due to a sprained right wrist and knee soreness, Milwaukee's group of undersized forwards did enough on All-Star center Dwight Howard to keep the Bucks in the lead since the early minutes of the game. However, Milwaukee did not score a single point over...
It's been a long time since the New Orleans Hornets have been able to string back-to-back wins together. Tonight, they get a chance to do just that when they visit the Milwaukee Bucks in the first of a six-game stretch away from home.
NBA News

Delivered to your inbox

You'll also receive Yardbarker's daily Top 10, featuring the best sports stories from around the web. Customize your newsletter to get articles on your favorite sports and teams. And the best part? It's free!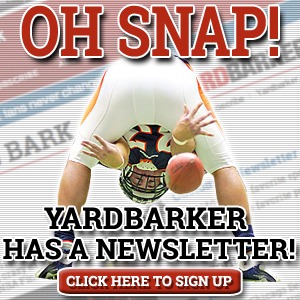 Latest Rumors
The Backyard

Today's Best Stuff

For Bloggers

Join the Yardbarker Network for more promotion, traffic, and money.

Company Info

Help

What is Yardbarker?

Yardbarker is the largest network of sports blogs and pro athlete blogs on the web. This site is the hub of the Yardbarker Network, where our editors and algorithms curate the best sports content from our network and beyond.