Found May 09, 2012 on Los That Sports Blog:
Via Los That Sports Blog:
Former Portland Trail Blazers center Greg Oden has become more known for his laundry list of knee injuries than his play on the court since he was drafted first overall in 2007 (over 3-time scoring champ Kevin Durant). Outside of his injuries and one year college career at Ohio State, not much is known about the troubled 7-footer.
In a candid recent interview with Mark Titus from Grantland.com, Oden opens up about his life since he became a pro, including struggles with alcohol, depression and an offer to work in, wait for it, porn. Here are some key excerpts from the interview:
"For starters, Portland isn't a great city to live in if you're a young, African American male with a lot of money," Greg explained with an embarrassed grin. "But that's especially true if you don't have anybody to guide you. Since I was hurt the entire season, I was on my own a bunch and didn't have veteran teammates around to help me adapt to the NBA lifestyle."
Even while adjusting to the change in culture, Greg successfully rehabbed his knee and played in 61 games the following season, averaging nine points and seven rebounds in 21.5 minutes. He wasn't dominating like he had in high school and college, but he provided enough highlights to make Blazers fans feel optimistic about the team's future. It seemed to me while watching Greg on TV that he would be able to recover from his surgery and in a few years' time could be one of the premier big men in the NBA. But after longing for a veteran role model the previous season, Greg got exactly what he wanted in his second year, only the results were disastrous. That's because it wasn't an NBA veteran who took Greg under his wing in his second season — it was his veteran cousin from the Air Force who moved into Greg's house in Portland.
"If you know anything about guys in the Air Force," Greg explained, "it's that they drink a ton. My cousin got wrapped up in the NBA lifestyle and threw parties at my house all the time. So I got wrapped up in it too. When I played well, I'd drink to celebrate. And when I played poorly, I'd drink to forget. That second year in Portland I pretty much became an alcoholic."
The interview goes on to shed some light on Oden's leaked nude pictures from 2010:
Before too many Unbreakable jokes could be made about Greg's inability to stay healthy, however, even better material surfaced when nude pictures Greg had taken of himself in a mirror were leaked in January 2010.
After those pictures hit the Internet, Greg says he locked himself in his house for three straight days until Portland personnel knocked on his door and essentially dragged him to the gym for rehab. Going forward, he found it difficult to show his face in public, assuming everyone was thinking about the pictures and laughing to themselves.
"I wish it wouldn't have happened," he said. "But I'm not going to apologize for it. After all, I'm human and there are worse things that 21-year-olds could do. I just got caught up with women throwing themselves at me. When a girl sends me 100 pictures, I have to send something back every now and then. I'm not an *******."
Titus also made a note that, "According to (Oden), numerous porn companies called his agent and made offers after they saw the pictures."
The interview is an interesting read on a potential star that has since become an afterthought, if anything. Oden has said that he plans to spend the 2012-2013 season properly rehabbing his injuries before attempting to make a comeback for 2013-2014, which might be wise considering that he's only played in 82 of a potential 394 games since he was drafted.
We wish Oden nothing but the best of luck in his rehab(s). You can read the full interview here.
Also from Los That Sports Blog
Video: NBA star confronts cameraman following loss
Official Madden 2013 cover art revealed
Former Saints player makes shocking allegation
Original Story:
http://losthatsportsblog.com/2012/05/...
THE BACKYARD
BEST OF MAXIM
RELATED ARTICLES
Greg Oden's entire NBA career thus far, has been one seemingly never ending lowlight. One injury after another kept the former number one pick for the Portland Trailblazers off the NBA stage. In a recent interview Oden discussed the challenges he's faced being an almost-superstar. Alcohol addiction, depression and offers to undertake a second career in [...]
Former No. 1 overall pick Greg Oden opened up about alcohol abuse and told Grantland.com that he intends to sit out the 2012-13 season. Drafted in 2007, Oden has played in just 82 NBA games in five years with the Portland Trail Blazers, and hasn't appeared in a game since Dec. 2009. He's had five knee surgeries during his time in Portland, who released him in March. Oden...
Former No. 1 pick Greg Oden, regarded as one of the biggest draft busts in NBA history, has admitted he became an alcoholic during his second year in the league. In a wide-ranging interview with his former Ohio State teammate Mark Titus for the website Grantland, Oden also admitted it "sucked" seeing Kevin Durant succeed -- given the Oklahoma City star went at No. 2 in...
Ben Golliver at Blazers Edge chronicled Brandon Roy's recent comments regarding a possible comeback this week, and I can't help but read those soundbytes and hope for the best. Unfortunately, with respect to a return to the game he once played as well as anybody in the League, I fear the worst for Brandon. I'm not sure a comeback is possible at this point, but Roy did...
The Portland Trail Blazers' season is over and Nicolas Batum is trying to figure out where he will play next. He is a restricted free agent this summer and it had been reported San Antonio is interested in his services. In an interview with French site Basket Session, Batum affirmed his desire to join the Spurs next season but also stated he will look at other teams as well...
Eleventh in a series of installments documenting my failed political ambitions, my warped sensibilities, and my Portland Trail Blazers. Ah yes, the Ides of March: they came and went, and by the silhouette of Great Caesar's Ghost, the Trail Blazers were mired in a depressing, bloated funk. The sunny optimism of the early season's 7-2 start had quickly been chipped away with...
Unemployed free agent center Greg Oden told Mark Titus of Grantland he's battled alcoholism since being selected by the Portland Trail Blazers with the first overall pick in the 2007 NBA Draft out of The University of Ohio State. Oden, … Continue reading →
Greg Oden's game never lived up to the expectations he encountered in Portland, but his play on the court isn't what most fans should be disappointed with as the team moves past the Greg Oden era of Trail Blazers basketball. In 2007, when the Blazers selected Oden with the overall No. 1 pick in the NBA draft, they had officially left the Jail Blazers behind them, and the fans...
Paul Allen insists he's not going to sell the Portland Trail Blazers, but says this season is the most disappointing he's had in 24 years as the team's owner. The billionaire co-founder of Microsoft has posted an open letter to fans on the Blazers' team website. He reiterates what he's said all season long, that the team is not for sale. He says he has not received...
Portland Trail Blazers owner Paul Allen said he won't sell the team, but called the 2011-12 season the most disappointing he's had in 24 years as owner. In an open letter to fans on the Blazers' website, the billionaire co-founder of Microsoft reiterated that the team isn't for sale. He said he hasn't received or solicited any offers. "There could come...
Paul Allen insists he's not going to sell the Portland Trail Blazers, but says this season is the most disappointing he's had in 24 years as the team's owner. The billionaire co-founder of Microsoft has posted an open letter to fans on the Blazers' team website. He reiterates what he's said all season long, that the team is not for sale. He says he has not received...
Trail Blazers News

Delivered to your inbox

You'll also receive Yardbarker's daily Top 10, featuring the best sports stories from around the web. Customize your newsletter to get articles on your favorite sports and teams. And the best part? It's free!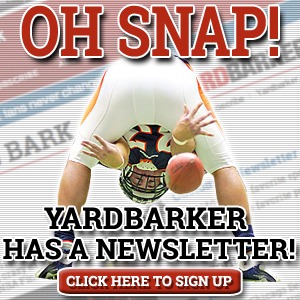 Latest Rumors
Best of Yardbarker

Today's Best Stuff

For Bloggers

Join the Yardbarker Network for more promotion, traffic, and money.

Company Info

Help

What is Yardbarker?

Yardbarker is the largest network of sports blogs and pro athlete blogs on the web. This site is the hub of the Yardbarker Network, where our editors and algorithms curate the best sports content from our network and beyond.