Found July 12, 2013 on Fox Sports Florida:
The Miami Heat have re-signed center Chris Andersen. They have until Wednesday to determine if they will use the amnesty clause to release a player.Then the next order of business appears to be going after free-agent center Greg Oden.Oden's agent, Mike Conley Sr., told FOX Sports Florida on Friday he plans soon to resume talks with Heat president Pat Riley after Riley has been taking care of other business. He said Oden, who hasn't played in an NBA game since December 2009 due to knee injuries, remains very interested in signing with Miami this summer and he believes the Heat want Oden."Obviously, they've got a need there," Conley said of a center. "It's a situation where they probably can't go out and get a top player (with the money they have), but they can take chance on somebody like Greg and his upside. The exposure (of playing for the Heat) would be good for Greg. He could work his way back into his game. I think Miami is a good situation."Other than being able to offer Oden a minimum deal, the Heat have their taxpayer mid-level exception available that starts at 3.183 million. Conley wouldn't speculate on whether that is what would be required to sign Oden, but he did say it's good the Andersen deal clears up what the Heat could pay."I think it obviously makes it easier because they know how much money they have available," Conley said of Andersen having signed a deal essentially for the minimum next year of 1.68 million while the Heat didn't use the taxpayer mid-level exception on him. We haven't been down that road yet but I anticipate we will be shortly."In addition to the Heat, teams in the mix for Oden, 25, include San Antonio, Boston and Charlotte. Conley confirmed Cleveland, once thought to be high on Oden's list, is out of the running after bringing in free-agent center Andrew Bynum.Riley two weeks ago confirmed the Heat's interest in Oden. He said Oden earlier this year had a "good two-day" visit with the team in Miami, although Conley didn't want to comment on it."We will explore that and see where it goes because of the possibilities," Riley had said about Oden, who has been plagued by knee problems since being the NBA's No. 1 draft pick in 2007. "I think he's such a young player and to be such a force, that you'd want to monitor him very closely."Conley said Oden continues to work out in his hometown of Indianapolis and in Columbus, Ohio, where he played at Ohio State."He's on schedule for that," Conley said of his belief Oden could be ready for the regular-season opener.Conley said Oden hasn't worked out for any teams yet this summer but soon could do so. However, he said Oden won't be able to do any contact drills until later in the summer."It depends on the team," Conley said about whether Oden's inability to do any contact work until then would delay how long it might take him to sign.Before getting to Oden, the Heat must decide whether they will use the amnesty rule before Wednesday. If not utilized by then, it would not be available again until next July.The rule allows a one-time chance for a team to waive a player and not have to pay luxury tax on him. There continues to be speculation guard Mike Miller, due 12.8 million over the next two seasons, could be let go. The Heat would save more than 20 million on such a deal due to a more punitive luxury tax entering the NBA next season and then continuing to increase.Riley said two weeks ago he wants to keep Miller and only wouldn't if a "mandate" came from owner Micky Arison.Whenever that situation is settled, it appears Miami's next order of business will be going after Oden.Chris Tomasson can be reached at christomasson@hotmail.com or on Twitter@christomasson
Original Story:
http://www.foxsportsflorida.com/nba/m...
THE BACKYARD
BEST OF MAXIM
RELATED ARTICLES
HE'S A BELIEBER
The 'Greg Oden looks like he's 50′ jokes will never get old. HA! That's funny, too. But one has to imagine that the bulk of the kids attending the recent Justin Bieber concert in Indianapolis probably were a bit skeeved out when they saw the 7 footer rocking out alongside them. No serious, he was. Greg Oden is at the Justin Bieber concert in Indy lolllllllll pic.twitter.com...
It's 30,000 sq. ft., has six bedrooms, 11 bathrooms has a two-story master closet and has an estimated value of $9,200,000 because it's located in Akron, Ohio. LeBron James calls it home. It's where he summers. Yesterday, King tweeted out …
Pat Riley wants to keep the nucleus of the Miami Heat together despite looming luxury taxes coming next season. "I want to try to keep this team intact as long as we can, because we have a championship basketball team here," Riley said. "I would hate to break any part of it up, that is productive and leads to winning." Riley said the Heat have no immediate plan...
Summer League may not fit everyone's NBA palate, but it does give basketball enthusiasts, like myself, a better view of young basketball players that we may have not observed as much in their earlier basketball ventures.  This video of Miami Heat's Eric Griffin coming out of nowhere with a blaze of glory to put Detroit [...]The post Miami Heat's Eric Griffin dunks all over...
The legal battle between Dwyane Wade and his ex-wife, Siohvaughn Funches continues on. During the finals it was revealed that Funches' lawyers wanted to chat with Pat Riley about Dwyane's income. Now comes another lawsuit were Siohvaughn is alleging Dwyane owes her $1 million from his past endorsements and Heat contract. Siohvaughn is suing her former husband, his attorney...
Greg Oden and his agent, Mike Conley, plan to soon resume contract talks with the Miami Heat. Conley believes the Heat are intrigued by the possibility of adding Oden. "Obviously, they've got a need there," Conley said of a center. "It's a situation where they probably can't go out and get a top player (with the money they have), but they can take chance...
Rajon Rondo was asked at his basketball camp in Kentucky Thursday if he'd ever consider joining the Heat. His answer was simple, "I will never play for the Miami Heat," said the Celtics guard to the delight of the crowd. Rajon Rondo tells campers "I will never play for the Miami #Heat" pic.twitter.com/pg4PKzGn00 — John Lewis (@JohnLewisTweets) July 11, 2013 h/t Celtics Life
(via Getty Image)Further establishing himself among the ranks of other NBA players, both great and meaningless, who have turned to rapping as a second or third career, LeBron James posted two short clips of his new rap effort to Instagram video yesterday. And, like any amateur rapper before him, he just borrowed someone else's beats and laid his own lyrics over it, before Tweeting...
For now, the prospects of paying a big luxury-tax bill next year is not enough to dissuade the Miami Heat from its plan to keep the its current championship core intact.
After a six-month stay in Miami, Birdman has decided to keep his nest in South Beach for another year. The Miami Heat announced Wednesday that they have re-signed Chris Andersen to a one-year contract, according to the team's press release. Per club policy, details of the contract were not released. Andersen joined the Heat on January 20 after signing a 10-day contract. He then re...
Chris Andersen is returning to the NBA champion Miami Heat, and at a bargain price. Andersen signed a $1.7 million, one-year deal Wednesday, becoming the latest in a long line of current Heat players who were willing to sacrifice some salary. LeBron James, Dwyane Wade, Chris Bosh, Udonis Haslem, Shane Battier and Ray Allen are among those who could have gotten more money either...
Heat News

Delivered to your inbox

You'll also receive Yardbarker's daily Top 10, featuring the best sports stories from around the web. Customize your newsletter to get articles on your favorite sports and teams. And the best part? It's free!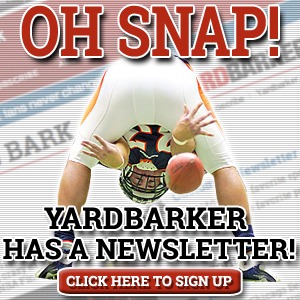 Latest Rumors
The Backyard

Today's Best Stuff

For Bloggers

Join the Yardbarker Network for more promotion, traffic, and money.

Company Info

Help

What is Yardbarker?

Yardbarker is the largest network of sports blogs and pro athlete blogs on the web. This site is the hub of the Yardbarker Network, where our editors and algorithms curate the best sports content from our network and beyond.