Found September 29, 2012 on Fox Sports West:
PLAYA VISTA, CA -- The Los Angeles Clippers held their 2012 Media Day at their practice facility across town from their home court at Staples Center. In the past, the Clips would draw anywhere from 30 to 50 members of the local media -- and that was considered an exceptional turnout. As of Thursday, the bar had been raised considerably. More than 150 reporters -- local, national and global -- filled the state-of-the-art facility to talk with a team that many feel will challenge Oklahoma City, San Antonio and the Lakers for superiority in the NBA's Western Conference. Last year, the Clippers finished one game behind the first-place Lakers in the Pacific Division, then fought through a series of injuries to Blake Griffin, Chauncey Billups and Chris Paul to pull out an exciting seven-game playoff win over Memphis in the first round of the playoffs. The final game win came on the Grizz' home floor, with Griffin and Billups struggling to even suit up due to injuries. But they showed the heart and grit to compete at the highest level and move on to the second round, where they were beaten by a better San Antonio team. Griffin and Paul both moved on to the U.S. Olympic team, where the injury spate continued. After being told he'd made the squad, Griffin proceeded to tear cartilage in his left knee, undergoing surgery on July 16. CP3 came back with a gold medal -- and a torn ligament in his right thumb. He went under the scalpel on August 21, and is still unable to participate in contact drills. The Clippers' medical staff says that should end sometime in the next two weeks. And the club is still dealing with the devastating left Achilles tendon suffered last February by Billups, their on-court and emotional leader. He's able to play in limited team drills, but his return to NBA competition is on hold. During the media day interviews, each of the walking wounded talked about their recoveries and how anxious they were to get back to no-limit game participation. Billups, smiling as always, is hoping that he will be ready for opening night. "Everything's good," the 36-year old guard said. "I've been working my tail off ever since I got hurt, and it's looking pretty promising right now. "It's a tough injury and a tough rehab, but as I said went I first went down, 'This is what I do.' I wasn't going to let anything stop me from getting back -- other than God saying that it's just over. Anything short of that, I was going to give it everything I have, and I did that. So far, it's going in the right direction and there have been no setbacks to slow me down. None. "I'm in shape and I feel good, but I'm not in basketball shape because I haven't played basketball. I'm going to listen to my body and when it tells me I'm OK to get back out there, I will. "I wish I could play opening night, but it's probably not going to happen. But I'm going to listen to my body and let it tell me, and who knows what will happen? I haven't set up any timetable to comeback, and some people I've heard say I wouldn't be back until January or February. I promise you, that's way off. I'll be back long before that." Griffin -- who has been cleared for full contact -- said that while he was recuperating from the knee surgery he was able to work extensively on his shooting. "I feel great," he said, "and I've been at 100 percent for quite a while now and have just been honing in on certain things I wanted to take care of. "I spent a lot of time working on my shot, changed some things up, and I hope to keep improving on those results. I'm not going to be a great shooter overnight, but I think I have the tools and I just have to keep practicing the right way. "I was really disappointed at having to miss the Olympics, but it gave me a chance to come back here, get things taken care of and working on things that will improve my game. "Everything was about my shot. (Shooting coach Bob Tate) and I just did some things to streamline it; be less error-prone. It's about making sure I'm doing the same thing every single time (I shoot the ball). It's been every single day, working with the same guy and doing the exact same things. "I feel great about the way things are right now. When I started out, the (new) motion was so foreign that it might be only three out of ten times that I was doing it right. Now it's to the point where it's almost ten out of ten -- at least nine out of ten. It's not that I'm making every shot, but the form is getting there. It's very encouraging, but I know I still have a long way to go. It's got to be one of those things that becomes muscle memory" It's been a strange off-season for CP3, who came home from London carrying a gold medal, but because of the thumb injury was barely able to pick up his newborn baby girl, who was born three days before the surgery. "But it did get me out of a few things -- like changing diapers," he said with a smile on his face. "I've only been able to help my wife with that the last week. "I cannot wait (to be back on the court with Chauncey). When I got back from the Olympics, I came here to the gym and saw Chauncey working out. Before I left (for London) he was stand-still shooting. Now I come back and he's running, getting ready to go. I'm excited for him and I'm excited for the entire team. "I'll be ready for opening night, yeah. I asked a lot of questions (about recovery time) before I had the surgery. Now, it just a matter of staying on top of the rehab. You find out quickly that you use your thumb for everything. It's been a lot (of rehab). I'm at the strengthening part and trying to get that mobility back in my wrist. "I came out here to shoot a jump shot the other day, and it felt like it was good. It was an airball. It's all going to come back, though, because I work on it all day, every day. When I'm at home, I'm doing exercises to get ready. "I will be ready. No question." Which is music to coach Vinny Del Negro's ears. "We're all excited about getting going," said the Clippers' third-year head coach. "But we've also got to figure out how to work around the fact that some of our big guys might not be available right at the start (of training camp). It makes it more difficult, but we're going to have enough time. You want them ready tomorrow, but out guys will be back. Hey, injuries are just part of the game. You have to deal with them."
Original Story:
http://www.foxsportswest.com/09/29/12...
THE BACKYARD
BEST OF MAXIM
RELATED ARTICLES
LA STORY
Lamar Odom and wife Khloe Kardashian reportedly are fighting over their reality TV future. See what is the root of the issue.
For the majority of the Los Angeles Clippers' franchise history, "laughing stock" was the phrase that best described the team. From failed draft picks, bad trades, a penny-pinch (and an allegedly racist) owner to long playoff appearance droughts, there is no doubt the Clippers have been, for the most part, been a fail. But things are finally looking up as...
LOS ANGELES ---There were a lot of new faces at the Clippers Playa Vista training facility for the team's annual media day. Of the 20 players on the training camp roster, 12 of them were not members of the team last season. Depth won't be a concern. The collection of talent rivals nothing Clippers President and NBA Alternate Governor Andy Roeser has seen with the Clippers...
Watch any NBA game and you'll see plenty of trash talking. Some players do it better than others. Warriors point guard Stephen Curry recently conducted a Q&A with The Big Lead, during which he revealed his favorite player growing up, the NBA's most underrated player, the coolest name in his phone book and, yes, the biggest trash talker in the league. Curry initially said...
Los Angeles - The Los Angeles Clippers announced Friday that PRIME TICKET has added two Clippers preseason games to their broadcast schedule, which means six of the Clippers eight 2012 preseason games will be available on PRIME TICKET. PRIME TICKET will now televise the Clippers matchup against the Utah Jazz on October 20th in Salt Lake City and the Clippers contest against the...
Winning is not typically associated with the Clippers. The franchise has an overall winning percentage of .367 and has eight total playoff appearances -- which includes its time in Buffalo and San Diego. The Clippers have made back-to-back playoff appearances just once in 27 years in Los Angeles. Where the Clippers are right now is very uncharted territory. Things have...
Chris Paul and Chauncey Billups are unable to scrimmage as they recover from injuries, but they still ran through a few offensive sets with the first team.
Believe it or not, the NBA's regular season is six weeks away. To get you ready, Crossover Chronicles will be profiling a team each day for the next six weeks. This week is the Pacific Division. Today is the Sacramento Kings. 2011-12 Record: 40-26, lost second round Key Losses: Mo Williams (traded to Utah), Randy Foye (signed with Utah), Nick Young (signed with...
You remember the Los Angeles Clippers, right? Swooped in and traded for Chris Paul after the Lakers deal fell through and vaulted to the top half of the Western Conference standings, made it to the second round for only the second time in club history only to get swept by your San Antonio Spurs in the second round.  Initially the Clippers expectations for this coming season were...
Clippers News

Delivered to your inbox

You'll also receive Yardbarker's daily Top 10, featuring the best sports stories from around the web. Customize your newsletter to get articles on your favorite sports and teams. And the best part? It's free!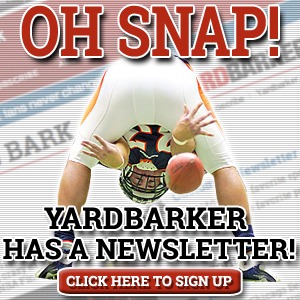 Latest Rumors
The Backyard

Today's Best Stuff

For Bloggers

Join the Yardbarker Network for more promotion, traffic, and money.

Company Info

Help

What is Yardbarker?

Yardbarker is the largest network of sports blogs and pro athlete blogs on the web. This site is the hub of the Yardbarker Network, where our editors and algorithms curate the best sports content from our network and beyond.