Posted April 29, 2013 on AP on Fox
PLAYERS:
Chris Paul
,
Zach Randolph
,
Marc Gasol
,
Blake Griffin
,
Caron Butler
,
DeAndre Jordan
,
Chauncey Billups
,
Jamal Crawford
,
Eric Bledsoe
,
Matt Barnes
,
Lamar Odom
,
Quincy Pondexter
,
Tony Allen
,
Vinny Del Negro
TEAMS:
Los Angeles Clippers
,
Memphis Grizzlies
Now that they've had a couple of days to digest those back-to-back losses the suddenly rejuvenated Grizzlies shoved down their throats in Memphis, the Clippers are back home and eager to swing the momentum back in their favor in Game 5 of their first-round playoff series. ''Tomorrow's the biggest game of the season for us. We've got to win this game,'' All-Star point guard Chris Paul said Monday at the team's Playa Vista practice facility. ''We hoped to go undefeated throughout this whole thing, but this definitely makes us stronger. Now it's a three-game series. So we've got to come out with more energy, obviously, and with the same intensity in Game 5 as we did in Game 1 and 2. We've got to fight and scratch and play the way we know we can.'' That will require a dramatic reversal by the Clippers, who were outplayed at both ends of the court by Zach Randolph, Marc Gasol and Co. during Games 3 and 4. The 21-point rout on Saturday that evened the series at two games apiece represented the most lopsided postseason victory in the history of the Grizzlies franchise. But the Clippers don't feel the Grizzlies have gotten under their skin and into their heads. All they have to do is remind themselves of last season, when they beat the Grizzlies in the opening round with a Game 7 triumph at Memphis. ''That hasn't been the issue. The issue's been the execution,'' coach Vinny Del Negro said. ''They've executed better than us the last couple of games at both ends, as we did the first couple of games. That's why it's all tied up. It really comes down to rebounding the basketball, second-chance points, not turning it over, and making plays in the fourth quarter.'' ''It starts with us on the defensive end - having a physical presence there, making sure where our coverage is, and just locking in and having the intensity level go up as the game goes on,'' Del Negro added. All season, the Clippers relied on Paul, Blake Griffin, Caron Butler, DeAndre Jordan and Chauncey Billups - when he's healthy - to get the team off to fast starts and then let their deep bench widen the lead. With the speed and quickness of reserves Jamal Crawford and Eric Bledsoe, the ferociousness and timely perimeter shooting of Matt Barnes, and the veteran savvy provided by forward Lamar Odom, that should have been enough to neutralize the presence of Randolph and Gasol, the NBA's defensive player of the year. But it hasn't turned out that way. ''It would probably be impossible to find another big-man combination like that in the league,'' Paul said. ''They're like two old-school big guys. So it's going to take a collective unit. We can't just put all of it on our big guys. We all have to get in there and bang with them, and then we've got to run them. Those first couple of games here, we managed to get them into foul trouble.'' One thing that has held the Clippers back has been the shooting of Butler and Crawford, who was runner-up for sixth man of the year. ''It's a matter of getting clean looks,'' Crawford said. ''When you fight to get clean looks, that makes it a little bit more difficult. But we'll adjust. We've put in some new things and we saw some things that we can address.'' In the first two games of the series, the Clippers had an 87-61 rebounding edge and resembled the team that knocked the Grizzlies out of the playoffs in the opening round last year. But once the venue shifted to Memphis, the Grizzlies turned into terrors on the boards while fast-breaking the Clips into submission. Quincy Pondexter, who converted his missed free throw into a pivotal four-point play that helped Memphis win Game 3 and get back in the series, said the Grizzlies have to ''Bring some of the mojo we built here in the Grindhouse, and hopefully we can get a win in the Staples Center before bringing it back home. We're a grit-grind team - defense, rebounding, getting stops. We kind of got away from that in games 1 and 2, and we're back to it right now.'' The Grizzlies outrebounded Los Angeles 92-61 in the two games at Memphis - including a 27-9 margin on the offensive glass - and outscored them 44-6 in second-chance points. ''They played desperate basketball in Memphis, and we have to do the same thing now,'' Billups said. ''That's why you work so hard for home court. If we had two games left in Memphis and one at home, then obviously the pressure would be on us. But it's not on us. We just have to make a few adjustments, but it's going to be our turn now to play with that same sense of urgency. We've got to box out, get after loose balls and compete in the fourth quarter.'' No one has to tell the Grizzlies that they have to win at least once game in Los Angeles to advance to the next round. And with the increased confidence they've gained over the last two games, they have every reason to expect to. ''We've got to understand we are going into a hostile environment,'' said Tony Allen. ''Staying together, playing hard, playing together, having great focus - I just think from one through 14 all guys are locked in. And I think when you have that kind of mindset going on the road, you are able to get wins.'' --- AP Sports Writer Teresa M. Walker in Memphis contributed to this report.
Original Story:
http://msn.foxsports.com/nba/story/Gr...
THE BACKYARD
BEST OF MAXIM
RELATED ARTICLES
WHERE'S THE ROLL?
The Memphis Grizzlies beat the L.A. Clippers, 103-93, in the pivotal Game 5 of their NBA playoff series on Tuesday night…
Memphis Grizzlies guard Keyon Dooling missed Game 4 of the team's series against the Los Angeles Clippers due to a strained neck. The injury also has him questionable to suit up for tonight's Game 5, according to Ronald Tillery of The Commercial Appeal.Griz reserve guard Keyon Dooling still questionable for Game 5 with neck strain— Ronald Tillery (@CAGrizBlog) April 28, 2013Dooling...
LOS ANGELES (AP) -- Zach Randolph scored 10 of his 25 points in the fourth quarter and the Memphis Grizzlies capitalized on Blake Griffin's ankle injury to beat the Los Angeles Clippers 103-93 on Tuesday night, taking a 3-2 lead in their first-round playoff series. Mike Conley added 20 points for the Grizzlies, who will try to wrap it up Friday night at home. The Pacific Division...
A couple of years ago, I wrote The Zach Randolph Gospel on ETSF, a work that was long overdue. I've always been a fan of Z-Bo, but I'll admit that as much as I love the man's game, I do take it for granted. It's not an excuse or some sort of rationale to try [...]The post Zach Randolph Is A Man appeared first on The Sports Fan Journal.
PLAYA VISTA, Calif. The Clippers didnt spend Monday scratching their heads at practice. They know exactly what they need to do to regain control of their first-round playoff series against the Memphis Grizzlies. More energy. More rebounding. A lot more rebounding. Its that simple. The Clippers allowed the Grizzlies to tie up their best-of-seven series at two games apiece because...
Zach Randolph scored 10 of his 25 points in the fourth quarter and the Memphis Grizzlies capitalized on Blake Griffin's ankle injury to beat the Los Angeles Clippers 103-93 on Tuesday night, taking a 3-2 lead in their first-round playoff series. Mike Conley added 20 points for the Grizzlies, who will try to wrap it up Friday night at home. The Pacific Division champion Clippers...
Los Angeles Clippers forward Blake Griffin exited last night's contest against the Memphis Grizzlies in the third quarter due to a high ankle sprain. The ailment has caused the Clippers to consider Griffin as day-to-day, and he told reporters – including Arash Markazi of ESPN Los Angeles – that the injury got worse as the game went on."As the game went on, it got worse...
Ground and Pound Tonight in Los Angeles, for the first time in the series, the road team won, setting up Memphis for a closeout game... but honestly, this was the closeout game. The Clippers never truly threatened, despite getting a huge amount of home court calls and a game for the ages from Chris Paul. The Grizz won without anyone really playing all *that* great, though Zach Randolph...
NBA News

Delivered to your inbox

You'll also receive Yardbarker's daily Top 10, featuring the best sports stories from around the web. Customize your newsletter to get articles on your favorite sports and teams. And the best part? It's free!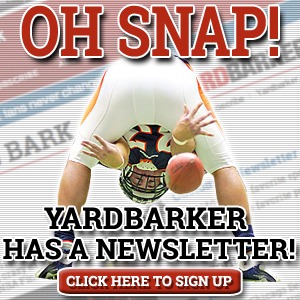 Latest Rumors
The Backyard

Today's Best Stuff

For Bloggers

Join the Yardbarker Network for more promotion, traffic, and money.

Company Info

Help

What is Yardbarker?

Yardbarker is the largest network of sports blogs and pro athlete blogs on the web. This site is the hub of the Yardbarker Network, where our editors and algorithms curate the best sports content from our network and beyond.